When it comes to making good looking unibody smartphones, HTC in particular has a knack for doing things the right way. The latest example of this is the new HTC Windows Phone 8X, which is based on Microsoft's latest Windows Phone 8 operating system that announced its global debut last month. Even before that HTC was one of the first few companies to announce a device based on Windows Phone 8, and it was also among the first to make its devices available in markets around the world.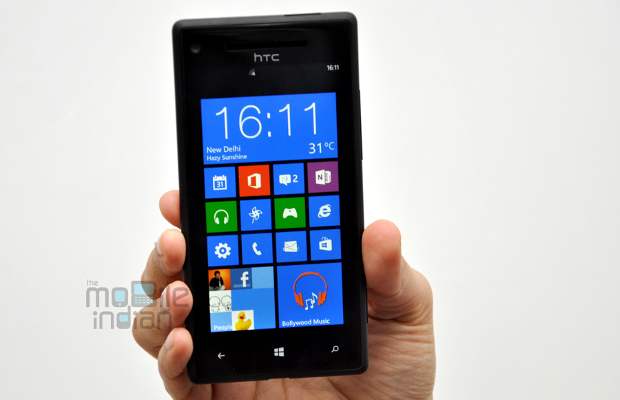 While the device is now available for retail in India at approximately Rs 35, 000 HTC Windows Phone 8X is a high end device that has some serious hardware specifications to flaunt as well.
###PAGE###
Look and feel
HTC has always been involved in making some really good looking devices and that has not changed with the HTC Windows Phone 8X. The flagship Windows Phone 8 device simply impresses with its unique design and great looks. The device itself is lightweight and sleek, while its thickness is 10.1 mm at its thickest. But its tapered edges make it look even slimmer.
The device is available in a variety of colours just to lure in the youth as well as other colour loving smartphone users. The display size of Windows Phone devices has gone up from 3.7 inches to 4.3 inches on this one and it certainly feels big and bold while using, but with a narrow shape that makes usage comfortable all day long.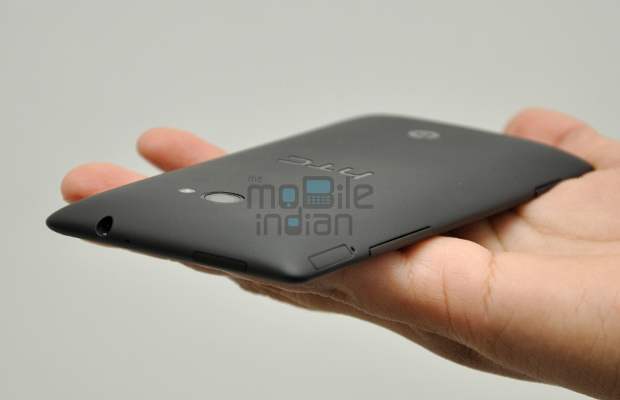 Although there are various colour options available for devices the black colour looks best. The device features a matte-r finish that runs from the edges, making it smudge resistant while the unibody design adds to its slimness and makes the device sturdy too.
The placement of the power/standby key on top really makes the device easy to use for upgraders as smaller smartphones use this key placement too. The right side has the volume rocker, which is great and very easy to use. As per Windows' minimum requirement the device now gets a dedicated camera key and the one on the HTC Windows Phone 8X is certainly one of the most sensitive we have used till today. The device has a total of four hardware keys including power on top, volume rocker on the right side followed by a mandatory hardware camera key, but the flush front of the device certainly is appealing.
The overall build quality of the device is good. It is sturdy and can handle accidental falls quite well. The Gorilla Glass really makes a lot of difference and protects the display from scratches as well as damage from drops. we are quite happy with the way the device has been designed and with its build quality as well.
###PAGE###
Display and touch
Built around a 4.3 inch Super LCD 2 screen, with true 720p resolution, the HTC Windows Phone 8X is great for most tasks and is certainly great for multimedia and gaming. Brightness levels are adequate, making it a perfect device to be used even in bright sunlight. The native resolution supported by the device is 1280 x 720 pixels at 4.3 inches, making it a delight for the eyes.
The brightness level of the device can be tweaked by the powerful battery monitoring capabilities of WP 8 and the ambient sensor really does a good job by providing the right degree of brightness at all times.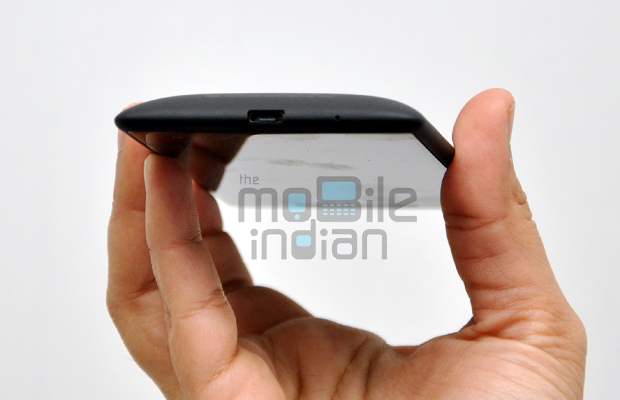 The colour reproduction and black levels are good and the picture quality offered by the display is sharp and vibrant. In comparison to Samsung Galaxy SIII it is definitely better and much more vibrant, but its smaller size might ruin the party for a few.
The display is protected by Gorilla Glass 2, which is tougher to crack and lighter as compared to its predecessor's.
###PAGE###
Hardware
The HTC Windows Phone 8X is powered by a 1.5 GHz dual core Krait processor combined with an Adreno 225 GPU. The processor is capable of powering the device and handling most of the action with ease. The phone features 1 GB of RAM and 16 GB of internal storage, which works great for all applications, but the lack of external storage is surely a big sting for high end device fans. The hardware specifications are well suited to the device and offer a speedy experience all around.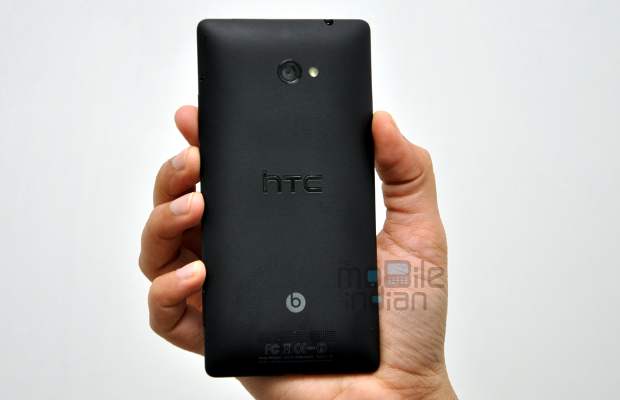 On the gaming front too the phone is capable of doing justice to most games that are available at the Windows Phone store and users will certainly like playing Xbox titles on the devices.
The HTC Windows Phone 8X just blazes through application and entertainment related tasks with ease. Even in terms of multitasking there is ample headroom for applications with 1 GB RAM and a dual core processor, so do not even worry about what this device can do.
###PAGE###
Operating System
The first thing you notice about the device is its new and refreshed user interface. The home screen now features newer colours for better customization and the live tiles also get selectable sizes for a great level of customization. Microsoft has added a host of live applications for the home screen as well, which will show a live feed directly on the home screen of the device as and when any of them gets an update.


The transitions between screen changes have been made really smooth and there is a considerable difference in the device's performance on Windows Phone 7.5. The HTC Windows Phone 8X is really smooth when it comes to apps and transitions and that is one very good thing about this device.
Windows 8 comes with the all new Internet Explorer 10 that carries the same web browsing engine meant to be used in Windows 8 for PCs, for faster and much quicker web browsing. The web page rendering time has reduced and a fast network like 3G or WiFi would certainly help utilize its full potential.
And then there is the kids section, which is a welcome offering for users because with the Windows Phone 8 parents can now activate a specialized zone on the phone for kids to play, and compete with their own customizable start screens within the device while protecting other important stuff. Kids will only be able to access apps, games, music and videos that parents pick for them.
###PAGE###
Camera and multimedia
At the back of the HTC Windows Phone 8X there's an 8 megapixel camera with a back side illumination sensor, a bright F/2.0 aperture and wide 28 mm field of view, which is a delight for snappers. The 8 megapixel camera is good and offers great variance in colours and full HD 1080p video recording as well at 30 frames per second.
The image quality of the camera is good in both outdoor and indoor modes provided the lighting is sufficient. The LED flash comes into play wherever needed but is only effective for close objects, and it tends to give the subjects a washout too. The colours are captured nicely with details and the 8 megapixel resolution gives unlimited possibilities for how to use the pictures.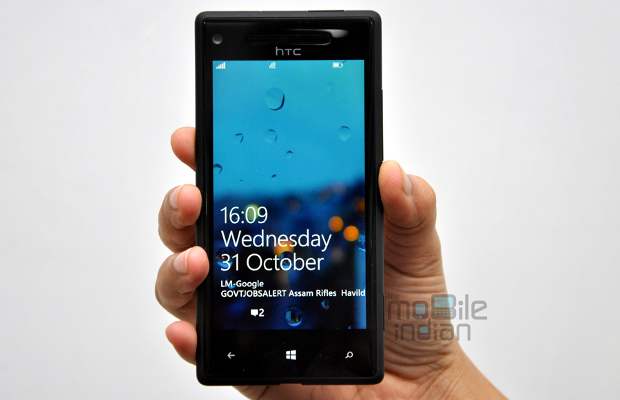 Another great inclusion is yet another 1080p capable F/2.0 camera on the front. All this has been made possible with the HTC's dedicated imaging chip that does wonders. Along with that the front camera can also take 2.1 megapixel still shots.
On the multimedia front this device features a more than capable audio and video player along with support for online streaming for both videos and audio. The loudspeaker, however, is a big plus for the device and with the integrated Beats Audio technology and hardware everything is a bit sweeter too. The headphones supplied are not Beats Audio certified, but work great with the device.
###PAGE###
Overall
The HTC Windows Phone 8X comes with 16 GB of built in storage, which is not abundant especially considering that it is all that users will get since there's no micro SD card slot. Although cloud storage can be an option, considering the present high speed data charges it is surely a big disappointment for users.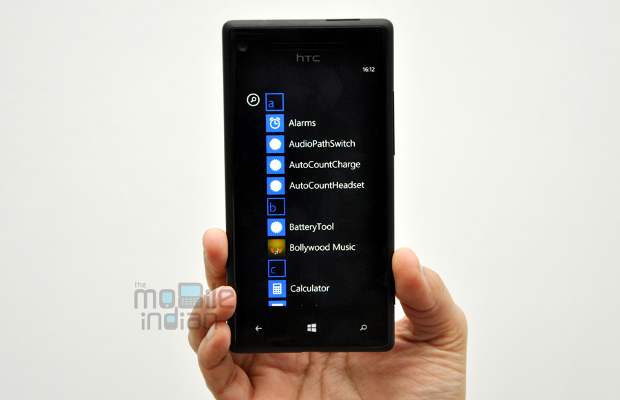 Despite all this the HTC Windows Phone 8X is well worth Rs 35,000. The device is certainly good for multitasking as well as Microsoft's Xbox apps, Microsoft Office and the live tile interface is a class apart. Bing Maps, however, is a great disappointment and is equivalent to not having Google Maps on the iPhone. But with the web interface and faster data connectivity one can surely be ready for navigation in no time.
All in all with 120,000 apps of which most are paid the WP8 is nothing compared to Android or iOS but it has its own advantages, and comparing all this to the past we can certainly say that we are witnessing the birth of a champion.