This 5 inch display based smartphone is perfect for those who do not want a small smartphone but are not in need of a tablet either. The 5 inch device segment starts from as low as Rs 5,000 and goes well up to Rs 20,000 with the differentiating factor being features and brand value.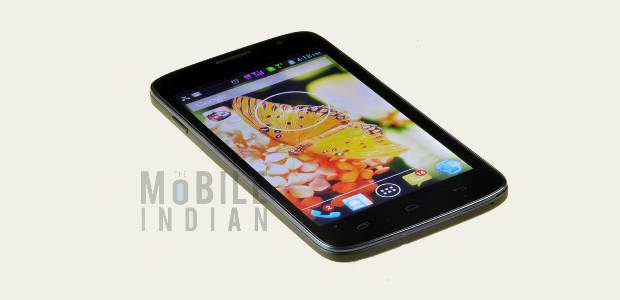 Hitech, which announced its entry in the Indian market with the Amaze S800, has quite a few Android smartphones and tablets to its name. Amaze S800 being at the pinnacle of its series as the flagship device. So while the device looks good will it perform well enough to be one of the devices people would love to buy? Let's find out.
Look and feel
Combining the shades of black in a glossy, matte and even textured finish the Hitech Amaze S800 is a posh looking device. The front is black with a shiny gloss finish while the back has black with a matte and textured finish to pep things up a bit. The designers have even added a hint of brushed metal towards the top of the device, which gives it a distant and rich look. The front has a flush finish and the lack of hardware buttons on the front of the Amaze S800 gives it a neat and clean look. The device is 77 millimeters wide and has a 9.6 mm slim profile that makes it comfortable to handle as well.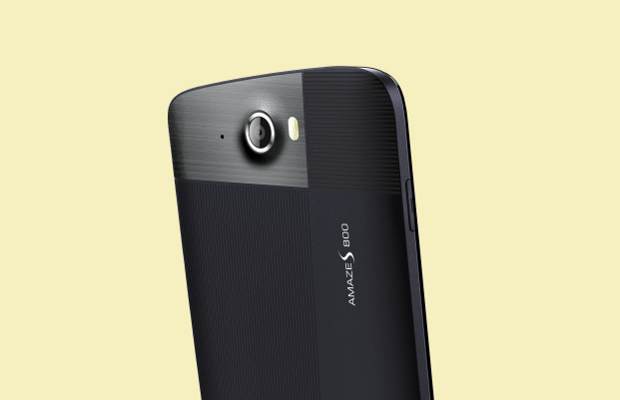 The device is light with less than 160 g total weight that includes a 2000 mAh battery pack as well to power the device. The sidewise placement of the power/standby key really makes it easy to use. The right side houses the volume rocker and the left side features the power/standby key. The top of the device features a USB/charge port as well as audio connector. The bottom of the device has been left clean, although placing the USB port there would have been useful.
Overall, the build quality of the device is good. It feels sturdy enough to handle accidental falls without much damage. The display is protected by a scratch resistant glass based surface but a scratch guard would be advisable, plus it comes in the box. For additional protection the company has included a complementary bumper/flip cover in the box, which is welcome.
Display and touch
The display on Hitech Amaze S800 is a 5 inch 480 x 800 pixel resolution based TFT LCD. It works well and offers great contrast at all brightness levels. But the display's top viewing angles are a bit limited as the top point of view affects color vibrancy and the display feels blacked out; all other sides work well. It might just be that the unit we received was faulty. The maximum brightness supported by the display makes it perfect for bright sunlight as well.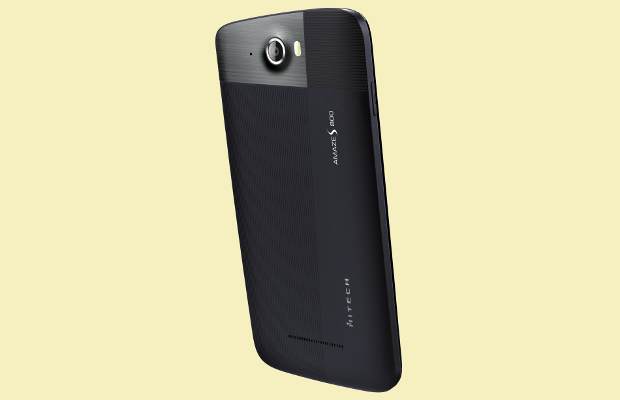 The capacitive touch on the other hand is great and even the slightest of gestures translate to perfect action. The display supports 5 point capacitive input system allowing people to use apps that require gestures and very fluid movements as well. All in all touch is great and complements every action in every way.
The color reproduction and black levels are good and picture quality offered by the display is sharp and vibrant right from the lowest to the highest brightness levels.
Hardware
Hitech Amaze S800 has a Sprocomm chipset with a 1 GHz dual core processor based on ARM A7 architecture and a dedicated Broadcomm graphics engine. Although the processor is from a less known chip maker it offers 3G connectivity and dual SIM connectivity as well. The processor brings good speedy app execution to the device and support for most performance related apps as well.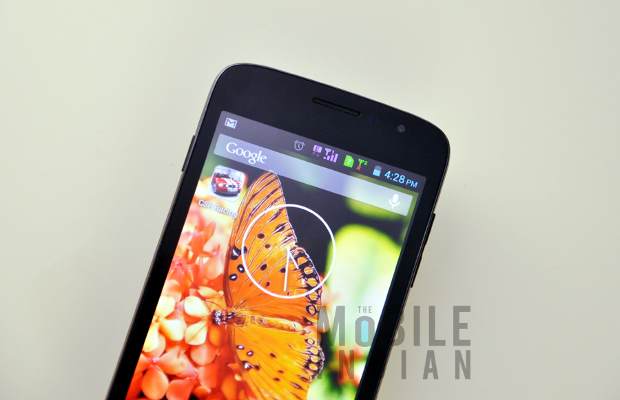 The phone features 512 MB of RAM memory and, strangely, 1 GB of internal storage, which is meant for applications. The device also gets 2 GB additional internal storage for applications as well as data, bringing the total to about 3GB. Along with that it also gets an SD card slot, which can be further upped by 32 GB using external micro SD cards.
Operating system
Powered by Android Jelly Bean operating system Hitech Amaze S800 comes with stock user interface along with Next level preinstalled. Along with that there are a number of customizations from the manufacturer.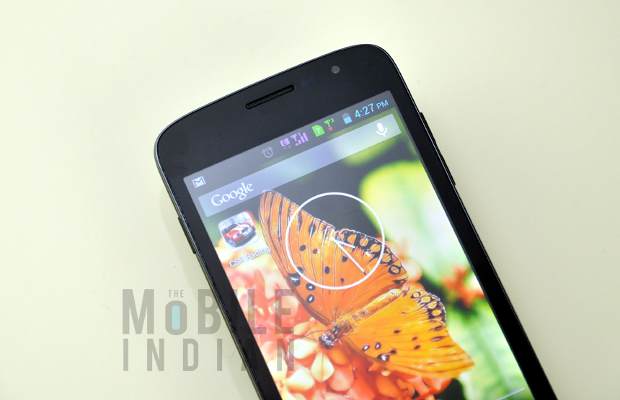 In terms of added applications there a number of free utilities like file manager, torch and browser installed. We would have opted for a clean device with less free apps as these can anyway be installed later. The operating system offers device compatibility for most applications on the Google Play Store.
Performance and use
Hitech Amaze S800 is fun to use. Most applications work well. The phone has no issues connecting to internet based applications, plus it also offers a good amount of gaming too, although low end games are certainly better and we managed playing Temple Run 2 for hours as opposed to Dead Trigger that made the device cry out loud. The onscreen keypad is nicely designed and spaced out as well, making it great to use. The Hitech S800 surprisingly performed similar to the Samsung Galaxy SII on the Antutu benchmark, scoring 9,143 points, and when we tested the device with Qualcomm's Vellamo we got similar results. The device tails Galaxy SII in a metal or hardware test while HTML5 succeeded the older Galaxy Note as well with 359 points in metal (hardware) and 1251 points in HTML 5 tests.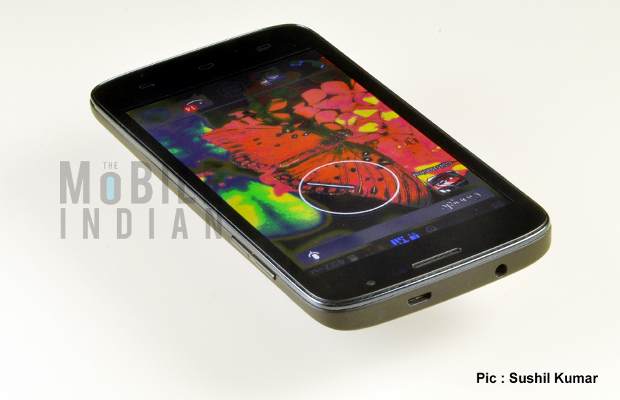 The call performance of this device is good. The earpiece volume is abundant and the microphone also delivers every word loud and clear. The loudspeaker is one of the loudest we have ever come across and we get a set of two speakers, so while watching a movie or listening to songs you really do not feel the need for an external dock.
The device features a dual SIM design with primary SIM featuring 3G connectivity and 2G on secondary SIM. Utilising and calling using two SIMs is not at all an issue and works smoothly.
Camera and multimedia
The Hitech Amaze S800 comes with an 8 megapixel camera in place of 5 megapixel offered by most low cost devices. Even though the resolution is higher the camera offers average image quality, but thanks to the LED flash close up shots are definitely better. The camera features an autofocus lens as opposed to a full focus lens offered by most budget devices and it certainly adds to the image quality. Along with that the device can record high quality videos as well. The front features a 1.3 megapixel camera good enough for video calling, and that's about it.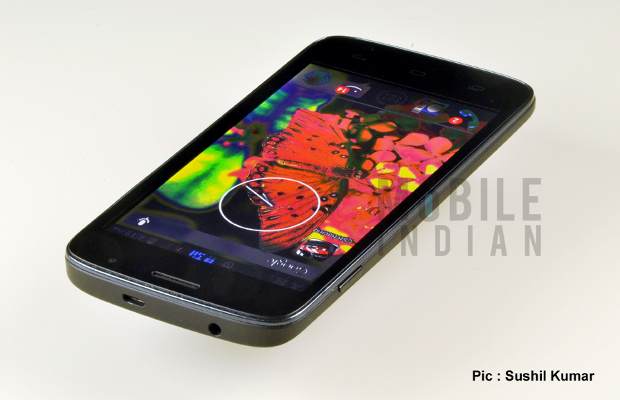 The camera's image quality is good for outdoor mode and indoor mode suffers due to lack of lighting, but sufficient light is provided by the LED flash wherever it is needed. It is only effective for close objects.
On the multimedia front the Amaze S800 features support for all generic Android formats as far as audio and video payback go, plus like on any other Android device there's a plethora of applications available on Android marketplace. The loudspeaker, however, is great for the device and performs well on most sound levels except at higher volumes where sound gets distorted a bit.
Battery backup
The Amaze S800 comes with a 2000 mAh battery pack, which is small compared to 2300 mAh or better batteries found on other devices but overall the battery backup of this big screen device is good. The device lasts easily from 1 to 1.5 days between charges depending on the kind of usage, and a smaller battery makes the device lighter as well. Ultimately there are no complaints whatsoever about battery life and we are happy with the Amaze S800.
Conclusion
Hitech Amaze S800 looks good, and performs relatively well for a low cost device. Although the box mentions the price as Rs 9,999 the device is available for Rs 7,499. It competes with devices from Micromax, Lava and Intex, and to be honest has some muscle to be a worthy contender of the 5 inch low cost phablet category. It is a perfect device for those who seek utility and are not affected by the brand name as Hitech is relatively new in the Indian market and will take time to establish its worth.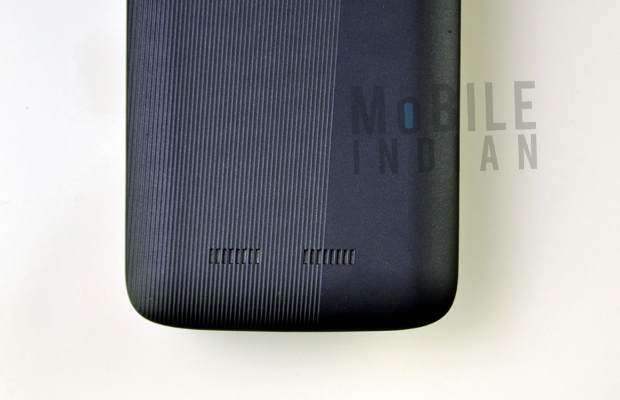 If you are looking for a good 5 inch Android smartphone we would not say that you go out and by the Amaze S800, but we would certainly suggest that you try it out as you might just like it.