Mobile review: Byond B54
By: Rahul Gupta, The Mobile Indian, New Delhi

Last updated : August 24, 2013 5:50 pm
Good looks, nice features-Byond B54 has a lot for its price.
PROS

»

Looks

»

Build quality

»

Battery life

CONS
The sub Rs 10,000 category of Android smartphones today has a large number of devices coming for almost all big and small mobile device manufacturers in India. So much so that the usual buyer is at times overwhelmed by the great variety and options of devices in this category. Byond Mobiles has been a late entrant in the Android smartphone domain but is fast making up for lost pace by launching devices across price categories to tempt customers.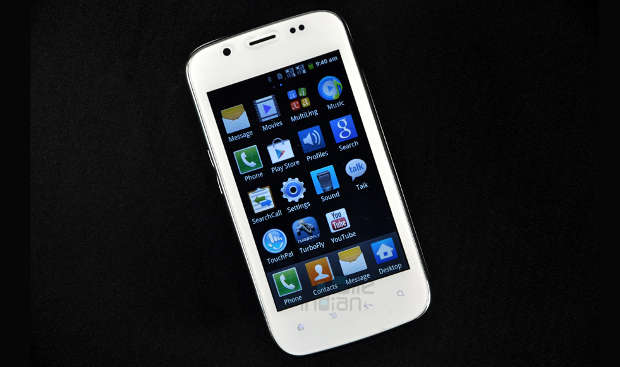 Following the launch of the Phablet PIII, Byond has also introduced the B54 Android smartphone in India for those who want a mix of features at a reasonable price.

Look and feel

Byond B54 comes in two colours, white and black. We got a white model and it does to a degree look better than the black. The glossy finish of the device makes it look good, but at the same time also makes it prone to fingerprints and smudges. On the front the device has capacitive touch keys that make the front neat and clean and give a seamless look to the capacitive touch enabled input system. The device has been accented with a chrome strip running on all sides, which gives it a touch of elegance.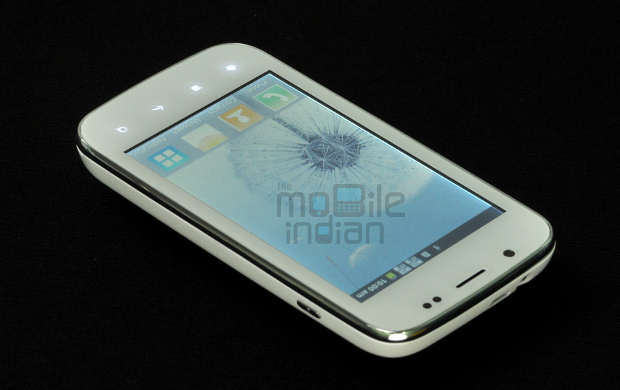 It is a bit heavy though and comes with a 1500 mAh battery pack. Considering its small size some people might be bothered by its weight. The side placement of the power/standby key really makes it easy to use. The left side houses a volume rocker and the power key is on the right side.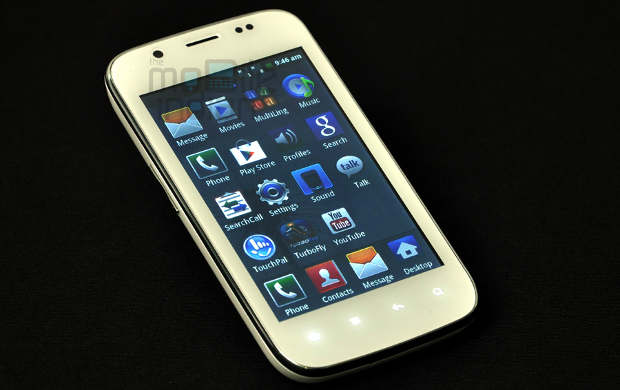 Overall the device's build quality is decent, except for its weight. It's sturdy and the casing offers ample protection from accidental falls. The protective plastic capacitive touch surface of the display will protect it from damage, but getting a scratch guard with the device earlier on would be advisable. Overall, we are quite happy with the design of the phone.

Display and touch

The display chosen for Byond B54 is a 4 inch 480 x 800 pixel resolution TFT LCD display which works well, but has higher luminance than contrast due to which its colour vibrancy goes for a toss and the display appears washed out. The maximum brightness supported by it makes it perfect for use even in bright sunlight.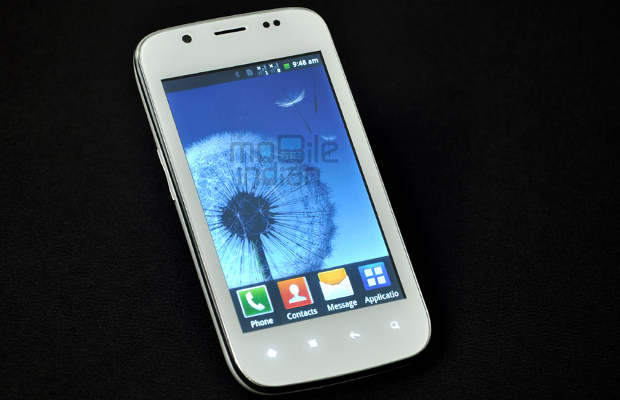 The Byond B54 is based on Android's older Gingerbread operating system and hence the front of the device has four capacitive keys as opposed to the three found on most devices today. The additional search key is welcome as it helps in cutting down time for some tasks.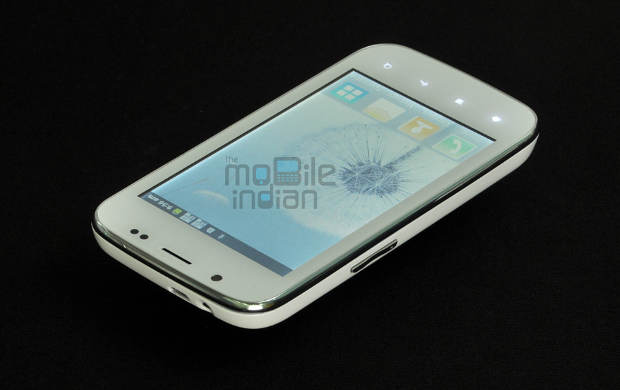 The colour reproduction and black levels are low but picture quality is sharp. The resolution supported by this smaller 4 inch display makes it great for gaming and videos as well. The capacitive touch on the device is accurate while being great for use all around the device. So be it gaming or web browsing the touch sensitivity of the device has been tweaked for just the right performance and a slight touch is required for most tasks and applications to perform the desired actions.

Hardware and storage

Byond B54 utilizes a Starwell SP6820A chipset with a 1 GHz single core processor based on ARM A7 architecture and a dedicated graphics engine as well. The processor is made by a lesser-known chip manufacturer, but it performs well and keeps its cool under pressure. It is clocked at 1 GHz but its performance is somewhat slow.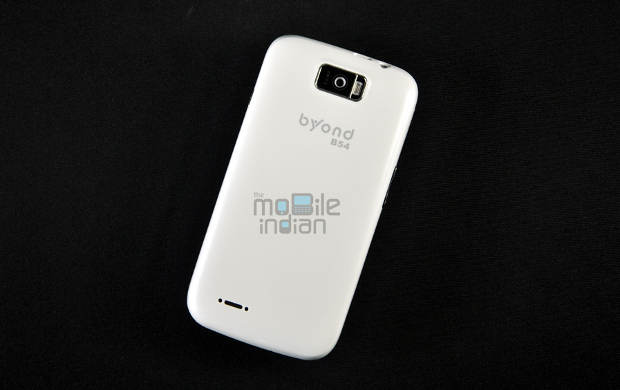 The phone features 256 MB of RAM memory and 256 MB of internal storage, which runs all the preinstalled applications, plus it can be further upped by 32 GB with the help of external micro SDHC data cards as the company claims, but to be on the safe side a 16 GB extension is suggested. Also included in the package is a 4 GB memory card that additionally increases the memory on the device.

On the application front Byond B54 works well with most applications, until and unless they specifically require faster hardware. On the gaming front too the phone is capable of doing justice to most basic and mid range games, but not to performance or graphic savvy games.

Operating system

Powered by Android's Gingerbread operating system the Byond B54 comes with the stock theme as well as a number of other themes with user interface customizations from the manufacturer. But the one theme that catches our attention is the "hylauncher". It is almost a replica of Samsung's Touch Whiz user interface minus transitions and niceties.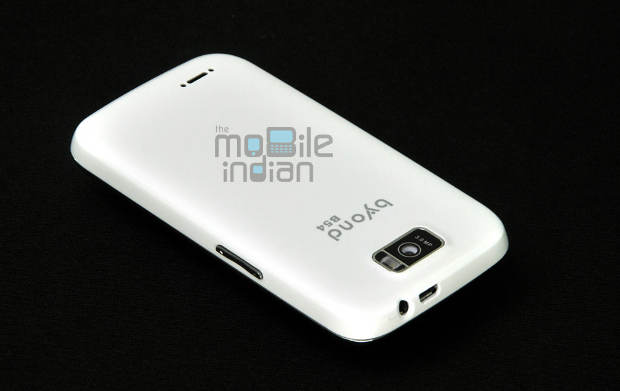 The operating system offers device compatibility for most applications on the Google Play Store, plus there are a number of applications that come preinstalled on the device and are more than welcome. The most important and appreciable customizations are seen in the form of the Touchpal keypad that comes as a preinstalled application and users can straight off jump to word predictions to ease typing.

Performance and usage

The Byond B54 offers decent all round performance that makes this device fun to use. Most basic applications work well. The phone has no issues connecting to internet based applications as well, plus it offers a good amount of gaming although only in the form of low end games, but that's okay for a low cost device. The onscreen keypad is nicely designed and spaced out as well, and the inclusion of Touchpal is commendable.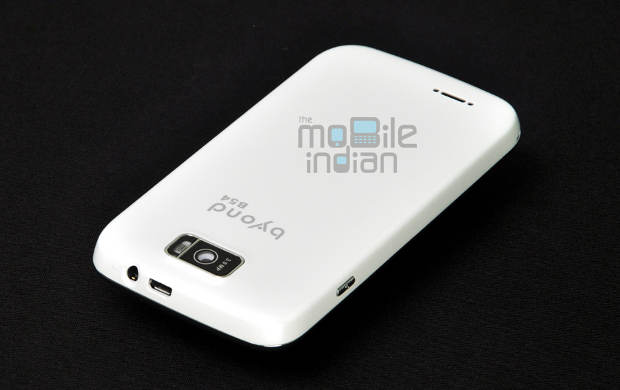 The call performance of this device is another major plus. Calls are received and made without an issue. The earpiece and loudspeaker volume are abundant and the microphone also makes sure the receiver gets to hear every word loud and clear. One issue is that the earpiece somehow feels a bit shallow and misses depth when it comes to voice reproduction. But once you get used to the way it sounds it is all well from that point onward.

The device features a dual SIM design featuring only 2G connectivity on both SIMs. Utilizing and calling using two SIMs is not at all an issue and works smoothly.

Camera and multimedia

There is a 3 megapixel camera on the Byond B54, which is good and offers a fixed focus lens, as opposed to an auto focus lens offered by most budget devices in the category from manufacturers like Karbonn and Micromax, and this certainly is a downer for the device. Along with that the B54 can record high quality videos as well. The front features a 1.3 megapixel camera, which is good enough for video calling.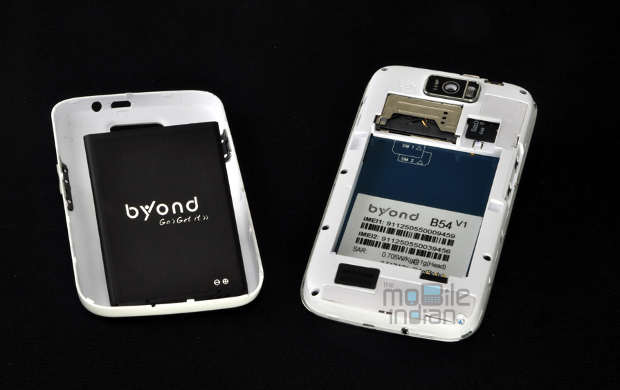 The image quality of the camera is good for outdoors. The LED flash comes into play wherever needed, but is only effective for close objects.

On the multimedia front the phone supports generic Android formats for audio and video playback. Plus like any other Android device there's a plethora of applications available on the Google Play Store to extend multimedia capabilities. The loudspeaker's sound is average, but it gets distorted at high levels.

Conclusion

The Byond B54 is a budget Android smartphone that is priced at Rs 5,799, and can be expected at Rs 5,000 or even lower in the retail market. The Byond B54 with a 1500 mAh battery offers up to two days of backup with moderate use of features and apps, which is impressive overall for a device with a big 4 inch display.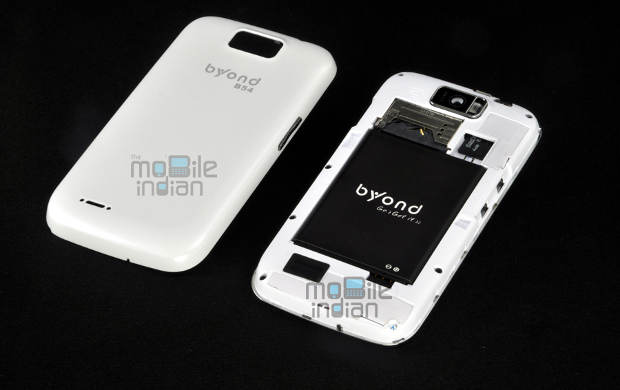 The device looks great and as far as hardware and performance go it is just the right mix of both. Aptly targeted at the youth Byond B54 is sure to offer a great bundle to its users. All in all the Byond B54 is a stylish device to have and flaunt while it offers decent performance as well. Most importantly, the device scores on its price.

So ultimately it offers a good deal for a tighter budget with a price tag of Rs 5,700 but being a budget device it has its own set of pros and cons.