Micromax Canvas Selfie Review: Great Selfie phone with few lacunas
By: Anil Satapathy, The Mobile Indian, New Delhi

Last updated : March 05, 2015 11:32 pm
The Micromax Canvas Selfie is really an all-rounder smartphone with a couple of hiccups.
PROS

»

Offers a great 13 megapixel auto focus front camera

»

Comes with many unique camera features

»

Speedy performance

»

Good design

CONS

»

Needs a bit more display brightness and it lacks full HD resolution

»

Has only one SIM slot

»

Comes with older Android KitKat operating system

»

Lone Speaker in the back panel gets blocked while playing games
Micromax Canvas Selfie was launched last week for Rs 15,999. The Micromax Canvas Selfie, as the name suggests, is a camera centric smartphone with a 13 megapixel rear as well as front camera. Here is everything about the phone that you should before purchasing the device.

Specification

The Micromax Canvas Selfie offers a 4.7 inch IPS display with high definition (720p) resolution. The Android 4.4.2 based smartphone offers a 1.7 GHz octa core processor (Mediatek MTK6592), 2 GB RAM, 16 GB built-in storage, and an expandable storage slot that has the capacity to handle a 32 GB micro SD card.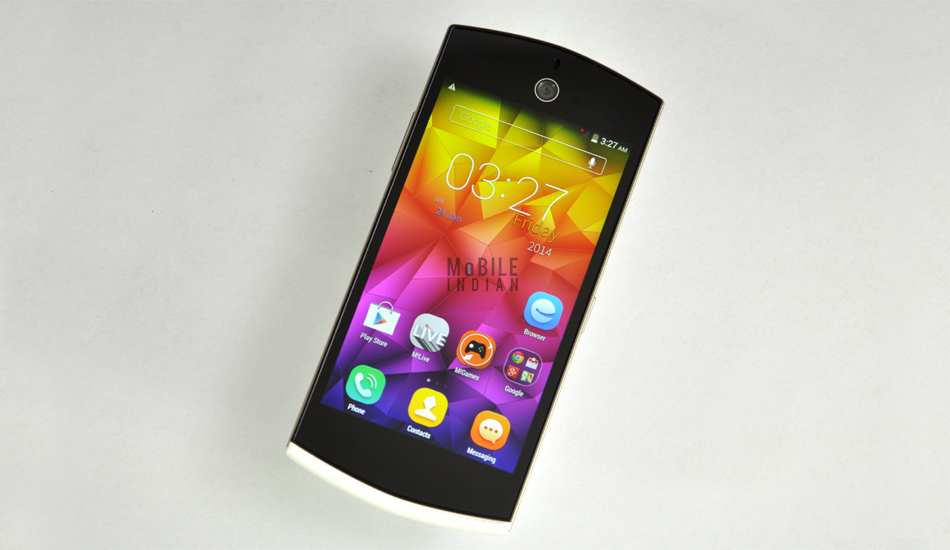 The Micromax Canvas Selfie, as the name suggests, is a camera centric smartphone with a 13 megapixel rear as well as front camera. Both the cameras are of autofocus in nature. The phone also has a dedicated camera button in the right hand side. For the rear camera there are two LED flash lights; even the front camera has the backing of an LED flash light. The cameras come with Sony sensor and LARGAN lens and are equipped with several picture editing tools.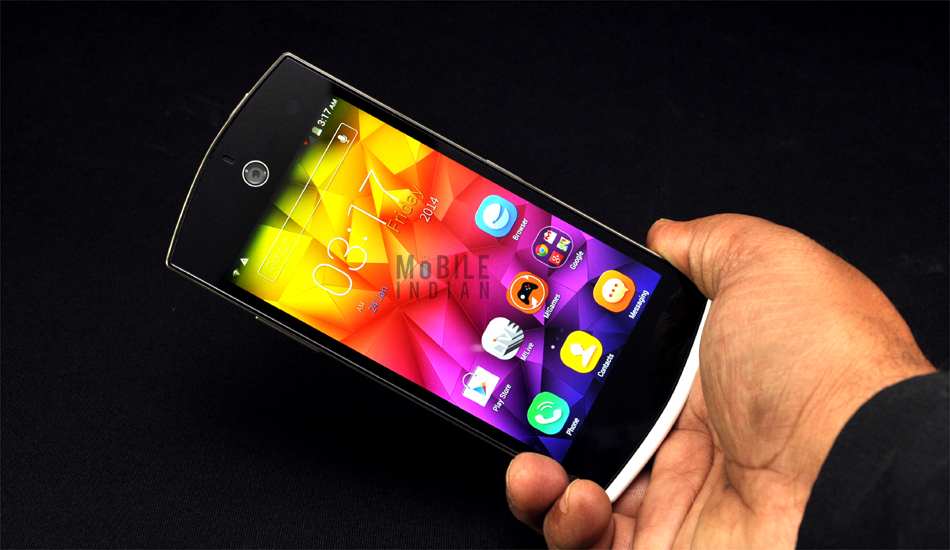 Besides, the Canvas Selfie has a 2300 mAh battery, single SIM slot offering 3G connectivity, Bluetooth 4.0, WiFi, and GPS.

Design

First of all, the Micromax Canvas Selfie has a unibody which means that the back panel is fixed and is not removable. Thus the micro SD and the SIM slot (it has only one SIM slot) are located in the right hand panel. There is only tray which contains both the micro SIM and micro SD card slots. A pin is bundled with the phone which one has to use to eject the tray.

In its right hand side panel, there is a dedicated camera button. A long press of the button will launch the camera application. The power button is at the top while the volume rocker is on the left hand side. Initially, you might get confused with the power and camera button but you will get a hang of the same eventually.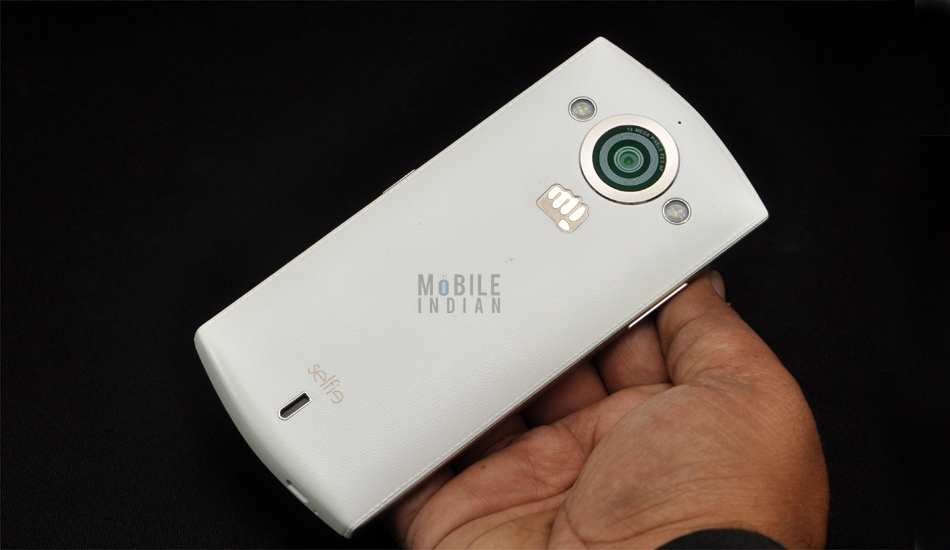 As you can see in the pictures, the phone has a slightly different design. Rather than rectangular, the top and bottom panels are curved in nature while right and left hand sides are flat. This design treatment gives it a distinct look.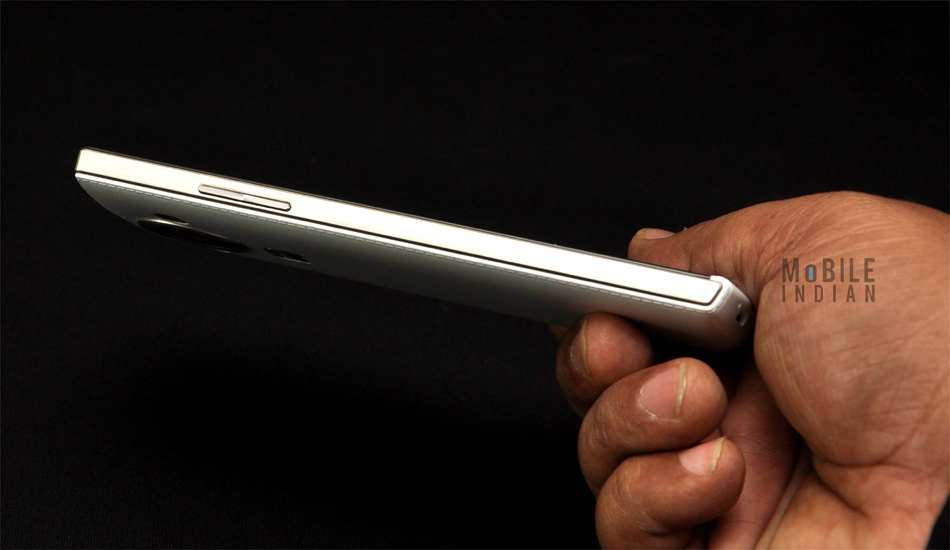 The back panel has stitched, faux-leather back panel that is not slippery and gives decent grip. The back panel has an unusually large camera panel - the camera lens is surrounded by a metal ring that creates the impression of a big camera. There are two LED flash lights on either side of the rear camera.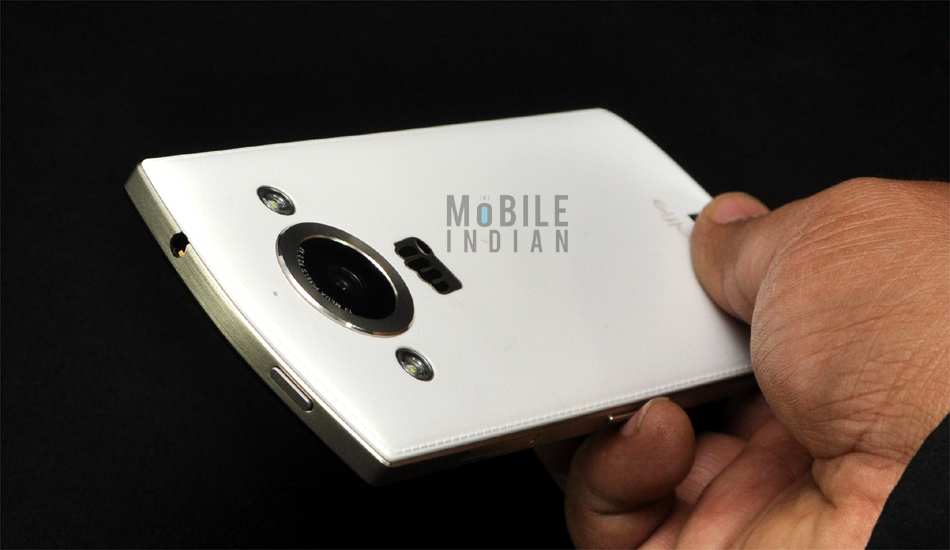 In the front panel too lies a 13 megapixel camera on top of which lies an LED flash light. The Micromax Canvas Selfie has a 4.7 inch display but it looks like a 5 inch smartphone that is due to its extra wide bezel on top and bottom of the display -the bezel is also twice the size than what you would see in most other phones.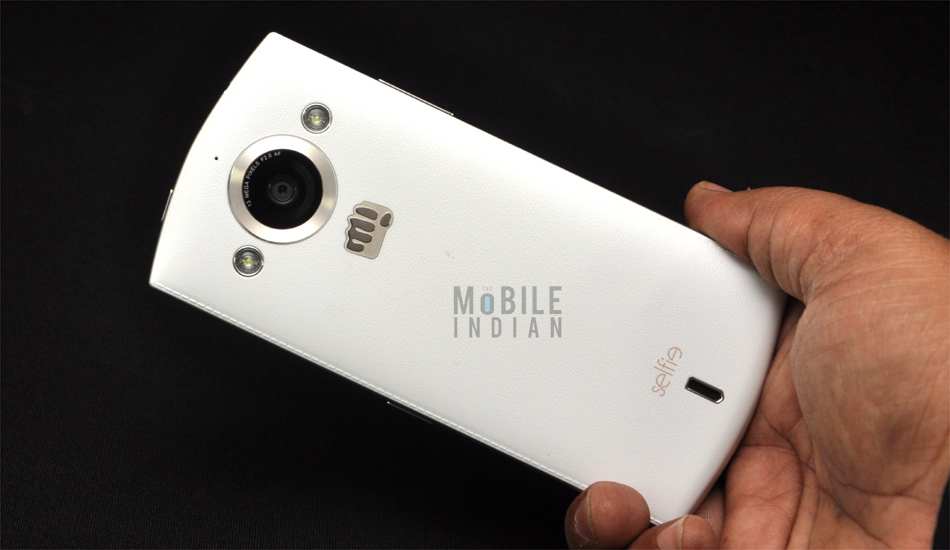 A drawback in its design is the placement of the speaker. It has got only one speaker grill and that too is placed at the bottom of the back panel which gets blocked if you keep it in the table. So if you want to watch a movie or video, you must hold it in hand. Also a backside speaker grill doesn't get that kind of surround sound feeling that two front speaker grills offer.

Display

The Canvas Selfie has a 4.7 inch display. The display has the necessary high definition resolution but I would have preferred full HD resolution considering the phone's price tag of Rs 15,999.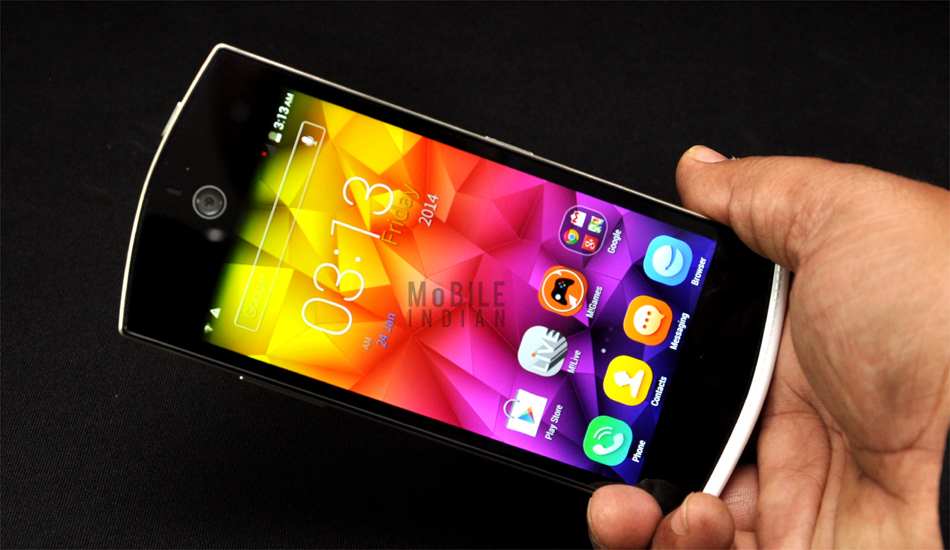 The display though has good viewing angle as well. Brightness levels are decent for indoors but outside in bright sunlight, you may find it difficult to operate.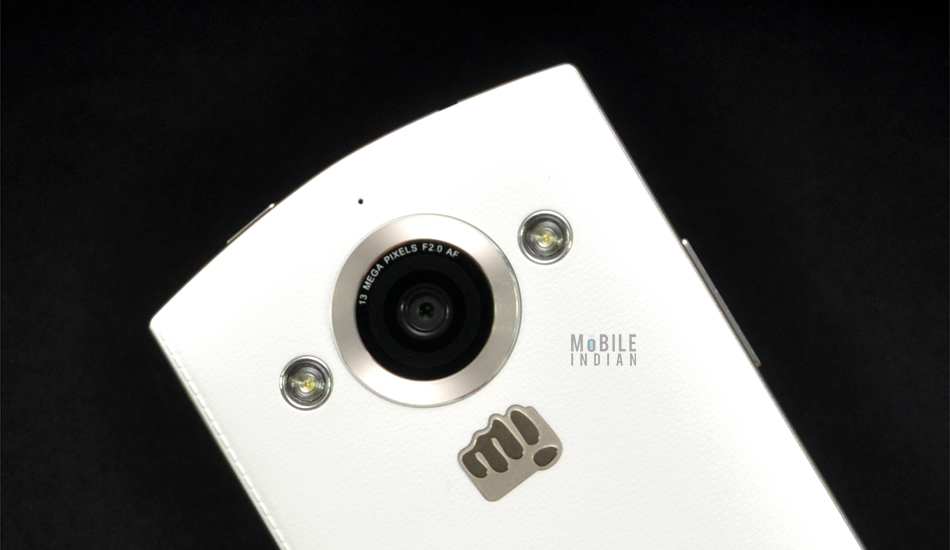 Also while the touch response of the phone is appreciable, the screen doesn't have Gorilla Glass or any other such scratch-resistant glass coating. Hence, you must use a screen protector else the display might get ruined with day to day usage.

Camera

Ofcourse this is the highlight of the phone. It has a 13 megapixel auto focus camera in both rear and front panel (it does not have a rotating camera). There are two LED flash lights in the rear panel while for the front camera there is one flash light.

Micromax Canvas Selfie also offers a plethora of inbuilt beauty tools for selfie such as skin smoothning, skin whitening, oil removal, face slimming, teeth whitening, dark circle removal etc. There is an editing tool as well that further helps beautifying the pictures; it has make up tools such as blush, mascara, eyeliner, eye shadow, lipstick, lipliner, lipsharpening etc.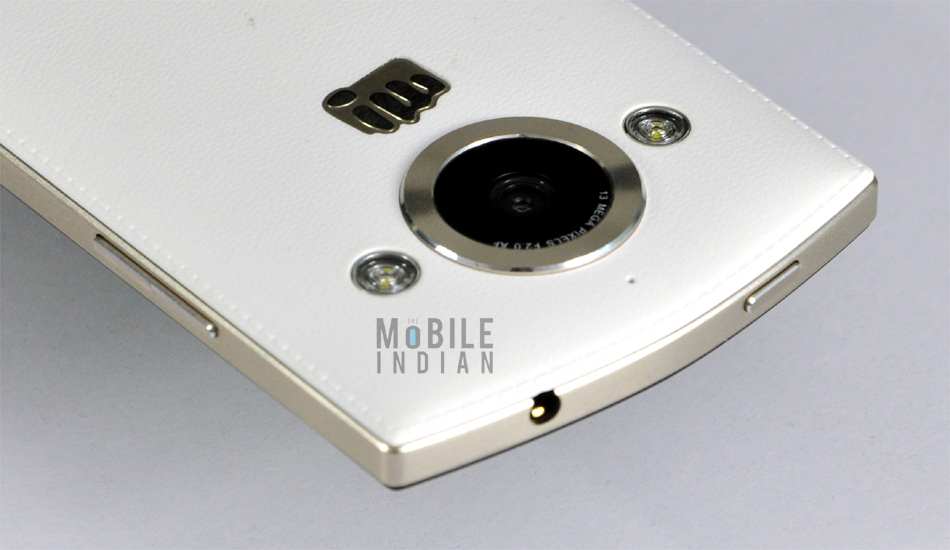 But it not just the editing tools that make it such a good camera phone at this price range. A 13 megapixel front camera that too with auto focus capability itself makes it one of the best selfie phone under Rs 20,000.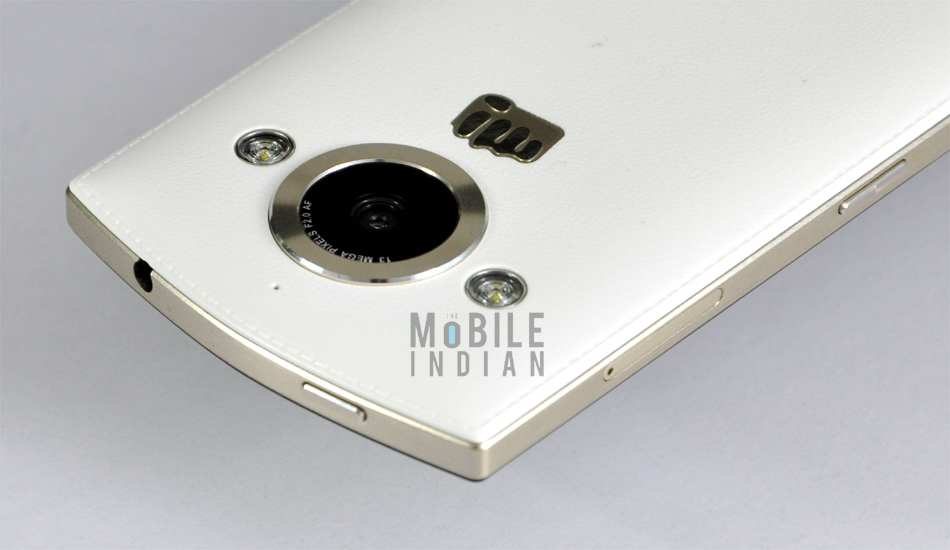 As expected, the Canvas Selfie's cameras are quite competitive. Not only was it quite quick to focus on objects, the cameras also managed to reproduce colours nicely both indoors and outdoors. Most importantly, the front camera offers 13 megapixel resolution - the best in the segment and it is also an auto focus unit; most smartphones' front camera are of fixed focus in nature.

We have already posted several camera images which you can find HERE and decide for yourself.

Performance

The Micromax Canvas Selfie has the Mediatek MTK6592 chipset that comprises of a 1.7 GHz Tru Octa core processor, Mali 450 MP GPU and 2 GB RAM. There is 16 GB internal memory of which 12.14 GB is available for users. There is a micro SD card slot as well with 32 GB capacity. It also accepts external storage devices like pen drives which can be used via a USB OTG cable for more storage.

However, the Canvas Selfie offers Android 4.4.2 KitKat operating system and not the latest Android Lollipop software. The phone though has a modified interface where there is no app drawer, so everything is laid out in the home page itself.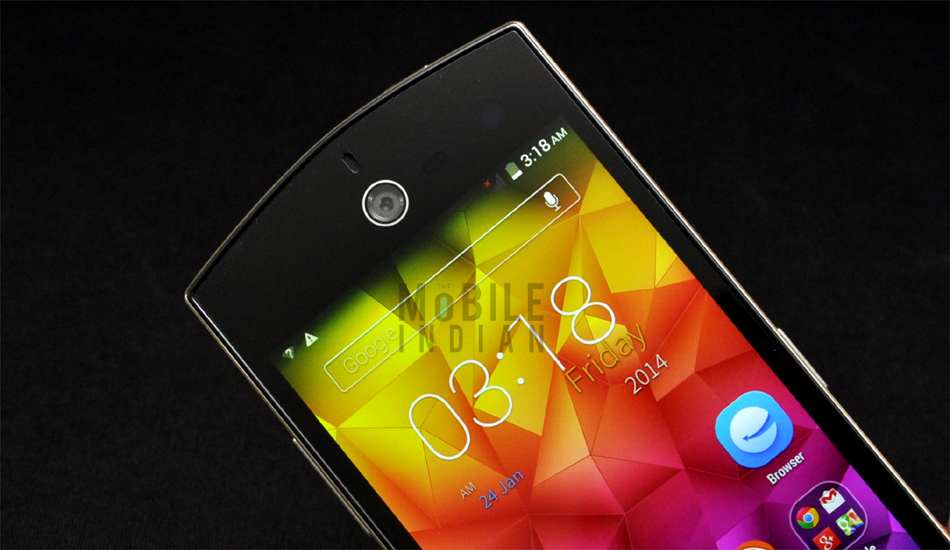 In terms of performance the Micromax Canvas Selfie is one of the best smartphones in this price bracket thanks to the powerful processor and huge 2 GB RAM. It managed to operate even the high end "Nova 3 Freedom Edition" with ease.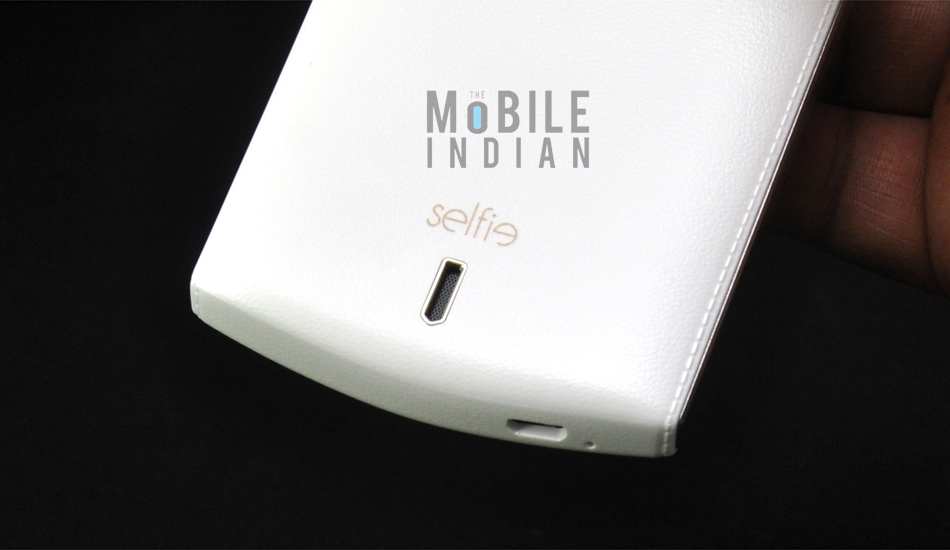 The Micromax Canvas Selfie offers a 2300 mAh battery which is non-removable. The battery offers decent back up. For instance, it consumes just about 25 per cent charge in playing a two and half hour video. Note that during playing the video we weren't using any SIM card nor were using WiFi, location services, or Bluetooth. Also we kept the brightness at 50 per cent. So even if you would use a SIM card, you can safely assume it to play atleast three movies (two hours and 30 minutes each) before it needing another recharge.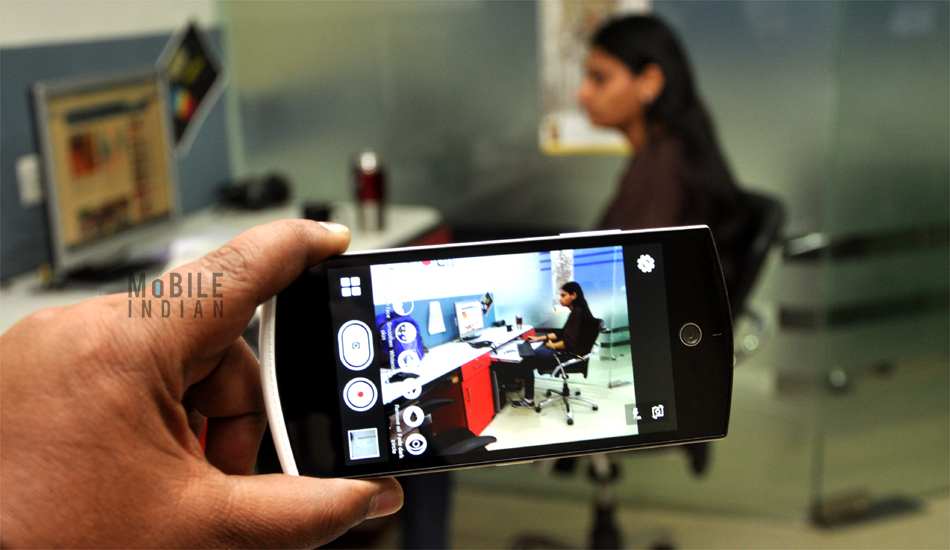 During gaming, as expected, it lost charge quickly. In our case, while playing the "Nova 3 Freedom Edition" which is a very high end game with complex graphics, the phone consumed about 30 per cent charge in 45 minutes.

Connectivity

This is one area where the Micromax Canvas Selfie disappoints the most. Not only it has just one SIM slot but it also doesn't offer 4G (LTE) connectivity. It though offers the usual WiFi, Bluetooth, and micro USB port. There is GPS as well for navigation.

Images by Sushil Kumar
Verdict
The Micromax Canvas Selfie has few flaws but it has plenty of positives, especially the front 13 megapixel auto focus camera, that make it a good buy at Rs 15,999.