The Filmy Hero aka Bollywood Songs makes it easy to find Hindi movies and songs featured in YouTube.
Advertisement
Pros
User friendly interface
Decent collection of videos
YouTube is now synonymous with videos but finding Bollywood movie trailers and videos on the channel is quite a tedious job. Especially, if you are on the move then browsing Bollywood videos from the countless ones is even more difficult.

Keeping that in view, Lighted Inc has come out with an application which is wholly dedicated to videos and trailers of Bollywood movies only. The application is named as Filmy Hero but for unknown reasons is available from Google Play store for Android devices and Apple App store for iOS devices as Bollywood Songs.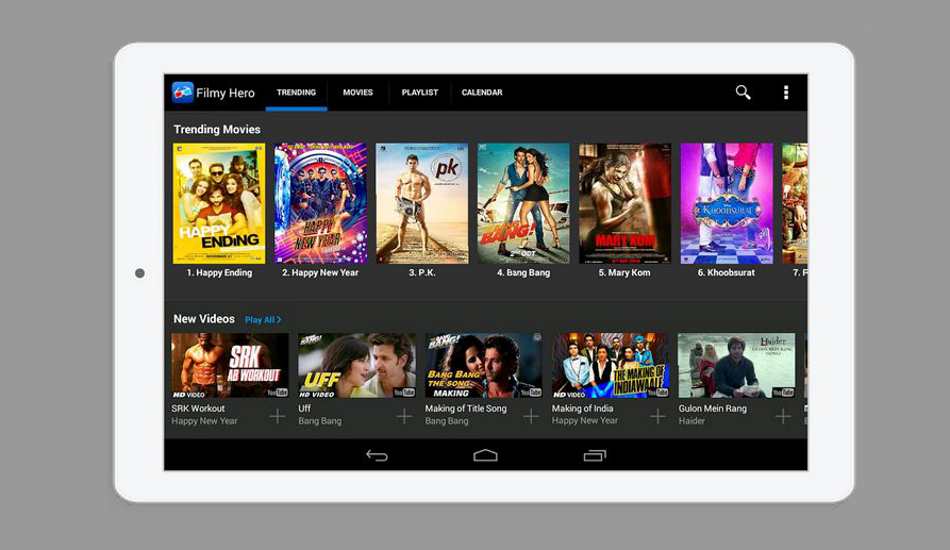 The app offers trailers, full video songs and behind-the-scenes of Bollywood movies. Videos are placed in easy to find four categories -Trending, Movies, Playlist, and Calendar.

As obvious it sounds, in the 'trending' category you could find popular videos while movies section lists hindi movies. Under the movies category, the movies posters are arranged in a card format. Videos related to these movies can be found in one roof itself. You could create your own wishlist in the corresponding category. In the Calendar section, upcoming movies are listed. Note that all these videos are sourced from YouTube.

The settings icon at the top right allows users to adjust video quality. There is a search icon at the top as well using which you can search for any video apart from the Bollywood movies and songs.
Advertisement
Verdict
The Filmy Hero aka Bollywood Songs sources all its videos from YouTube itself but its advantage lies in its user interface. Browsing on YouTube these days is very cumbersome owing to lakhs of videos listed on the website. But Filmy Hero makes it simple to find those videos with half the effort.