Huawei had launched the Mediapad T1 tablet in India in September this year for Rs 9,999. The Huawei T1 features an 8 inch HD display and comes with voice calling. Besides, it has decent 8 GB internal storage along with an expandable storage slot that can accommodate a micro SD card of up to 32 GB.
The tablet seems powerful with 1 GB RAM and 1.2 GHz quad core processor. The T1 has 5 megapixel rear camera and a 0.3 megapixel rear camera. It has the Android 4.3 KitKat version.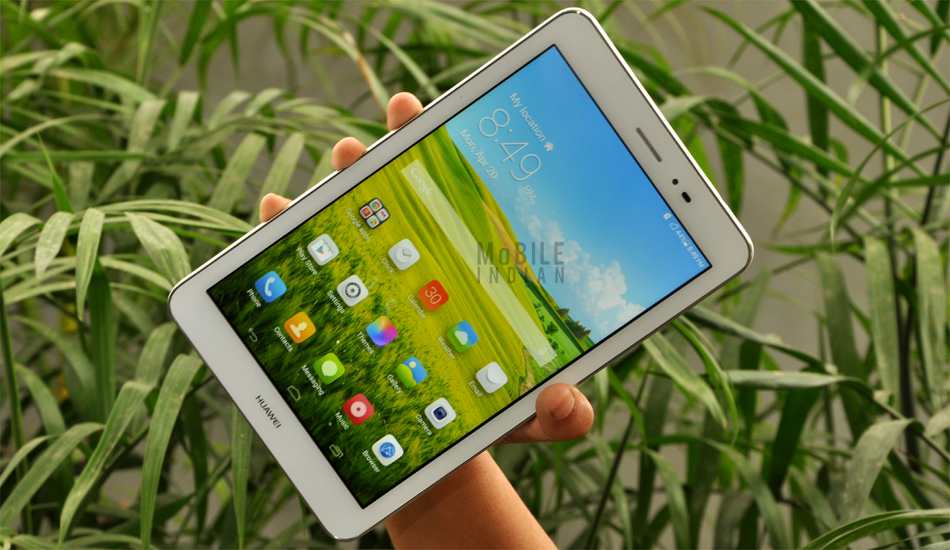 Needless to say, the Huawei Mediapad T1 is tempting at Rs 9,999. Here is an analysis of the features and performance of the tablet which will give you a decent idea whether to go for it or not while ignoring tablets like Lenovo A7-30, Samsung Galaxy Tab 3 Neo, etc.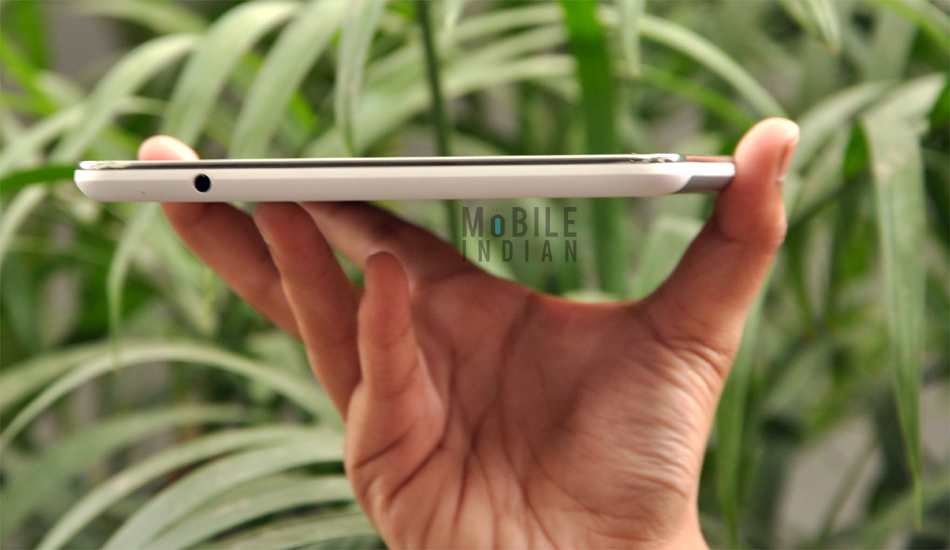 Design
For an 8 inch display bearing tablet, the Mediapad T1 is quite light and easy to handle. It is 210.6 mm tall, 127.7 mm wide and 7.9 mm thick. Also it weighs only 360 grams. The tablet has a plastic body and that is perhaps to reduce its weight. Majority of the back panel (barring small strips at the top and bottom of back panel) is painted in aluminium silver colour giving an impression of metal armour, but it is not. The benefit of this plastic panel is that it is not slippery as it would might have been metal armour had been used. Thus handling this tablet is quite easy; even sweaty palms would find it quite comforting.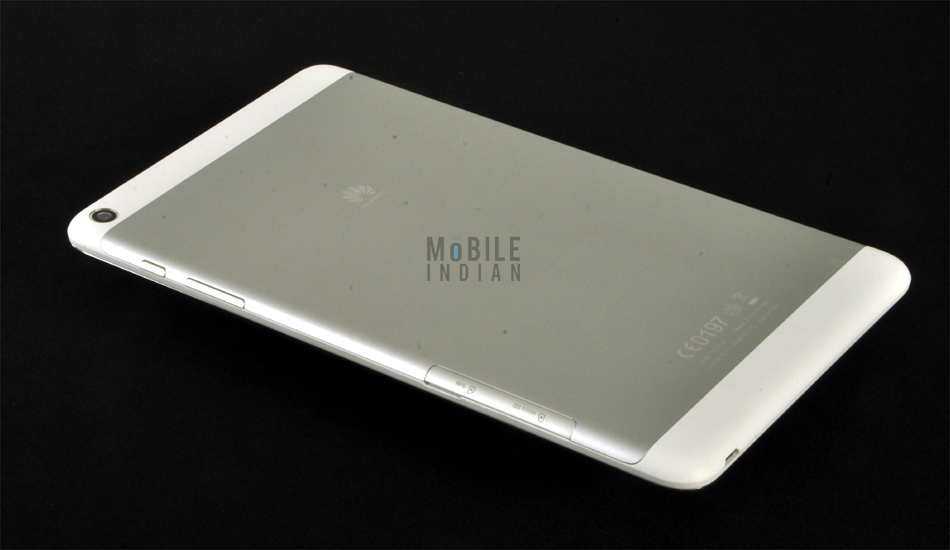 The sides are curved which further gives good grip. A metallic thread around its sides separates the front panel from the back. This strip also gives the necessary sparkle to the tablet. The right side holds the volume and power button along with SIM and micro SD card slots which are covered by a flap.
In Mediapad T1, the bezel around the display is rather quite thick which is contrary to recent manufacturing standards; new age device hardly have any bezel around the display. The extra bezel sometime feels necessary like while gaming and working on the tablet, but it also adds to the weight. However, considering that the Mediapad T1 is quite light for an 8 inch tablet, all kudos must be given to Huawei's engineers who had done a commendable job.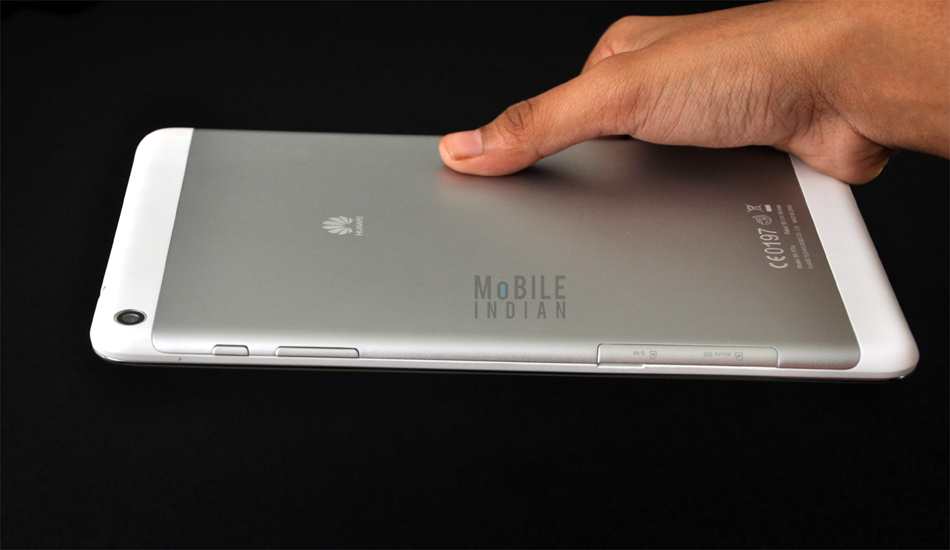 Above the display, lies a smaller speaker mesh; towards its right lies an LED indicator, camera and a sensor. Below the display, the brand name – Huawei – is engraved. The rear panel has also quite a neat look with brand name and logo engraved in the middle of the back panel while the rear camera sits towards the extreme left. Model name and few other info of the tablet is also engraved at the bottom of the back panel.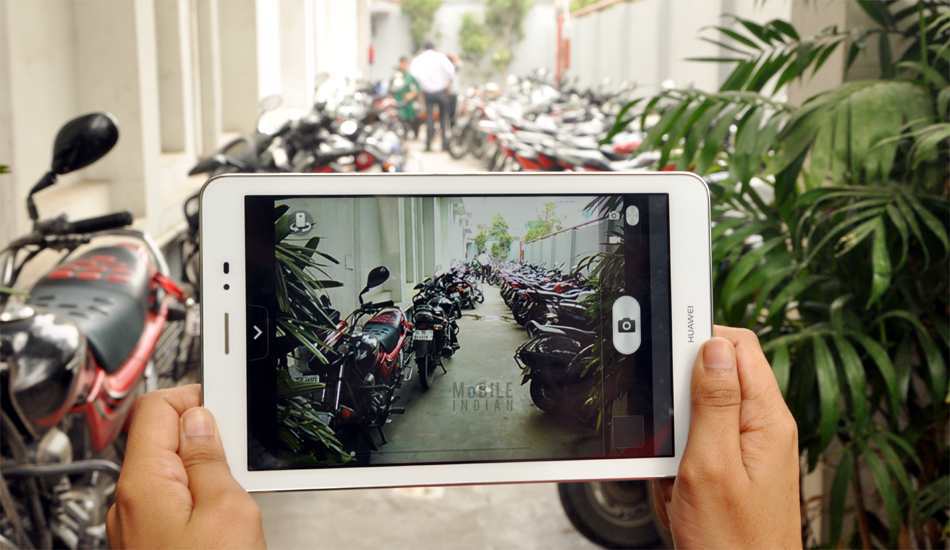 Sadly, the Huawei Mediapad T1 comes in only white colour which tends to get dirty quickly (especially the top and bottom stripes in the back panel). A black variant of the tablet would have been much better. Also, I have no idea about the covers of Mediapad T1. Huawei should atleast made available some covers for the tablet; colourful covers would have been icing on the cake especially considering that many new age tablets come in fancy colours.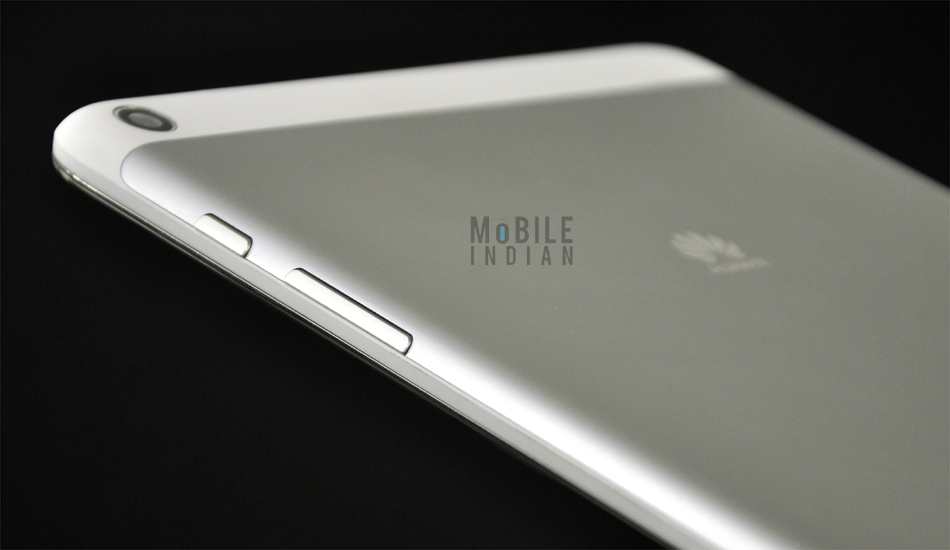 Rating for design: 8/10
Display
In the under Rs 10,000 segment, most tablets offer below par display resolution and this is perhaps the biggest complaint of most users. The Huawei Mediapad T1 is though an aberration. Not only it offers appreciable 1280×800 pixels resolution. I may sound greedy but I think time has come for tablets (in this segment) to have full HD resolution. Nonetheless, I enjoyed playing games and watching movies on the Mediapad T1.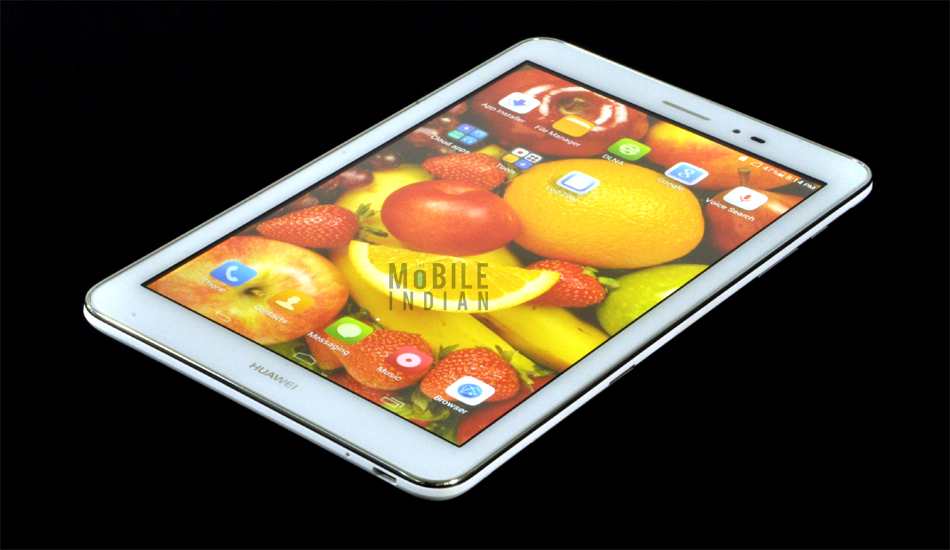 The display of the tablet is quite responsive too. It offers much better brightness than many of its competitors. With full brightness, you can comfortably work outside where there is ample sunlight. Being an IPS display, it also offers good viewing angle which is necessary while playing games where you need to tilt the device.
It does not have anti-scratch resistant glass and thus you should always use a protective cover on the top of the dislay.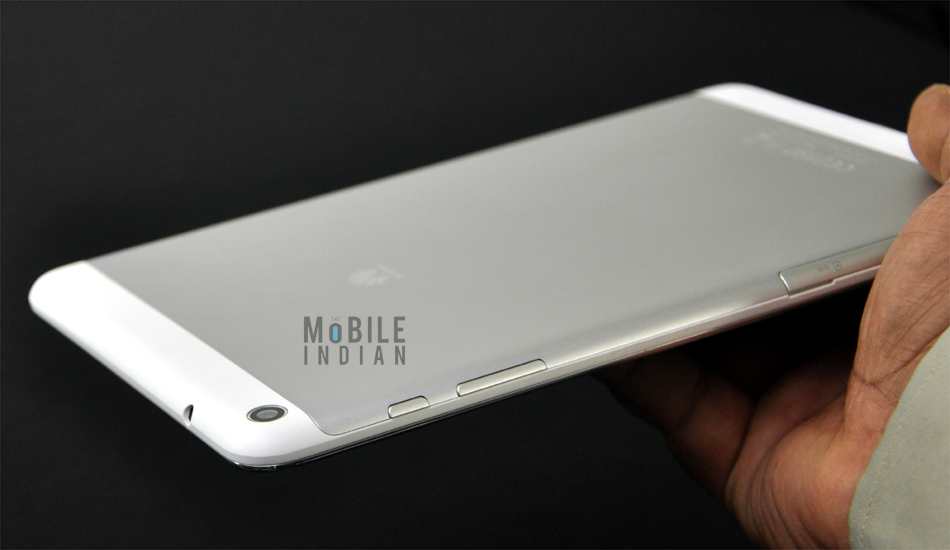 Rating for display: 8/10
Operating system and UI
The Huawei Mediapad T1 offers Android 4.3 Jelly Bean operating system but don't loose heart as the tablet uses a completely different interface than the stock Android version. The interface is known as Emotion UI and does not have an app drawer at all. This means all the apps are displayed at the home page itself. Thus you have to create folders in the home page to make it look clean. For instance, you can keep all your social network apps in one folder and games in one. You can create six home pages (minimum three) which is sufficient enough to keep a large number of applications.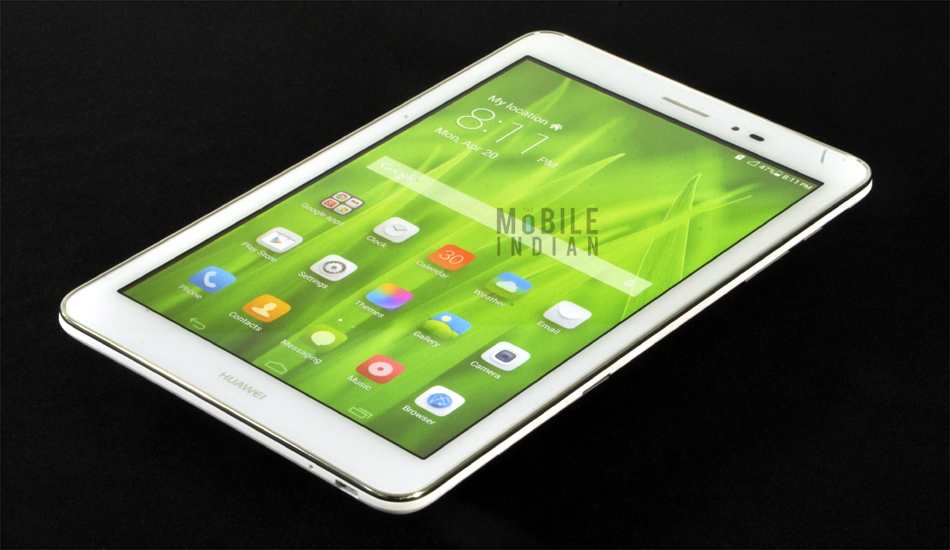 There are three touch buttons located at the bottom of the display, namely – Return, Home, Recent. The recent button helps in multitasking while home button will quickly take you to the home page no matter in which app you were working. At this page, there is an option to close apps and clear RAM as well (see screenshot). A long press on the home button also allows you to go the Google Search page.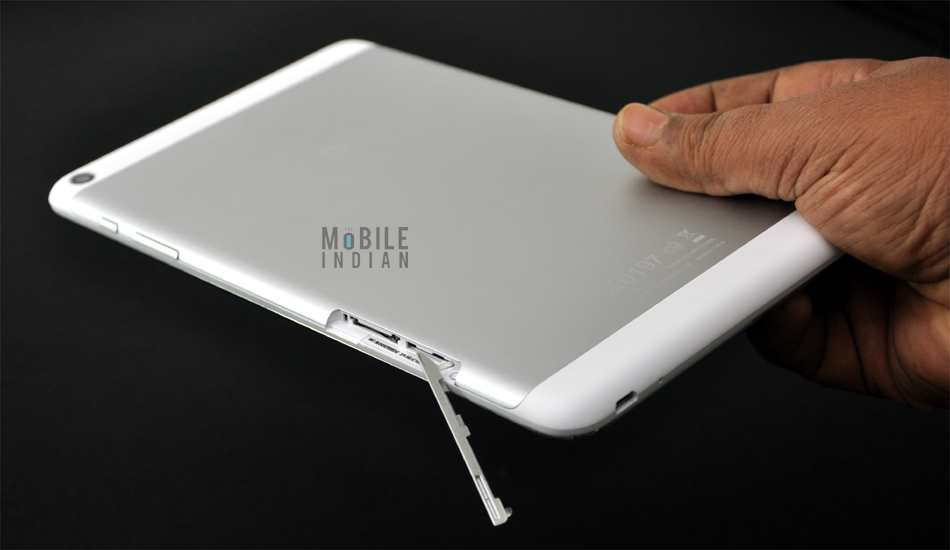 Like other Android devices, the Mediapad T1 has a notification bar which apart from showing recent notifications also shows quick setting from where you can promptly activate/deactivate WiFi, Mobile Data, Bluetooth, GPS, Rotation, Airplane Mode, take screenshot, WiFi hotspot, and increase or decrease volume and screen brightness. There is an option to rearrange this order but option to include more such short cuts to the Quick Setting page is not available.
You can take screenshots by either pressing volume down and power button together or by pressing the shortcut from the quick setting. It would have been much better if this screenshot taking button would be placed at the bottom of the screen along with Return, Home and Recent buttons.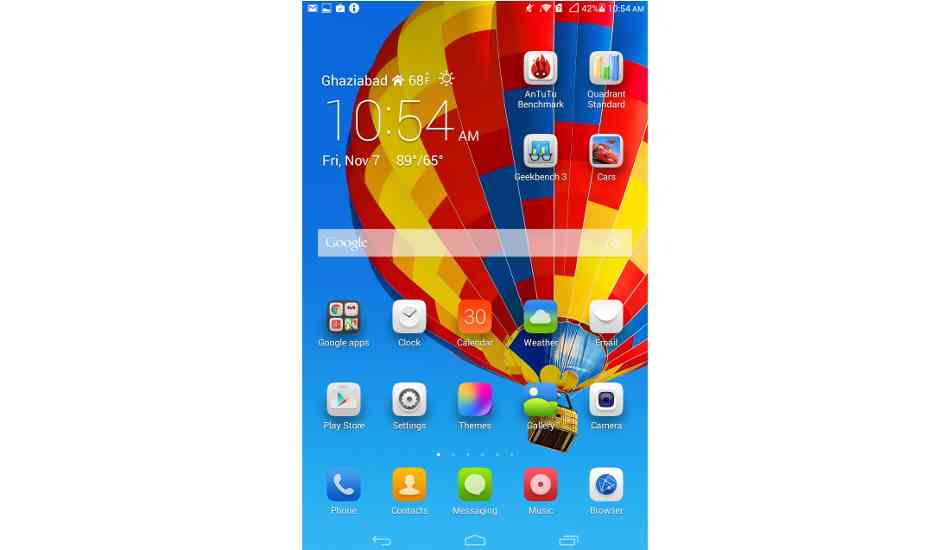 Nonetheless, the Emotion UI is much simpler than the stock Android version and most of you going to like it also. Considering that Google has already announced the Android 5.0 Lollipop version, Huwaei should update this tablet to atleast Android 4.4.4 KitKat version to keep it relevant for a longer time and this would also keep the tablet update and compatible with most number of applications for a long time to come.
Rating for UI: 8/10
Performance
The Huawei Mediapad T1 comes armed with 1.2 Ghz Qualcomm Snapdragon 200 (MSM8212) quad core processor. It is being helped by 1 GB DDR2 RAM and Adreno 305 GPU.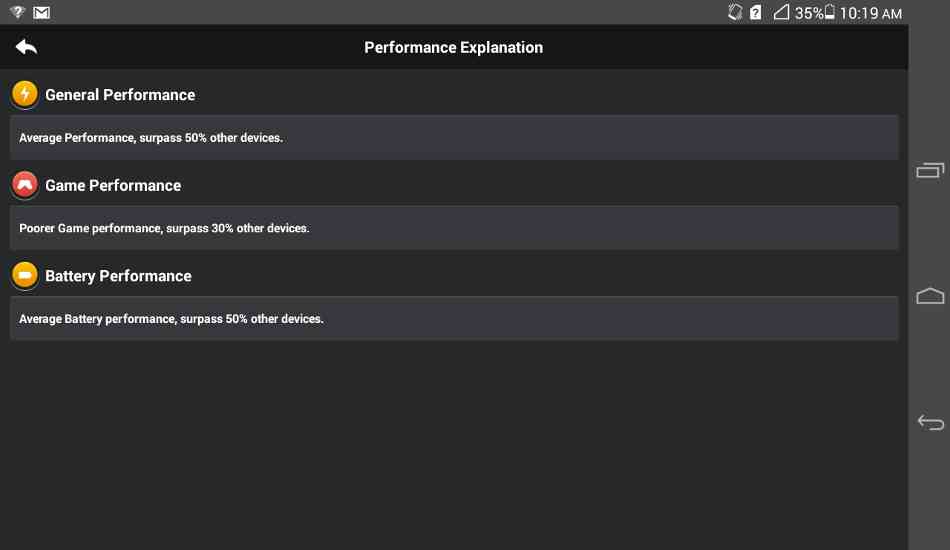 Of the 1 GB RAM, a maximum of 560 MB is available for playing apps and games which is about 100 MB less than what I had expected. But anyway 560 MB RAM is also good enough to play almost all games available in Google Play store. For instance, while playing Dead Trigger, I found that the tablet uses only 200 odd MB leaving close to 300 MB free for other operations.
The tablet managed to play games like Dead Trigger, Beach Buggy Racing etc. I tried to play Asphalt 8 as well but the game alway force closed due to some unknown reasons. The Mediapad T1 also managed to run Modern Combat 5 but the game play wasn't that smooth as I had experience in other powerful devices. The graphics output wasn't as good as expected either.
Clearly, it isn't a gaming device. There are much better gaming devices like Xolo Tegra Note which comes with Tegra 4 processor.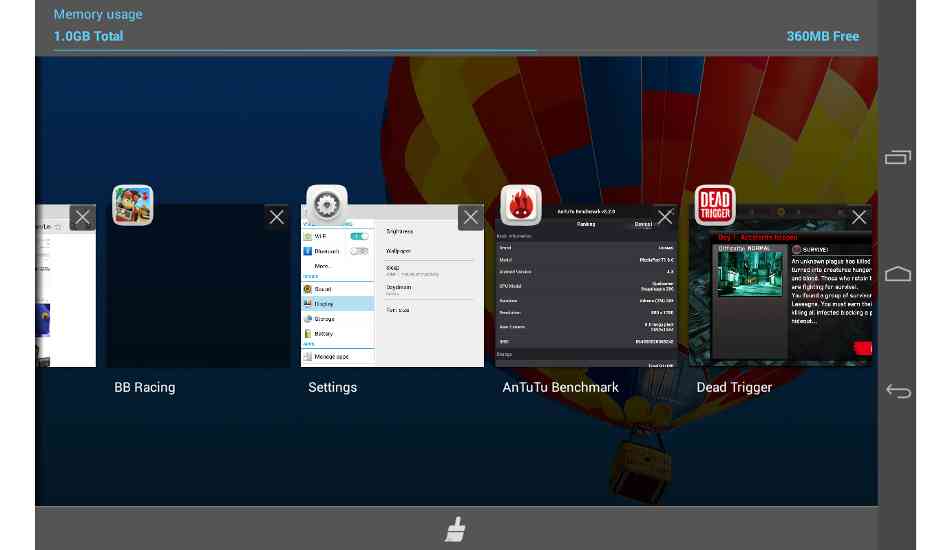 The Huawei Mediapad T1 comes armed with a huge 4800 mAh battery. This isn't the biggest for an 8 inch tablet but nonetheless, it is respectable. The tablet can run a whole day if you aren't the one who hooks on his device for hours together. But even if you play 1-2 hour game a day, then surf internet for another 1-2 hour then don't worry, it can last the whole day.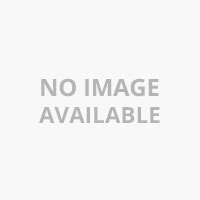 For instance, I played games for around an hour and then surfed YouTube videos via WiFi for about half an hour and at this whole time the tablet's brightness was kept at maximum. After doing all these, the tablet consumed only 20 per cent of charge. So one can expect a full day's back up with medium usage.
Rating for performance: 7/10
Rating for battery: 8/10
Storage
The Mediapad T1 of Huawei has 8 GB of in-built storage of which 5.43 GB is available for users. Apart from that there is an expandable stoage slot that can hold a micro SD card of up to 32 GB.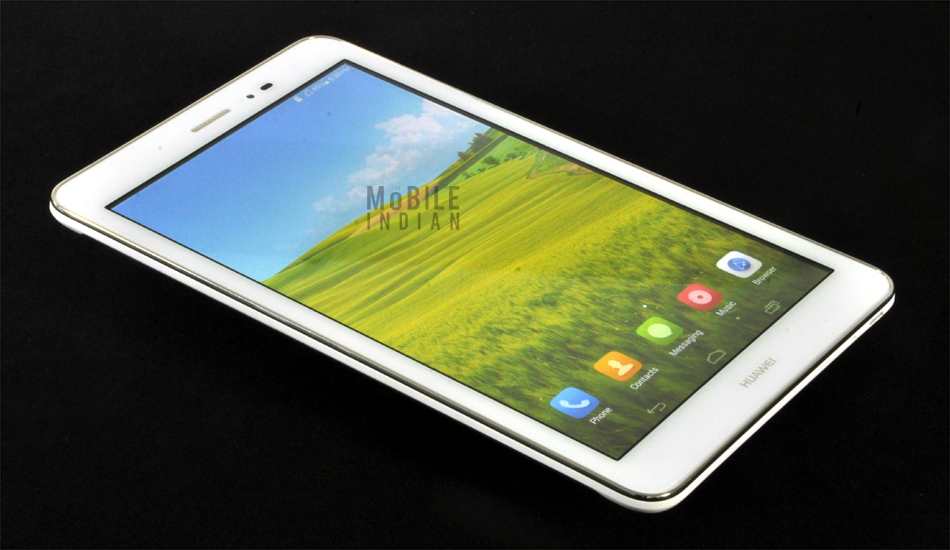 A few tablets under Rs 10,000 do offer 16 GB internal storage but 8 GB too is quite appreciable.
Rating for storage: 7/10
Camera
The Huawei T1 has a 5 megapixel rear camera and a 0.3 megapixel front camera. Both the cameras are though of fixed focus in nature. There are no LED flash lights in the back or front either.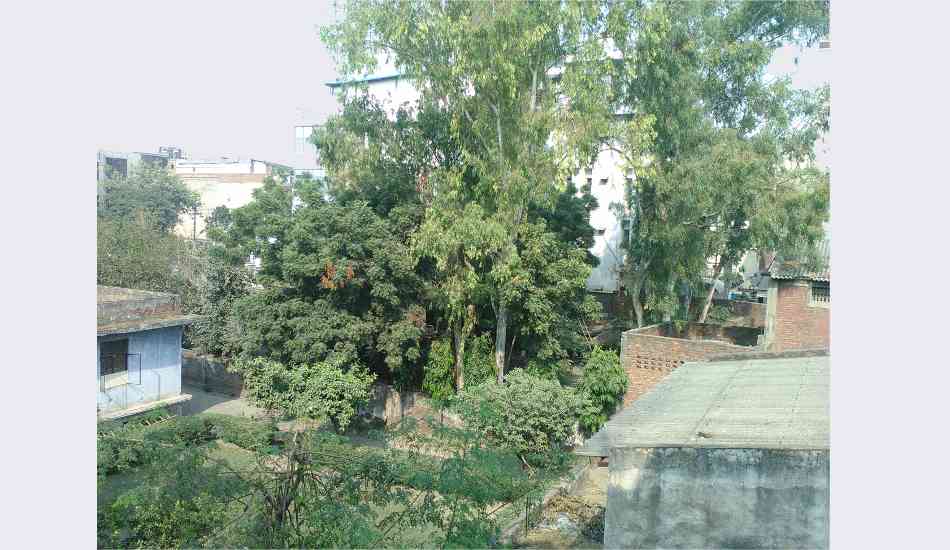 As far as camera quality goes, the rear camera does able to capture good photographs in good lighting. However, since it is a fixed focus unit, it isn't any good during macro photography where the subject is pretty close to the lens. Also the view on the display while capturing a shot was always hazy and doesn't at all tells you the kind of picture it is going to capture. For instance, the picture below was capture via its 5 megapixel rear camera and it appeared lot hazy while we pointed the lens but it turned out quite good. Being a fixed focus camera, you could not also control what to focus on.
The front camera is okay for video calling as well as for selfies.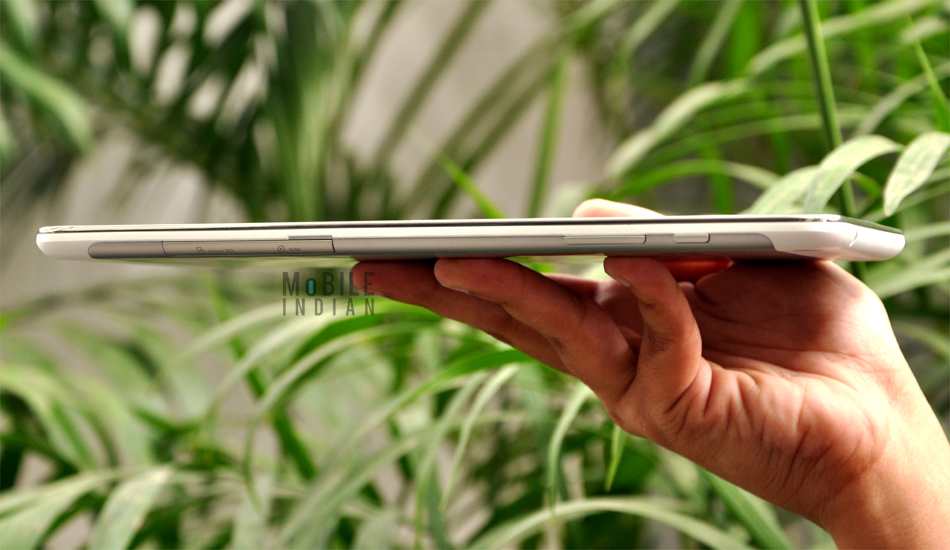 Rating for camera: 6/10
Connectivity
Keeping the demand for voice calling tablets in mind, Huawei has armed the Mediapad T1 with a SIM slot. You can make voice calls as well as surf on 3G networks using any operator's SIM card on this tablet. Besides, it has WiFi for faster internet access. The tablet has WiFi Direct and WiFi hotspot features as well.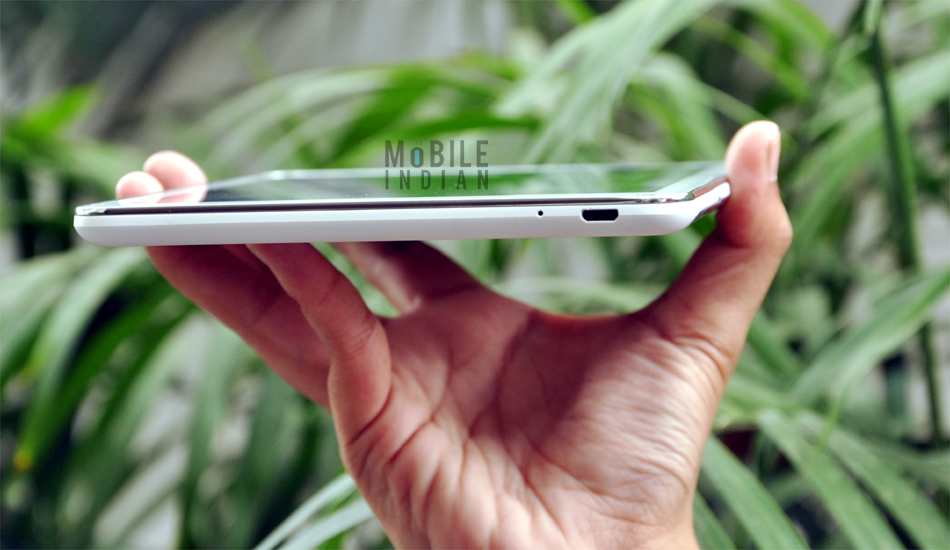 Apart from that, the Huawei Mediapad T1 has Bluetooth and micro USB port for file transfer. For navigation, this tablet offer GPS with A-GPS and GLONASS.
Rating for connectivity: 7/10