Google Home is essentially a 6-inch x 4-inch speaker which is always listening to your voice. Apart from playing music from your smartphone or from any other device, Google can perform a bunch of other functions. The speakers have a 2-inch driver and dual 2-inch passive radiators on the sides.
Advertisement
Cons
Sound Quality
Limited third-party apps
Google entered the smart speaker race in 2016 when it introduced the Google Home speaker for the global market, but it took two years to reach Indian shores. The company recently launched its smart speaker at a price of Rs 9,999 and it is available from all leading offline retail stores and on Flipkart.
The Home is basically Google's answer to Amazon Echo lineup, which made its debut in 2017. The smart speaker comes loaded with some nifty features and the Google Assistant looks promising. But does it actually make a sense? Let's find out
The design is pretty simple
The Google Home speaker does come with minimal design language. The top half of the device is made of plastic, while the bottom half features a mesh panel covered in fabric. The bottom half can be removed easily, though Google is not giving any other covers for Google Home, which is kind of odd.
Advertisement
The top houses a slope and it comes loaded with a touch-sensitive panel that can be used to play/pause music and adjust the volume controls. Further, there are LEDs that light up when Google hears you, while at the front, there is a physical button which disables the microphones. That said, the device does come with some minimalistic design and it is certainly different-looking smart speaker right now.
It does come with some smartness...
What makes the Google Home speaker so interesting is the Google Assistant. You can ask the Home speaker to different things like play music, ask for directions, get to know about random facts, set reminders and alarms and create shopping lists. Google Home is your personal butler and it guides you through different things.

We found out that the speaker has three major roles in our daily life: listening to music, getting important news and how to make good food. Starting with the recipes, you need to do is ask, 'Okay, Google! Tell me the recipe of Rajma Chawal' and it will showcase the step-by-step guide of the recipe. If the Assistant is going too fast, you can simply ask to slow it down and it moderates its voice tone, which is pretty fun to use.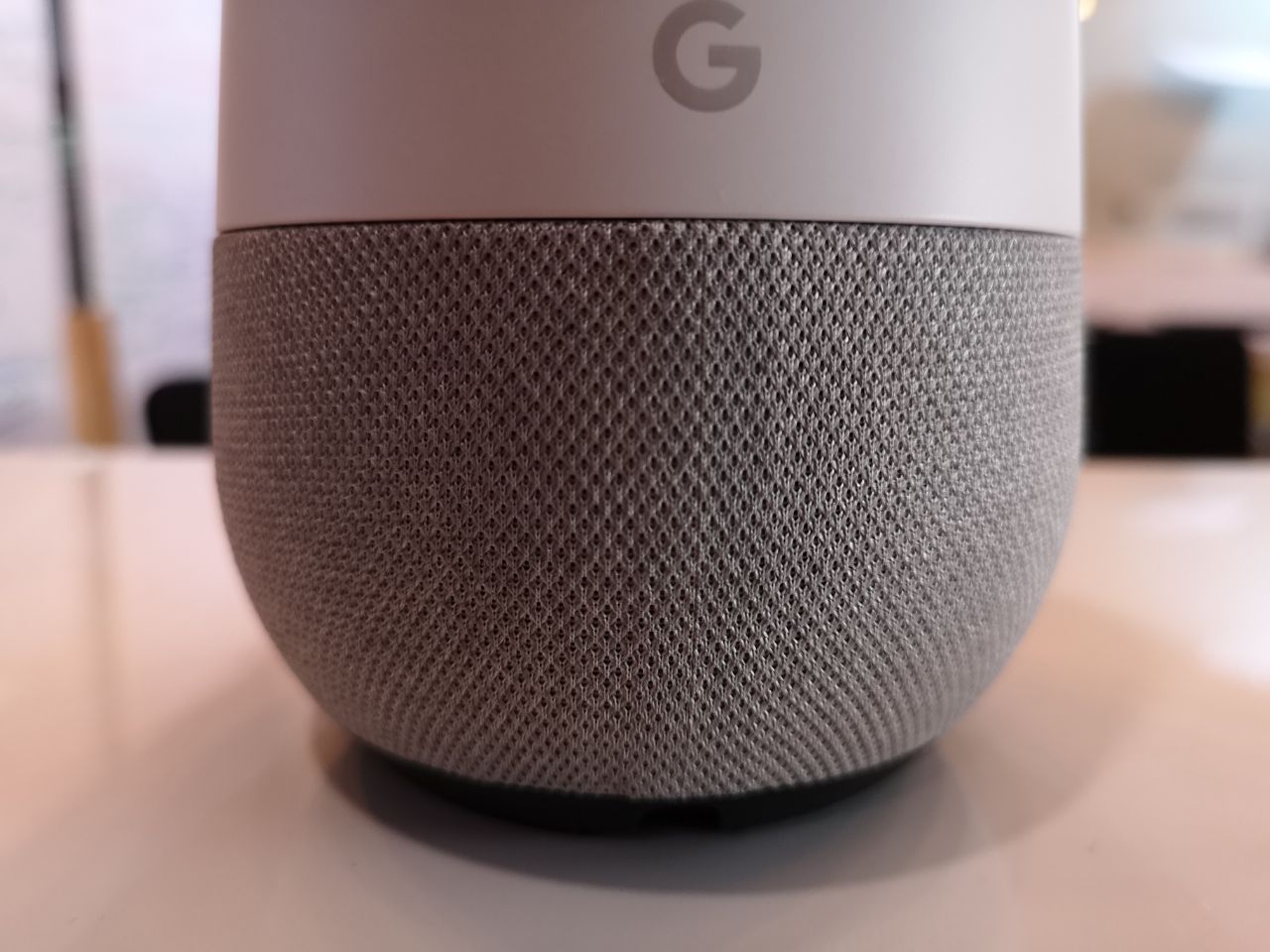 Google Home speaker also plays music from Gaana, Saavn, Google Play Music and TuneIn Radio. During our review period, we found out the device was able to identify the song and artist we asked for and played the music without much delay. This is not it. The best way to kill time is asking contextual questions to it. So, for example, we asked, 'Okay, Google! Who is the captain of Indian team' and is greeted with the correct question. Further, we asked "how tall is he" and "where is he from", the Assistant was able to understand the flow and greeted with correct answers.
The Home can also cast movies, shows and more on Netflix and Play Movies via your Chromecast. All you need to do is ask Google to play a particular show on Netflix to the Chromecast and it will automatically do that. Further, we also liked the fact that when we asked for directions, it opens them in Google Maps.
...but not that much!
However, coming to the downside, the Google Home was not able to recognise the voice, if there is some background music and if you are asking some queries from a distance. Further, with a limited number of third-party apps, the smartness is surely limited. Unlike Amazon Echo, one cannot book a cab, hotel or flight. Furthermore, the lack of local content does hamper the overall user experience.
The one frustrating thing we felt was the use of the hot word. So, every time when we want to ask something, we have to use the phrase 'Okay Google'. It is important to note here is that every Android smartphones come with Google Assistant, which has the same launch phrase. This means whenever you will say 'Ok Google' your phone's Google Assistant pops up right away.
Sound Quality is not that great!
Talking about its major function, the sound quality, Google Home a 2-inch driver and dual 2-inch passive radiators on the sides. During our testing period, we found out the sound quality of the smart speaker is quite average, to be honest. There was some distortion when the sound was at full volume, the mids were repressed and high was not that impressive. The only thing nice about this speaker is the bass, meaning that it is suite for genres like Electronics, Hip Hop, EDM and more like that.
The plus point of the Google Home speaker is it can be connected to any other Bluetooth speaker, which makes quite interesting, though Google Home Mini has the same function, so it kind of makes more sense to opt for the smaller sibling.
Advertisement
Verdict
To conclude, the Google Home speaker does come with quite handy tricks and features. The device listens to you and it is able to understand the queries most of the time. However, the problem with Google Home or any other smart speaker, in general, is that in India the whole concept of smart home products is at niche stages. There are not many products are available that are compatible with smart speakers. So, yes the Google Home speaker is not a game-changer, but just an alternative to the vanilla Bluetooth speaker. It does some good tricks, but at the end of the day, you will spend most of your time listening to music. And for that there are already some top-of-the-line Bluetooth speakers available that provides some terrific sound quality at the similar price point.