In the recent past we have seen quite a few building based strategy games on Android platform. These games take advantage of the bigger screen sized devices and provide a detailed game play to the users where they have to control almost everything and that's what makes these games interesting as well.
Rock the Vegas is yet another game that has been launched by its developer – Game Insight, in the building and strategy gaming genre. The game just like its previous version My Country that focuses on making a city right from the scratch and as you earn money and then in turn use the same money to make the city better.
Rock the Vegas game brings back the same game play but with an interesting twist – the control to build the Vegas City right the way you want it to be. Users are given the required and the bare minimum basic training for playing the game in the initial few stages of the game but if you have played the My country game in the past you will know what to do and how. For new players, the game has got a long list in terms of options and menus to toggle and control the game. Users get the power to control each and every element of the game play be it population, buildings, light which of course look great in the newly added night play mode where the neons over the casinos just look simply superb.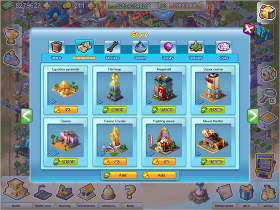 Since there is no minimum hardware requirement for devices to play this game, it can be easily installed and played on most basic Android devices. Obviously, the quality of graphics will differ from device to device and definitely on smaller devices this game will run relatively slower which might lead to a bad game experience.
There are no in game advertisements or funky stuff like application suggestions. The game gives the option to users to buy the special currency which can be used to get the tasks done faster and buy limited edition and much efficient buildings as well. This is a great way of making games and applications free where the players are not unnecessarily pressed or forced to see advertisements or complete tasks to play the game.
Overall, Rock the Vegas promises hours of fun game play but beware you might get addicted to it and please make sure that you carry your charger with you all the time.
The game Rock the Vegas is compatible with all devices running Android version 2.1 and above. It can be downloaded directly from the Android Market or users can alternatively follow the link to download the application.
Link: https://market.android.com/details?id=com.seventeenbullets.android.vegas&hl=en
Please note that the game has a big download size of about 26 MB, so it is advised that users connect to a high speed data network such as 3G or WiFi to download this game.