When it comes to real life, there are few things more exciting and challenging than a game of pool, but in our busy lives it is becoming increasingly difficult to take time out and play pool with friends. So what is the alternative? Well, it's in your pocket, in the form of the free Android game Pool Master Pro.
Pool Master Pro features both 8 and 9 ball based games in different challenging environments and player modes. Users can choose to play against the auto intelligence or computer based player or can also play with another person on the same device.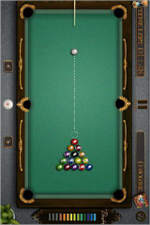 For beginners, the game offers ample opportunity to practice and play as well so no sweat if you know nothing about the game. You will stumble upon all the rules and tricks of the game in a very short while.
The best thing about the game is its simple yet fluid graphics. It gives good performance on slower devices as well. We tested this game on 600 MHz and 1 GHz devices, but apart from a few obvious changes and improvements there was no major difference in game play.
The game is optimised for minute movements and tweaks as well, so even the slightest change in the angle of the ball or the striker will result in a completely different shot. The physics engine that takes care of the balls' movement is very refined and is one of the main reasons for the game's popularity.
There are mainly two different game modes:
1. Single Player Mode (no rules)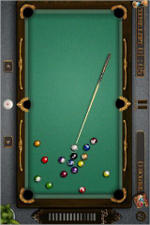 The object of the game is to pocket your set of assigned balls. The more balls you sink, the higher your scores get. The initial time limit of Challenge Mode is 2 minutes but once you sink a ball you get additional time. As all the balls have been cleared, the pool will create a new group of balls to keep the game going. Also, you can play the Practice Mode which has no time limit but no high score record either.
2. Player Vs Computer/ other Player Mode
This involves playing against the computer or other players with standard eight or nine balls as per the standard rules.
All in all, the game offers hours of fun and never ending games and that too for free. However, the advertisements might be a little annoying sometimes and there is no escaping them.
The Pool Master Pro application requires an Android OS 2.1+ device and you can download it manually or from the Android Market. Alternatively, you could also follow this link.