We all know what are plants and what they do but have you ever thought that plants could get you rid of the zombies! Well that is exactly what they do in the game Plants Vs Zombies.
As the name signifies, it's the battle between the plants and the zombies but as by nature plants are not self-reliant, they need your help in terms of strategizing and planning what to do and what not to. So, pull up your sleeves and take out that shovel as some digging and seeding is coming your way.
The game has a very intuitive and an exciting game play that is bound to keep the player glued to his/her smartphone for hours together. While testing this game out, we almost spent more than three hours playing this game continuously!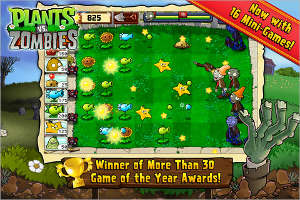 The game although seem like easy but as the levels grow in numbers, the game becomes tough and it keeps on growing. But not to worry as there are multiple plants and various varieties of plants ranging from pea shooters to zombie eater and fire breathers, all there to help you out and revenge the zombies.
After stage 5, you will be presented with the shovel also which gives you the power to remove a plant and sow another one in its place for a faster more painful death to the zombies. And as all these plants need the power of sun to kill zombies, you will need sun's power in abundance while the number of zombies grows with the levels.


Overall, it is a very nice game with great graphics and even better concept that promises hours of fun and game play. But beware, the worst part about this game is that it is highly addictive and you will end up spending most of your time playing this game rather than doing anything else. Although the developers could have done something's more with the music that tends to annoy the players after a few stages of zombie breaking action.
This game requires an iOS 3.0+ device and above. You can download the Plants Vs zombies application on your Apple device manually or can also visit the iTunes store to do the same. Alternatively follow this link. This game is available for iOS, Android and even PC you can also check out the developer website for more details.