In the recent past we have seen a whole bunch of in-app advertisement-based games being added to the Android Store. These games are available free of cost to the users as they advertise during usage. NinJump is another such free to play game supported by an advertisement.
Every game that is made has a purpose, but it is irrelevant in the case of NinJump. Here there is no goal; there are just achievements and bigger better scores to be made. If you are feeling really lucky, you can also post your scores online and tally them against other players worldwide for knowing what you are worth.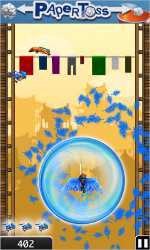 As mentioned, the only objective of this game is to climb higher while getting more and more score in the process. The play starts with the lowest possible score (zero) and as the mini ninja character in the game gains height, by climbing the never ending walls, the score increases.
While the game play might sound real easy, in reality it is not. To make the game interesting, the developer (Backflip) has added a couple of hurdles that include other villain ninjas throwing shurikens and a couple of other characters like foxes and birds aiming right at the mini ninja to make him fall right off the walls.
Users have to carefully chart the way while bouncing from one wall to another. Besides jumping, the ninja also attacks to kill the birds, foxes and even dodge shurikens. Also when the ninja hits or kills something, it is added to his account and once the number of kills reached to three, special power gets unleashed. Though for a short while, one can get the special powers by killing some more.
The NinJump game offers hours of fun and can be a perfect little game anywhere and anytime. It does not have a complex storyline and even does not require much time. You only need few minutes to chase your target score or make a new personal record and upload it up against some of the best NinJump players across the globe.