How many times have you ever cribbed about government not working for the welfare of the country and that if you had the power, you would have written a totally different story all together!
Well, you might not get a chance in the real life to bring such drastic changes but virtually you can. With My Country game on Android, you have a chance where you are the one to do all and be all of your country.
As the name suggests, My Country is a strategy and time based game in which all you need to do is build your city from the scratch and make it a super power or an example for everyone else. You control the population, economy, power, ecology and even the transportation system.
The game has a nice helpful interface and as the game begins it teaches the user as to how to go about doing certain things. Basic services for the country are offered to the user in the form of bonus tasks so that the user learns the importance of it and get to know how to do it. In short, the players can get a slight God-like feeling while playing this game which is great and even wonderful as all this come to you free of cost.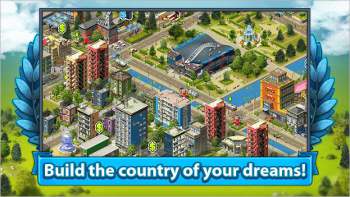 The application has been developed to perform well on most basic of devices. Obviously the quality of graphics will differ from device to device but yes the fun of playing this game is not taken away from anyone. There are no in-app advertisements in this game that improves the fun. Users can occasionally buy the Country dollars from the developers in order to advance faster in the game and to ensure the free and no advertisement game play of this application. Also in this game you have to control literally everything and that I guess will be liked by a lot of users.
The gloomy part of this game is that after a certain level, it comes to a standstill and it turns to money collecting only game, but starters do not need to worry as they will have a long time to play before they reach that stage. Secondly, smaller screen devices might have slight problem while playing this game as some points are so small that touching these is virtually impossible.
Overall, it is a very nice game with great graphics and even better concept that promises hours of fun and game play.
This game requires an Android OS 2.1+ device and you can download the My Country application on your Android device manually or can also visit the Android Market to do the same. Alternatively follow this link.