Android as a mobile operating system has given rise to many different fun game genres. Projectile games are one such example. Starting with Angry Birds, that shook the mobile gaming world and is still going strong, there have been multiple projectile based games added to the Android catalogue. Defender is another such game in which monsters have to be warded off.
In the game you play the role of an archer whose aim is to protect the castle from monsters. Monsters grow stronger as levels proceed.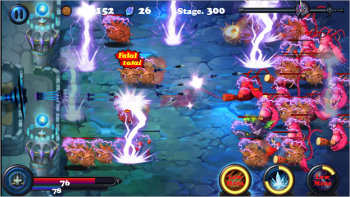 The game has a variety of spells which will protect the castle when the monsters attack in swarms or when the arrows deal too little damage. To cast these spells users need the Mana power which is available in limited quantities but once used can be restored in some time, so you need to be really judicious while using this.
You will have to keep upgrading your game avatar running and add some upgrades with each passing level. But you will have to be very selective as the game will get really very difficult to play with each passing level beyond certain point. And you might end up upgrading to something which was entirely not required but you still did that so avoid such mistakes for a healthier game play.
The game is no doubt a little repetitive in terms of game play but the ever increasing difficulty with each passing level keeps players glued to it. And there are newer and more difficult bosses also added to this game, so they will take a longer time to get killed and of course it no longer a simple point and shoot game, you have to think before you shoot.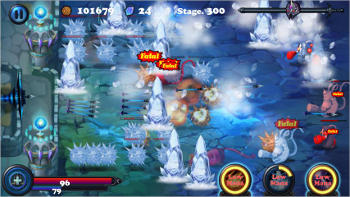 The application has been developed to perform well on basic devices. The quality of graphics will differ from device to device but the game is always fun. There are no in app advertisements in this game either. Users can occasionally buy Gold from the developers in order to advance faster in the game and to ensure that the game remains ad-free.
This game requires an Android OS 1.6+ device and you can download the Defender application on your Android device manually, can visit Android Market for it, or follow this link.