City Jump is one of the most played games on the Android platform. The free game offers unlimited game play in three different modes or story modes along with a nice and ever growing difficulty as you go up. Well the frogman, the building walker of City Jump is again back in action and this time only the game has gotten a new twist and some newer bosses to fight as well. So take on some alien foes and fight your way up to the pinnacle, well theoretically in this revengeful game of City Jump Strike back.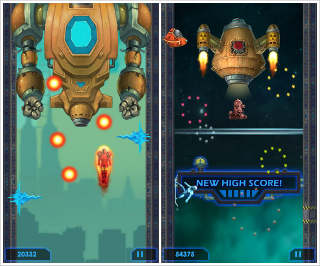 The game takes you to the year 2500 AD beyond where the skyscrapers are never ending and are covered with alien robots and our hero is trying to rid the city of them. The game carries on with its unique power up system – if the hero kills three similar type of robots, he gets a similar type power up for a moment. The power ups range from silver surfer to human torch and even the frog man.
The graphics quality of the game has definitely improved in this never ending game and the control algorithm seriously feels better and much refined. The game play might seem to be similar to the Ninjump game but not to worry as the storyline now is totally changed and better than the Ninjump game.
The inclusion of online top score sharing adds a new level of rush to the game as now players can compete with fellow city jumpers across the globe.
The developers have decided that there will be only a free ad supported version of this application, for now at least. So users can enjoy this game as much they want along with the random advertisements that are at times a bit annoying.
The application can be downloaded directly on the Android 1.6 and above devices from the Android Marketplace or alternatively user can also follow the link to download it also.