Popular physics-based game Angry Birds is back in yet another installment and this time it brings back the classic space cult legacy – Star Wars. Unlike the last one – Star Wars Space, this new game goes to a totally different level of makeover. Angry Birds Star Wars has re-imagined characters, artwork with the same, high quality graphics and several references to the Star Wars saga.
Angry Birds Star Wars saga is a mash-up of the Star Wars franchise and all the game-play elements of past Angry Birds games. The birds are blessed with Jedi powers where the red bird is Luke Skywalker, black bird is Obi-Wan Kenobi and yellow bird is the Han Solo character. These three birds form the Rebellion and will fight the mean green pigs dressed as the Storm Troopers as part of The Empire.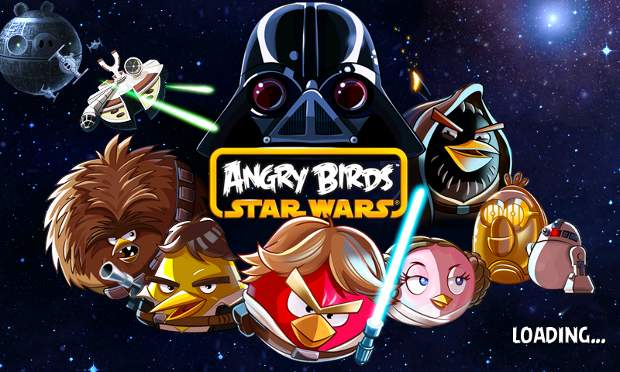 The game is spread across four worlds – Tatooine, Death Star, Dagobah and Hoth. It already includes the first three worlds while Hoth is expected to arrive as a free update. The Tatooine and Death Star worlds comprise 40 levels each.
Basic gameplay remains the same-birds need to be hurled at the obstacles to beat the green pigs. Changes come in the attire and powers of these birds. Luke Skywalker red bird uses a blue light saber to cut every obstacle in its path. So basically you have to have perfect timing to use the light saber effectively. Here's an interesting tip – you can time your light saber swoosh to parry the shots and deflect them towards the pig troopers.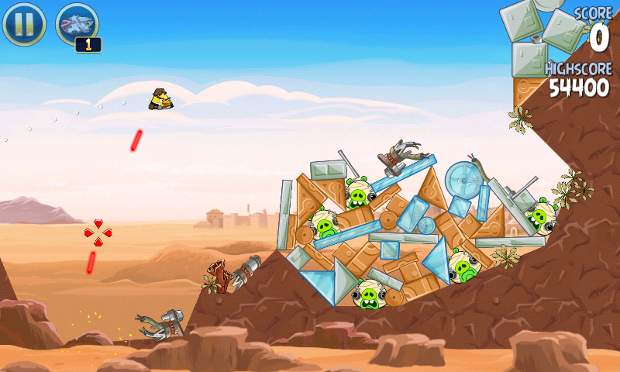 The black bird that used to throw bombs is now Obi Wan Kenobi and can do the special Jedi trick to push a pile of obstacles in any direction. You have to be careful with the location of your tap or you may just end up wasting Obi Wan Kenobi's powers for nothing.
Meanwhile, the yellow bird decks up as Han Solo who can shoot three laser blaster rounds to demolish the obstacles and reach the pig troopers. Be careful while using the Han Solo bird because several metallic and mirror-like structures will tend to deflect those laser blasts in different directions.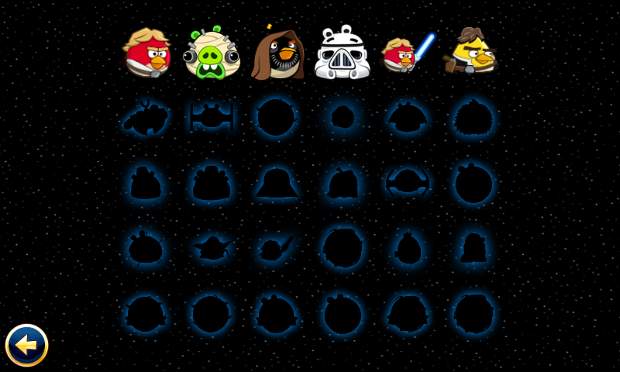 Rovio has added the Star Wars theme to the Angry Birds universe and has also made the game interesting with an easy looking but tough set of obstacles to be cleared. This game packs loads of shooting, slicing and Jedi action to fight your way from 40 levels of Tatooine to Death Star world, which is a mix of space puzzles.
Yes, there is also a Darth Vader pig that controls another green pig riding on Tusken Raider to shoot blasts while floating in space. Of course, you can take extra help from the Millennium Falcon turned into a Mighty Eagle Falcon to blast off the Tusken Raiders and also use them in stages prior to that.
Along with the twist-packing levels, there are bonus levels that will introduce you to the adorable C-3PO and R2-D2 birds.
Angry Birds Star Wars is a perfect introduction to George Lucas' epic space fantasy for those who are yet to be introduced to it. This game is no longer a simple bird hurling activity, but now requires more precision, skill and better timing to do maximum damage. If you thought that the regular Angry Birds game would frustrate you, this game packs even more challenging levels.
Rovio offers the new Angry Birds Star Wars in the two usual versions – free with ads and premium without ads. Both versions will have in-app purchase capabilities to unlock special worlds. Now the only feature add-on we could ask for is the replay button, which would show how the birds demolished the structure and would help you do better in the next level.
Download the free version of Angry Birds Star Wars for iOS from the Apple App Store and for Android devices from the Google Play Store.