India based, Woxi Media has launched a new device that can convert a television set into an Android smart TV. Called SmartPod, it comes with a unique 'multi-user login' capability that supports up to eight unique users, so everyone in the family can get a personalised Android smart TV!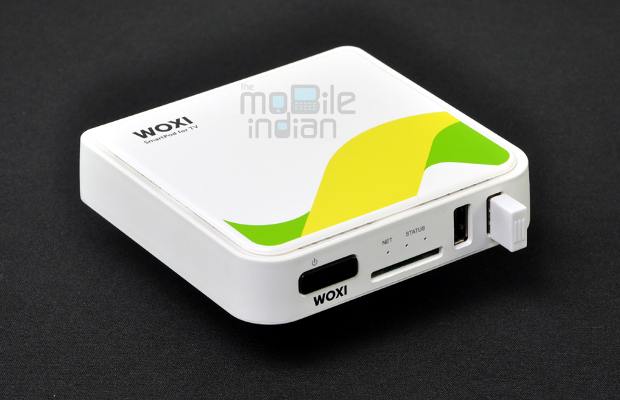 Its features make it look like an average Android tablet with 1 GHz dual core processor with 400 MHz Mali 3D graphics processor and 512 MB RAM.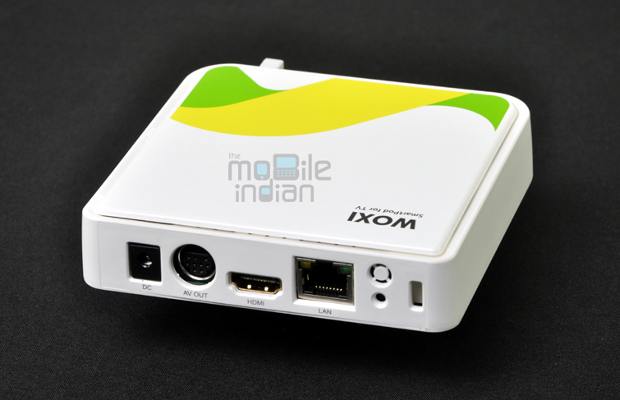 The USP of this device is its support for CRT TV, external hard disc support for up to 1 TB, and a motion sensing remote with both mouse and Qwerty keypad function. The device also supports WiFi, internet through cable (RJ45) and WiFi hotspot.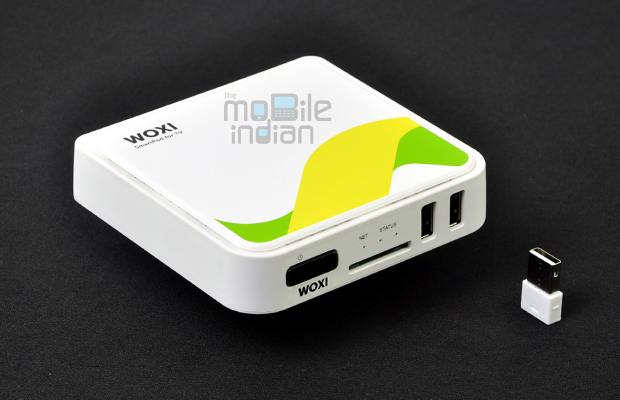 The SmartPod has one SD card slot, two full USB port (one occupied by remotes' receiver) and an HDMI port, a RS45 slot, a DC port and a, AV Out for conventional TV.
Design
The Woxi SmartPod itself is a small box and is very lightweight. It is almost square from the top with rounded edges. We would have loved a black finish which is the colour in which most TV sets are available allowing it to merge well with the TV.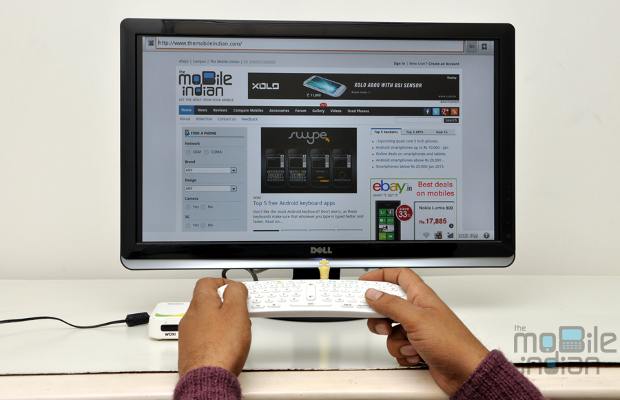 The two USB ports, the SD card slot are in the front while other ports are at the back of the SmartPod. There is also a power button in black rectangular shape in the front along with 3 LED indicators that show the status of the device and internet connection. All in all, the ports and buttons are well placed in a very average looking device.
The Remote
The Woxi SmartPod's remote, on the other hand, is slightly larger than a regular TV remote. The remote has a full Qwerty along with number buttons, shift keys and many shortcut keys at the top row. The buttons are placed with enough space in between them and is thus easy to operate the remote.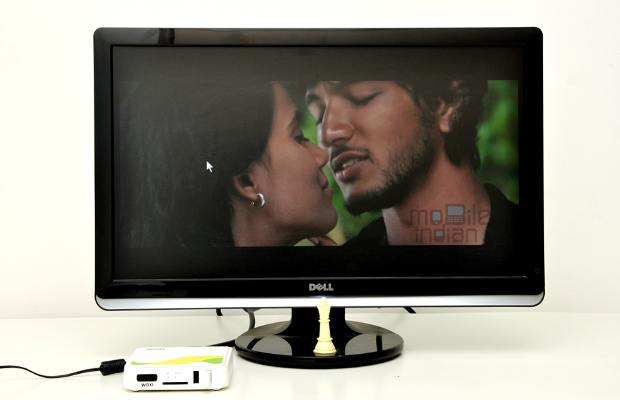 The keypad is split in between with a large horizontal button pressing which acts as the mouse while it's two ends acts as right and the left key of the mouse. The mouse uses motion sensing technology and is slightly imprecise and you may need to spend some time with it to get used to it. Also, it is alright for most tasks but is not that good for motion gaming.


You cannot play games that work on tilting as the remote doesn't support tilt action.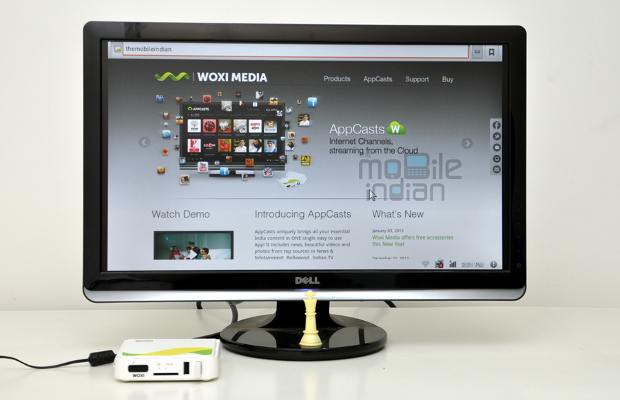 Typing is also a bit difficult on the SmartPod's remote as it has a curved bottom that makes it difficult to put it on a flat surface and type. A slimmer remote with flat bottom would have greatly helped the utility of this device as a low cost PC solution.
Connectivity
If you own a LCD TV with HDMI port, connecting the pod is a very simple affair; plug the supplied HDMI cable in TV's and Pods' HDMI port and connect the Pods' charger to the power socket and you are good to go. If you have a conventional TV, you will need component cable which you can plug in the AV Out to component female that has been provided.
User Interface
Woxi has redesigned the user interface and it doesn't look anything like Android 2.3 that it runs. The home screen shows all the loggedin members and also an option to log in as a guest. When you enter your profile you get Apps, Games, Browser, Media, and App cast and settings as different tabs.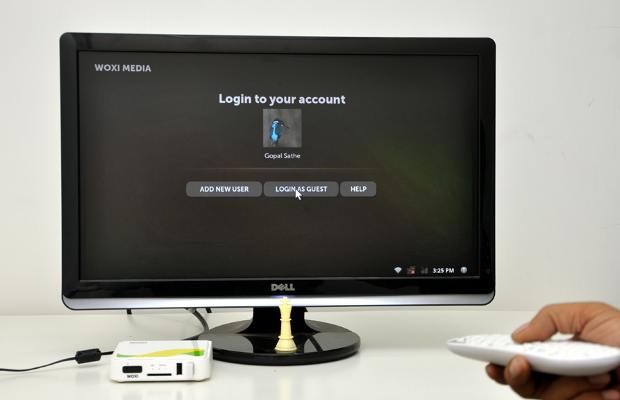 This enhances usability with proper segregation, but also causes problems when someone want to switch between say a game and YouTube – to do that you have to go two steps back to access either of the app. You can download all the apps and games from Google Play store, and use them on a large screen.
App cast
The app cast is a unique selling point of this pod. The company has tied up with content providers to offer services like Music, Entertainment and education. And while we couldn't test these services, most of them seem to be available through Google Play store.
Performance
SmartPod's dual core 1 GHz processor and 512 MB RAM is something we had doubts about and we were right. The large screen of television requires better hardware and this set proved not enough for any serious gaming (another problem being the remote).


However, normal applications other than games opened with ease and worked fine too.
What can you do with it?
The pod is very good for internet browsing, social networking, even chatting, or using applications the way you do in an Android or any other smartphone. However the SmartPod lacks a camera for video chatting to be enabled, which is a big minus.


Also, few games that can be played by typing some buttons can be played using the SmartPod. But, games like Temple run, which requires the device to be tilted, are out of question.
Verdict
The Woxi Smartpod is a good concept device but it has not been executed well. The remote needs to be improved and so is the performance. Woxi can also look putting a camera as an additional accessory at least for video chatting.


The pod is currently available for Rs 8,500 for which you can even buy a 8 inch tablet with much better configuration (and similar specification 7 inch tablet for much less) and better gaming ability. The tablets can also be used to enjoy Android games and applications on the TV. Also, you can even use Bluetooth keyboard and mouse with these tablets.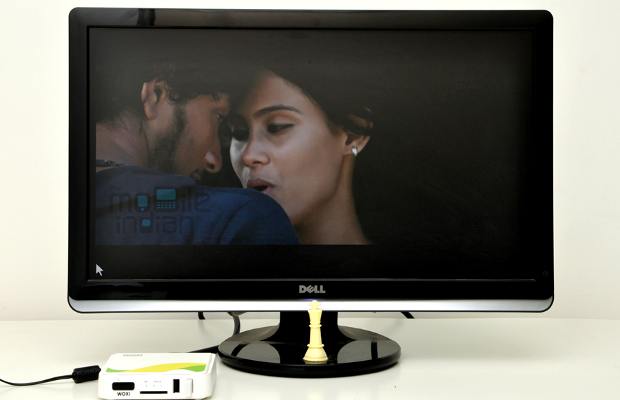 The only benefit with Woxi over any other tablet is that it works with any TV and it also gets ability to connect to a wired network and act as a router (which means you can forget to buy a WiFi router which would otherwise cost you anything upwards of Rs 1,500).