When it comes to Bluetooth hands free kits, Jabra as a brand in India is quite reputable and we have seen quite a few iconic products coming from this brand in the past as well.
Jabra Freeway, it's a dedicated in-car Bluetooth hands free kit and Jabra has utilised all its expertise on this product.
Looks and Build Quality
The Jabra Freeway comes in a unique and sleek form factor as far as car Bluetooth hands free kits in India are concerned. It has a full matte black colour tone that gives it a discrete as well as a sophisticated look. A major benefit of its discreetness is that it can easily blend in with your car's interiors.
Like Jabra's earlier products, this hands free car kit has also top notch build quality that will last longer. The matte finish also acts as a fingerprint resistor and the Jabra Freeway does not get dirty fast.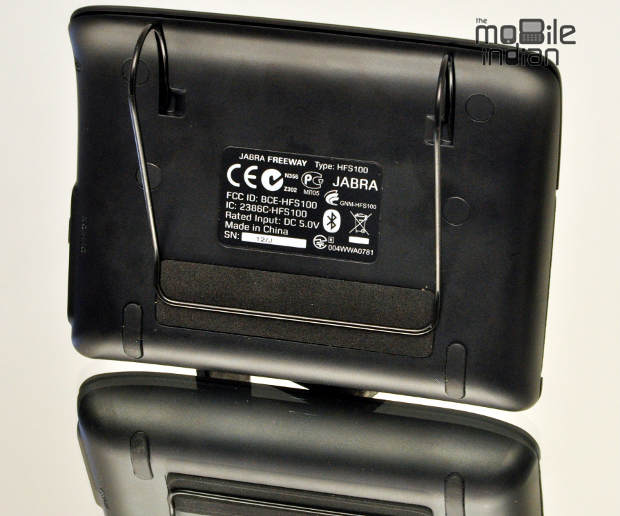 Design
The Jabra Freeway, in terms of design, is optimal for in car usage either on the dashboard if you don't like to clip it on the visor. For the sun visor, there is a high tensile metal based clamp that allows this to cling on to the visor and for desk type usage this has got silicon pads as well on the bottom to keep it from slipping off while driving.
Jabra Freeway has regular push-to-work buttons which are placed very discreetly under the body to give this a neater look. These buttons are dust proof as well.
The Jabra Freeway has a seven button design out of which one is placed on the side to control the power. Rest of the buttons on the device control everything from the call connect/disconnect, volume level and even the voice commands and the FM transmission.
Connectivity and technology
The Jabra Freeway features Bluetooth 2.1 with A2DP, hands free and headset profile allowing it to connect to any Bluetooth compatible mobile phone with ease. For charging, there is a micro USB connector which is conveniently placed on the right side next to the power key.
The Bluetooth connectivity range for this device is well over 20 meters and the Jabra Freeway can also be connected to two devices simultaneously.
The key feature of the Jabra Freeway is its voice commands and voice alerts. If you are receiving a call from a known person, the device will call out the name or else the number from which the call is being received. Users can choose to pick up the call or disconnect by saying answer or reject. Users can also connect to the last dialed number by simply saying call after pressing the voice button.
Another big advantage of the Jabra Freeway is the FM transmitter which is capable of transmitting audio over FM. Users can use the A2DP capabilities of the device to transmit music or the call audio to the car's music system with a great ease.
For people who stay on the road often, they do not need to take this out and even switch it off as the Jabra Freeway features an inbuilt motion sensor that allows it to shut down in the absence of motion and turn itself back on as the motion comes back on.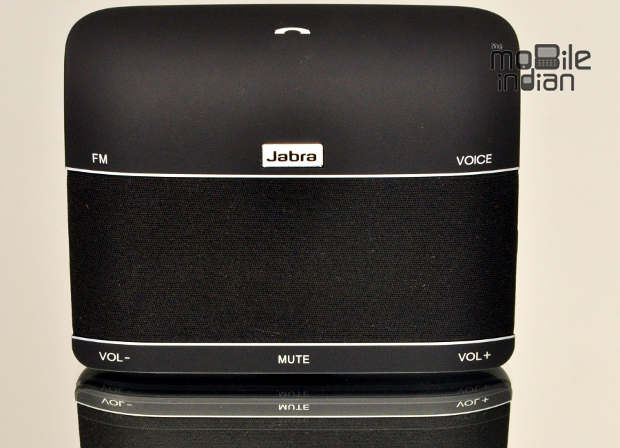 Performance
You can pair this device with any Bluetooth enabled phone. You can turn on the pairing mode by keeping the call button pressed. It takes less than 10 seconds to get paired but you have to repeat the whole process again if you have to connect other phones with the Jabra Freeway.
In terms of the voice quality, the Jabra Freeway is leagues apart from its competitors and provides a crystal clear sound.
It features Bluetooth A2DP profile that allows music playback from one's mobile phone but since the device does not feature any music control keys so users will have to control music playback via their phone. Songs can also be transmitted over to the car's music system for louder playback.
The Jabra Freeway has a virtual stereo sound output created with the combination of three drivers including two mid range drivers and a low range driver that acts as a subwoofer for a fuller sound.
In terms of the sound output the device is great and the voice quality as mentioned earlier also is great and enough to satisfy a couple of ear buds as well.
On a personal note while not in the car, we used this device as a portable Bluetooth multimedia speaker system and we thoroughly enjoyed every bit of its sound.
Battery performance
The Jabra Freeway has an internal battery pack that can power this device for up to 10 hours of continuous jabbering. But in case of minimal usage, this device can accompany you for more than a week.
It took about three hours to get completely charged from zero battery level.
To sum it all up
In one line, the Jabra Freeway is a robust Bluetooth hands free car system with excellent sound quality. The voice alerts for calls and battery status surely take off a lot of burden and allow the drivers to focus more on the roads. Along with this the inclusion of voice commands is a superb idea and will give the drivers a more hands free experience.
Overall the device is just a bit bulky which can be overlooked amidst all the other features. The price of the device is about Rs 6,500 listed on popular online shopping portals, and the Jabra Freeway makes absolute sense for every penny asked for.
So if you are looking for a superb Bluetooth solution for your car then look no further as things don't get any better than this, at least for now.