The BlackBerry Leap has a 5 inch high definition display and it is 9.5 mm thick. This unibody smartphone weighs 170 grams with a non-removable 2800 mAh battery. The Leap offers a 1.5 GHz Qualcomm MSM 8960 dual core processor, 2 GB RAM, 16 GB internal memory, and a 128 GB micro SD card slot. It has the BlackBerry 10 operating system.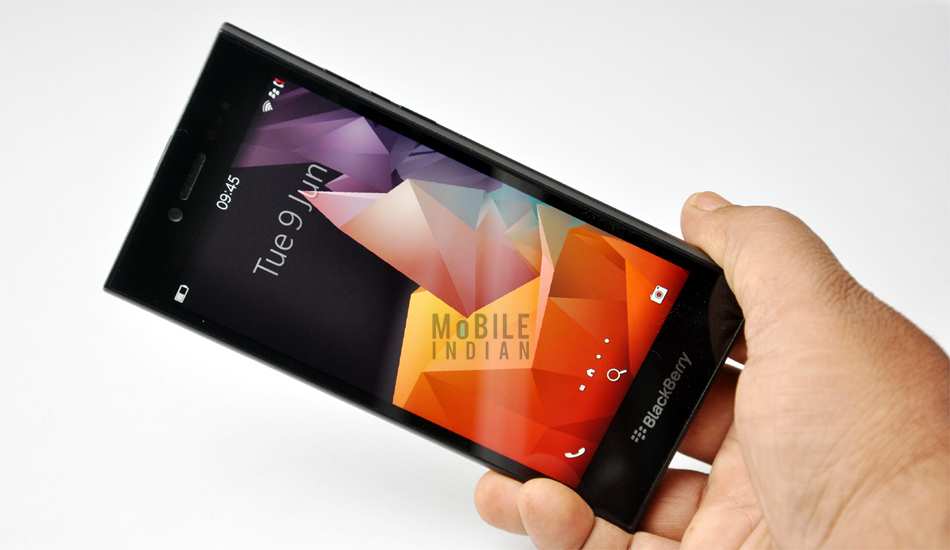 The new BlackBerry Leap has an 8 megapixel auto focus camera and an LED flash in its rear panel. This camera has video/image stabilisation feature and can record full HD videos. In the front, it has a 2 megapixel unit.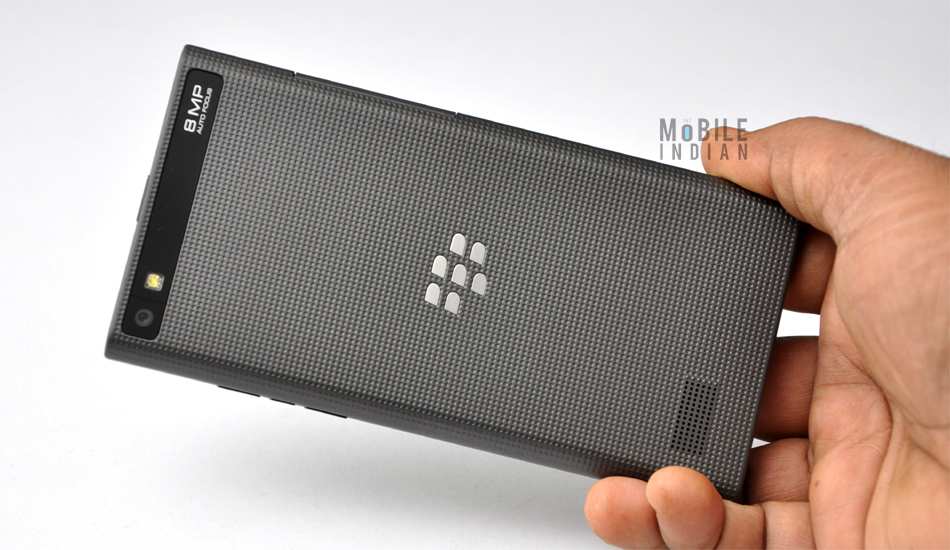 The BlackBerry has 4G connectivity apart from WiFi, WiFi Hotspot, Miracast, FM radio, Bluetooth 4.0 LE, and GPS.
Design
If I have to choose one most noticeable feature of the BlackBerry Leap then it has to be its design. Not many smartphones appeal to the eye as well as to hands at the same time as the Leap. As one would expect from a BlackBerry handset, every part of the Leap reflects a high-quality standard. The material used for the back panel, the buttons, the front display, the BlackBerry logo in the front and the back – all are of high quality and pleases the eyes. In short, it looks aristocratic as well as durable at the same time.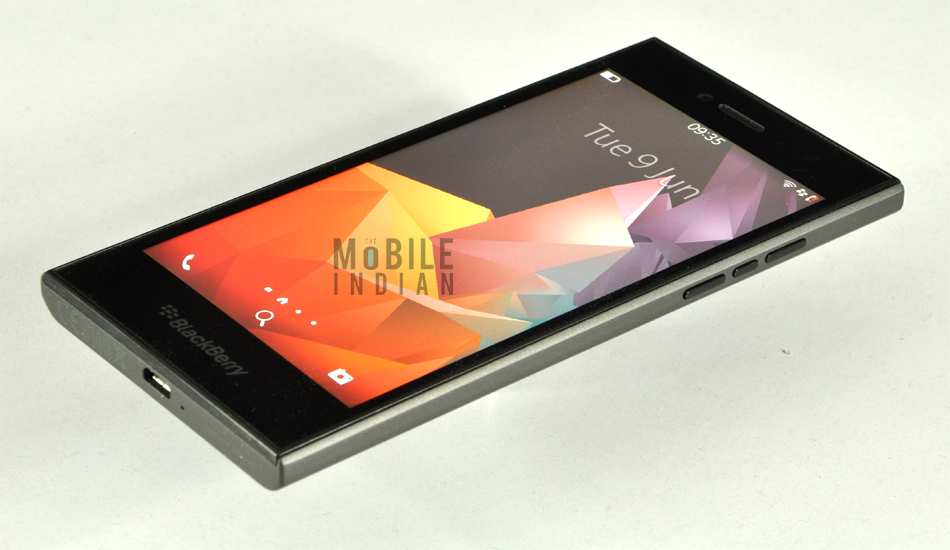 It isn't he slimmest or the lightest smartphone around but with curved sides and dotted back panel, it feels heavenly in hand.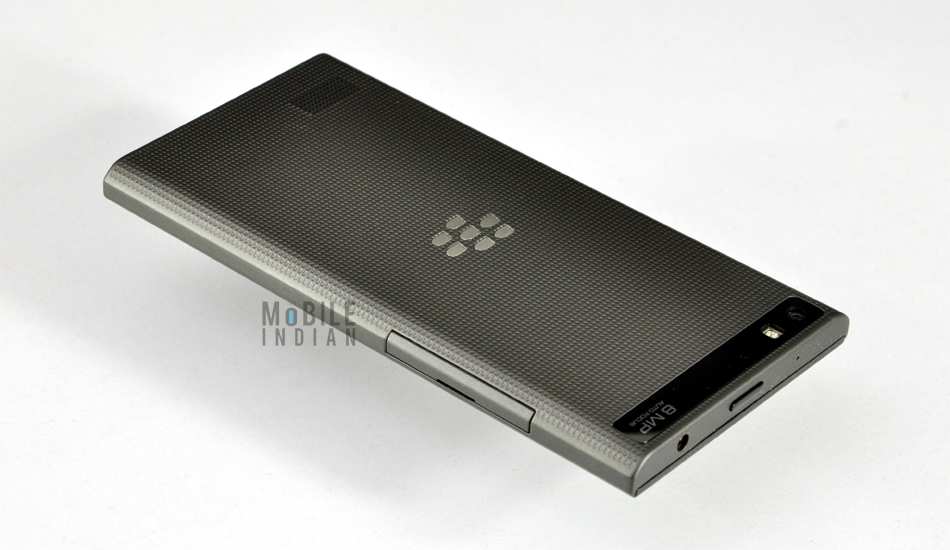 Note that the back panel is non-removable and thus the SIM and micro SD card slots are located in the left hand side and are well covered by a flap. The power button lies at the top while the volume keys and a dedicated button for BlackBerry Assistant is located in the right side.
Display
The BlackBerry Leap has a 5 inch touchscreen with high definition resolution. The display has enough brightness for outdoors and is quite sensitive to touch inputs. Though its competitors offer full HD resolution, I don't have much qualms about HD resolution of BlackBerry Leap as it seems sufficient. Also, though the display don't have Gorilla Glass or any other such protective coating, the display seems tough enough against scratches.
Interface
The BlackBerry Leap has the BlackBerry 10 operating system. The interface of this OS is lot different than what you have seen in iOS, Android or Windows Phone OS. The BlackBerry OS uses gestures only. For instance, to minimise a task, flick from the bottom of the screen while to open the notification, swipe from the top. If you have transitioned from Android or other OSes, you might find it difficult initially but after a while you would definitely love it.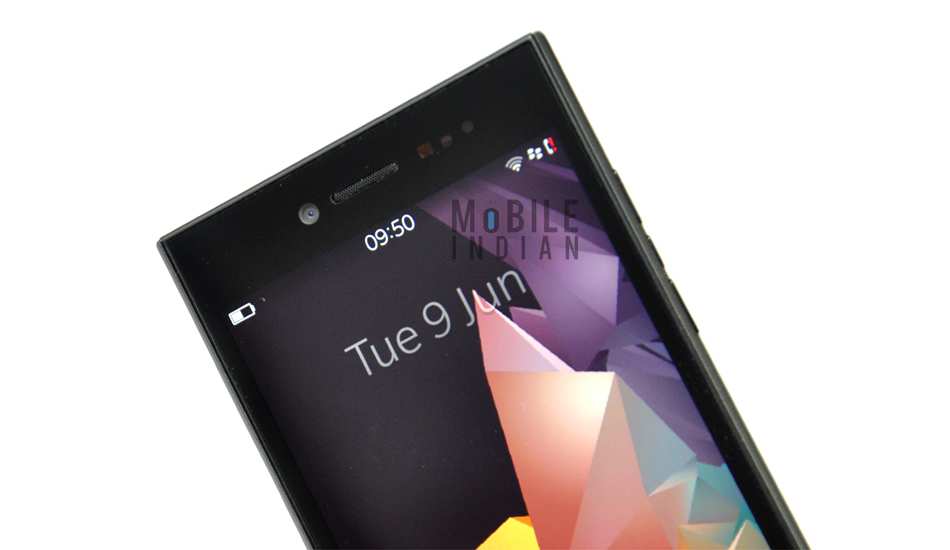 BlackBerry 10 offers the 'BlackBerry Hub' that compiles all messages including emails, updates from social networks and messages in just one panel.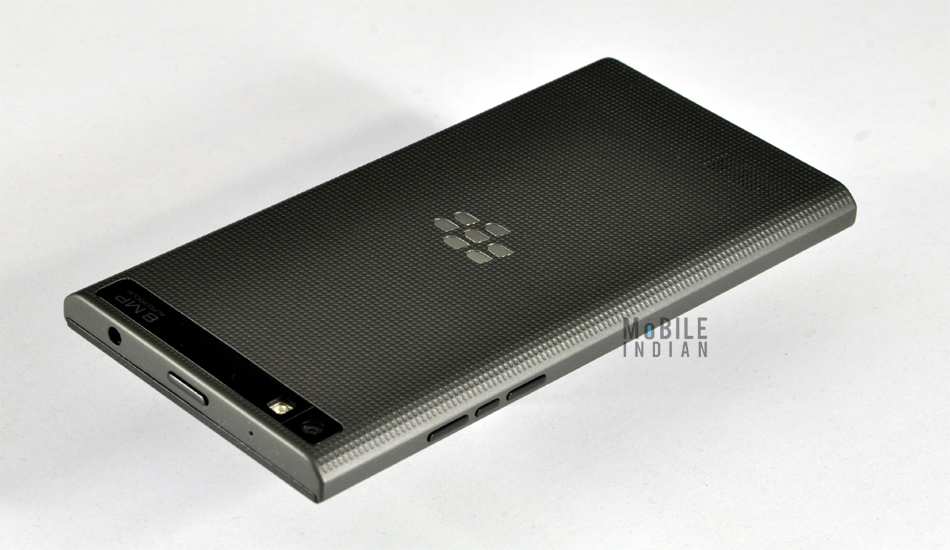 To download apps there is BlackBerry World and Amazon app store.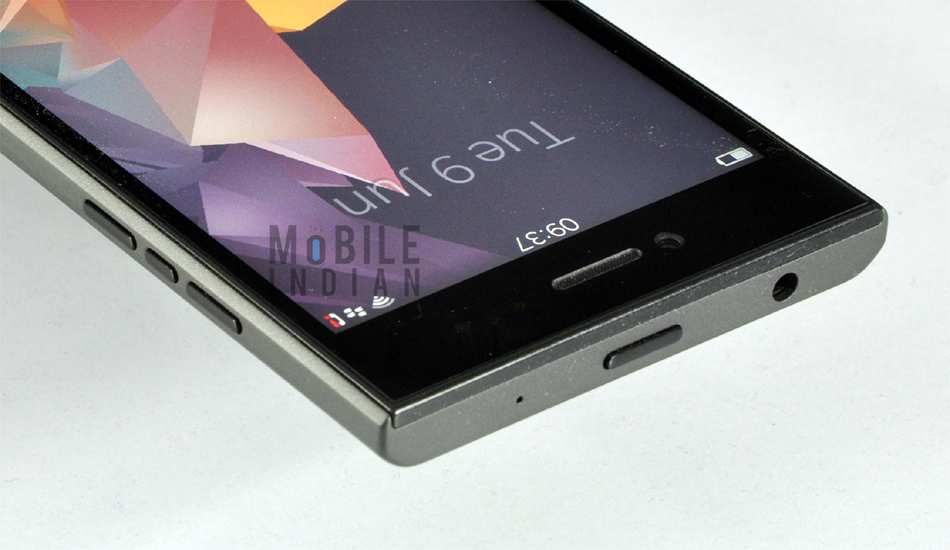 It also comes with few useful apps like Password Keeper, BBM, Adobe Reader, BlackBerry Assistant, Docs to Go, Maps, Foursquare, file manager etc. From third party app providers, you can also download and use any Android application's apk to use that Android app on this phone.
As I said in the earlier section, there is a dedicated button for the BlackBerry Assistant. You have to press and hold this button to activate the BlackBerry Assistant.
There is a tutorial section in the phone which you should check out once to discover all aspects of the interface.
Keyboard
If you think that since BlackBerry Leap has a touchscreen and no physical keypad it would be like every other touch phone then you are wrong. BlackBerry has innovated and improvised the touchscren keypad greatly.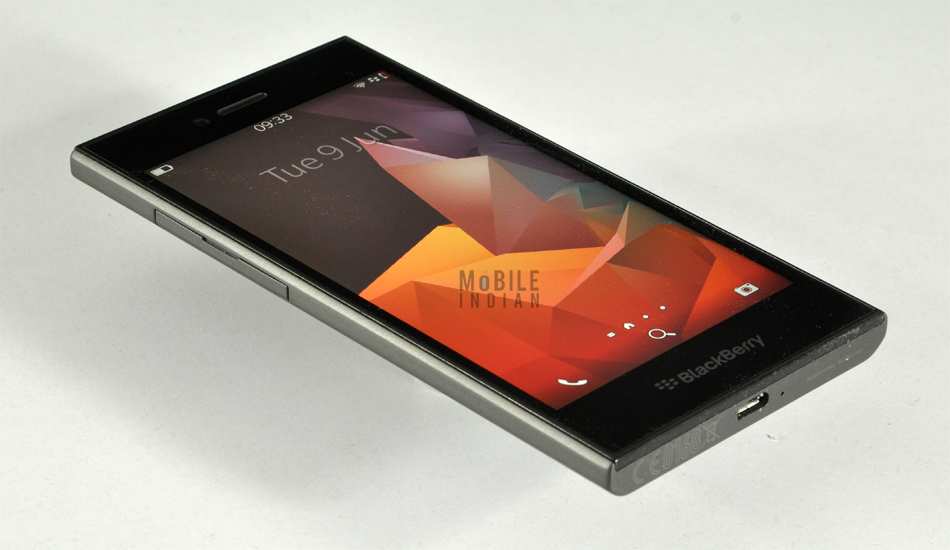 At first, it would look like any other touchscreen keypad but the more you use, the more it learns your habits and responds to your touches. Throughout the review, I hardly mistyped any word. It comes with prediction and auto correction feature which you can switch off from the settings as well. But there is one feature that attracted me a lot – as you type the phone suggests several words which appear between the letters which you can flick to insert in your sentence.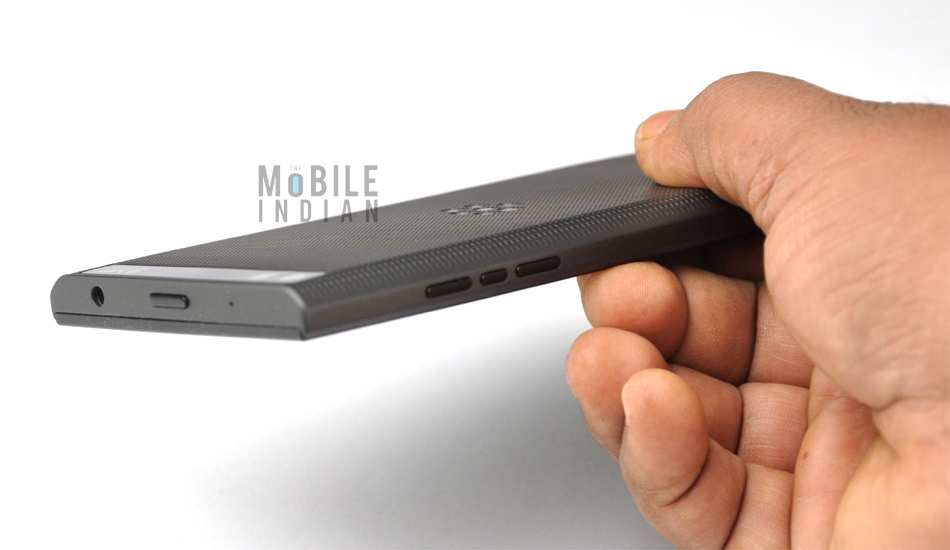 There is also voice input feature using which you can write messages and notes etc by just speaking into the phone.
Camera
The 8 megapixel primary camera of BlackBerry Leap does a good job when it comes to colour output but it does not offer plenty of resolution for users to crop the images. In low light it is decent and so is its focusing ability (albeit from a distance above 10 cm). However, you need to have steady hands to click shake-free images.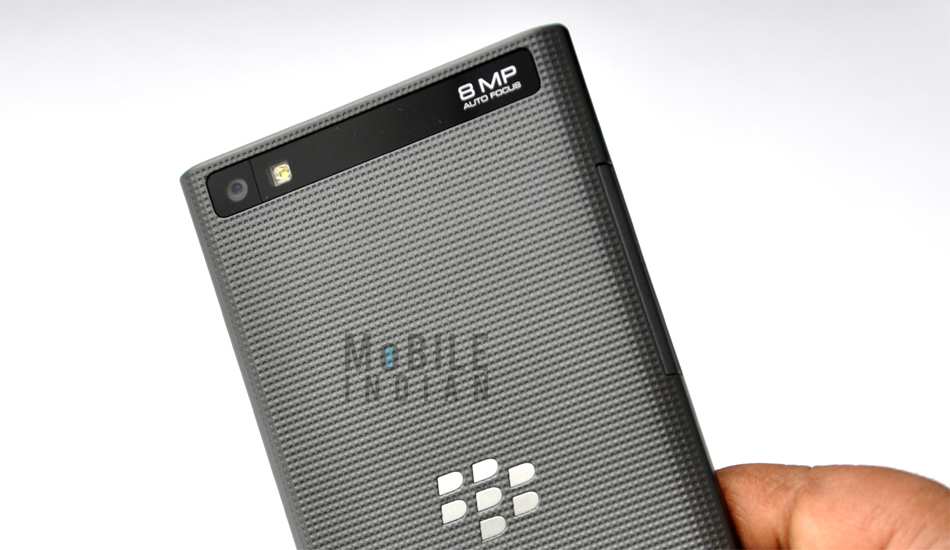 Thankfully, the phone has video stabilisation feature. You can also click pictures while recording a video.
The front 2 megapixel camera too able to capture colours nicely but frakly there are better selfie smartphones which cost about half than that of BlackBerry Leap.
You can check out its camera test here.
Performance
At a time when the smartphones, even the cheap ones, coming with quad core processors while the mid-range and high end units offering octa core and hexa core CPUs in general, seeing the new age BlackBerry Leap with a 1.5 GHz Qualcomm MSM 8960 dual core processor feels odd. Thankfully it has 2 GB RAM. Needless to say, on paper it isn't a match to many of its Android competitors in terms of sheer muscle power.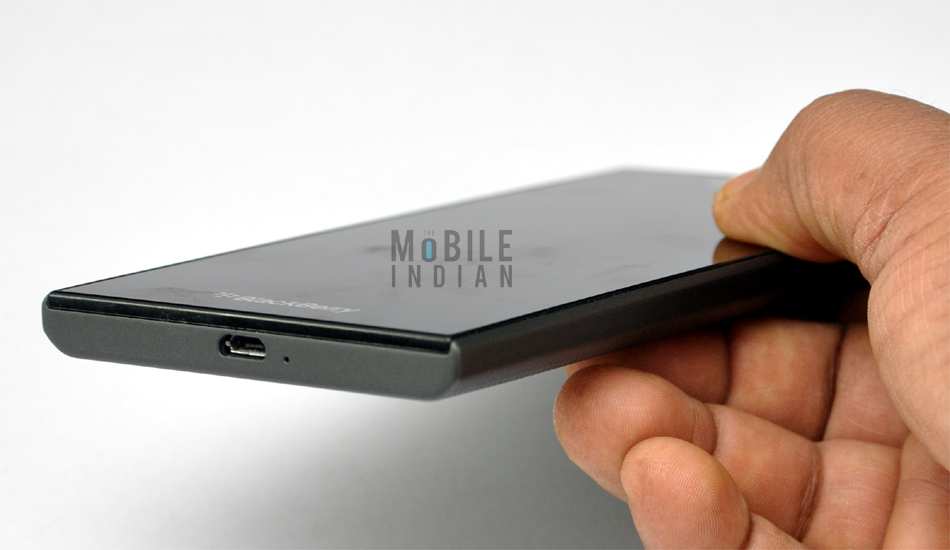 But before you jump to any conclusion, consider our experience. The device has no problem in playing GT Racing 2 even while multitaksing. Through out our month long review, I just once or twice felt there was a lag. On one occasion I had to restart the phone but such things happen with almost all phone while multitasking.
The phone's 2800 mAh battery offers good back up. In our case with continuous 3G or WiFi connection as well as Bluetooth, the phone managed to offer a day's back up easily. Even during heavy usage days, I could get about 10-12 hours of back up.
Storage and Connectivity
With 16 GB internal memory and a 128 GB micro SD card slot, the BlackBerry Leap offers plenty of storage.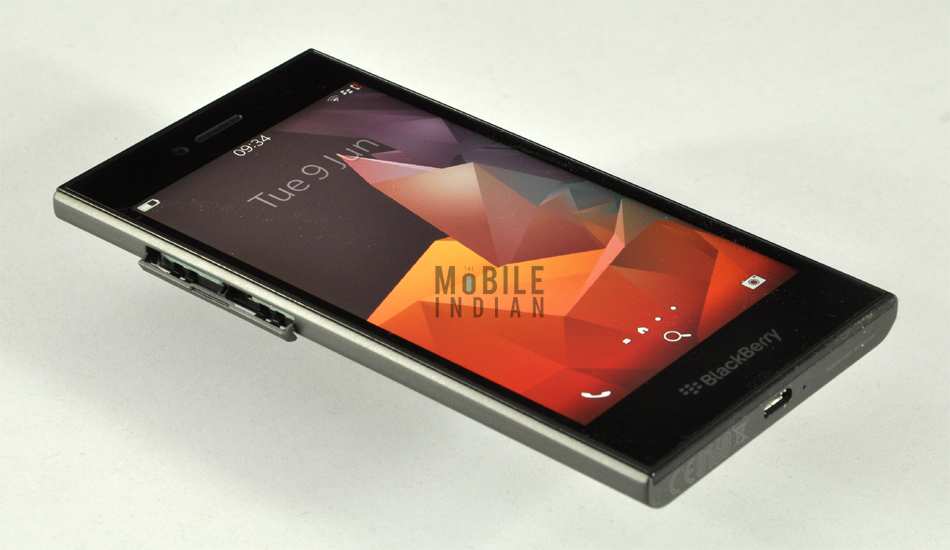 The smartphone comes with only one SIM slot using which you can enjoy 2G, 3G or 4G. There is WiFi, WiFi Hotspot, Bluetooth, GPS and micro USB port as well.