The smartphone industry is considered as one of the most dynamic industries out there. There's been constant endeavour from the handset makers to offer something new to keep themselves relevant in the market.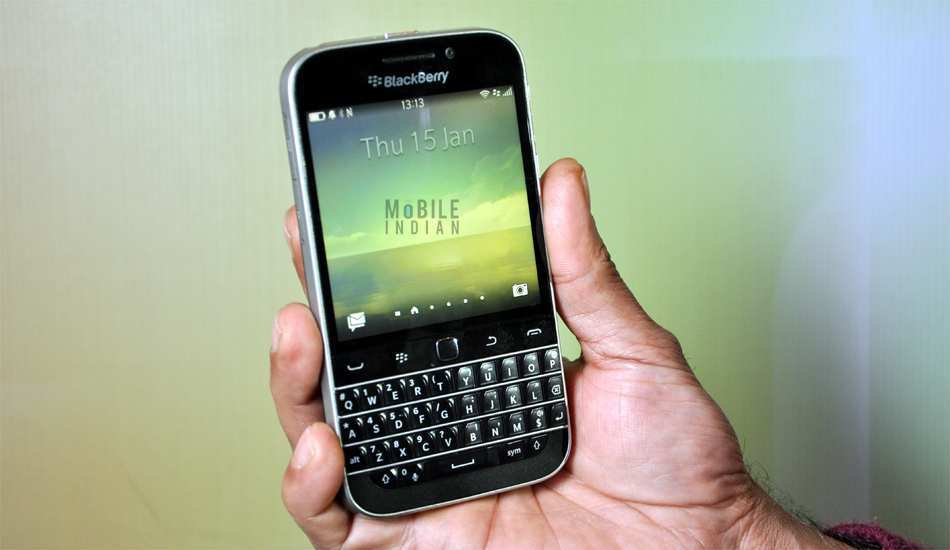 But when it comes to BlackBerry, the time seems to have slowed down and it even turned reverse; atleast I thought so the moment I put my eyes on the BlackBerry Classic. Appropriately named, the BlackBerry Classic stands for everything the Canadian company is known for.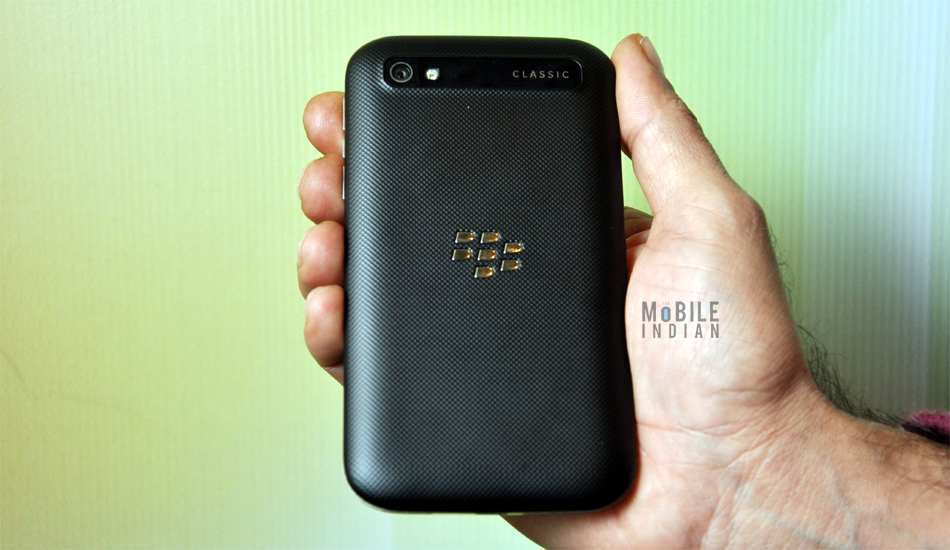 Here I have explained at length about the pros and cons of the BlackBerry Classic which is priced at Rs 31,990.
Design
The BlackBerry Classic has everything in terms of design that a die hard fan of the brand would expect from a BlackBerry device including a full Qwerty keypad, tough build, and an executive look. The front panel consists of a 3.5 inch display, below which lies five dedicated buttons – one to answer call, menu (blackberry logo), a trackpad, Return button, and another to end tasks/calls. Note that of these five the trackpad button is only a physical buttons while all others are soft touch buttons. Below that lies the full touch QWERTY keypad. On the top of the display there is another speaker grill with the brand name (BlackBerry Logo) and the front camera.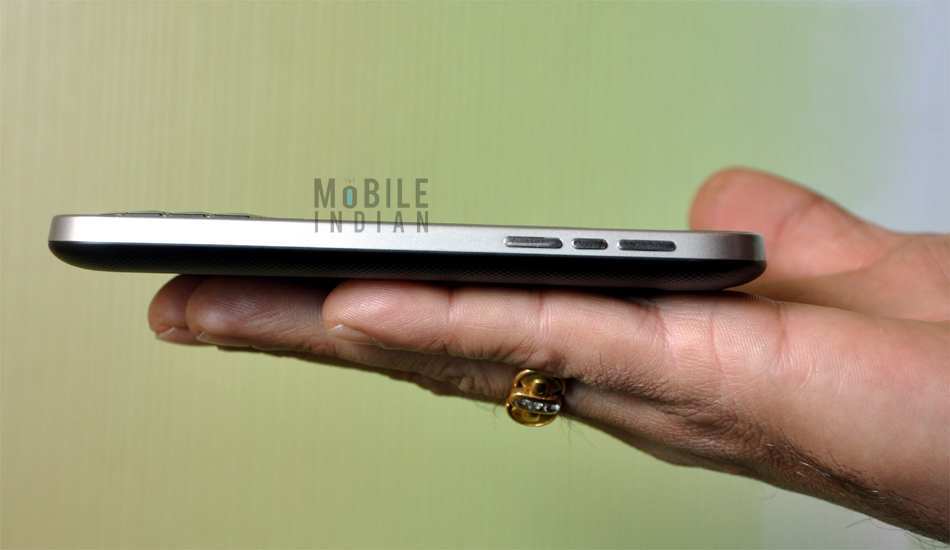 In the bottom panel lies two speakers grills, between which lies a micro USB port. Note that it has a unibody and hence the battery is not removable, and the SIM card (one micro SIM slot) and the micro SD card slots are located in the side panel (left side). The volume rocker is on the right hand side. Between the increase and decrease volume button, there is a dedicated button for BlackBerry Assistant.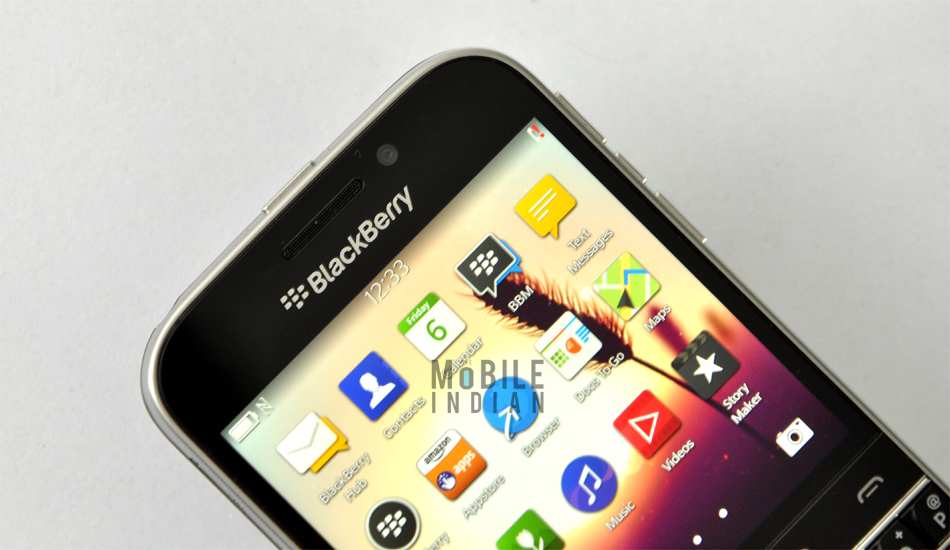 The un-removable back panel comes with pattern design and feels great in hand. The back panel is quite neat and has the classic BlackBerry logo and a horizontal camera module.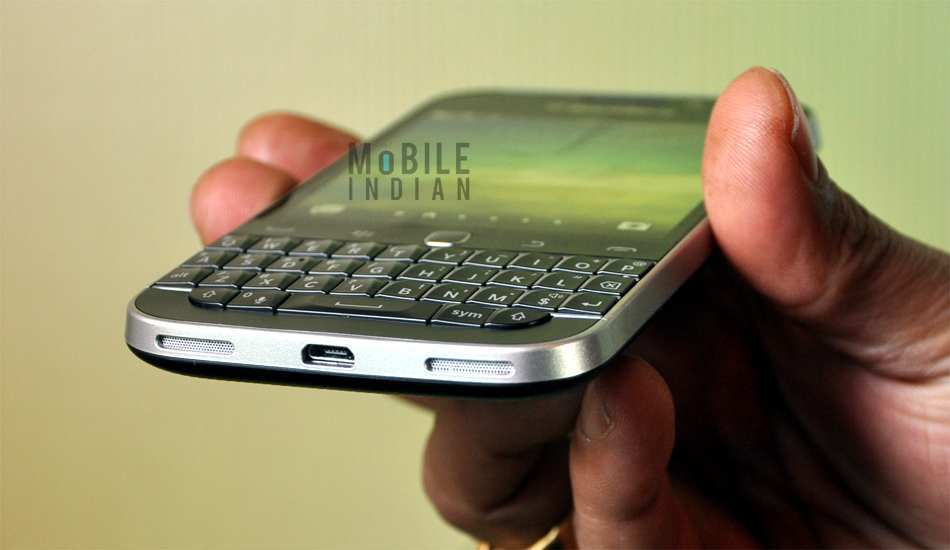 The moment you lift the phone, you will notice how heavy it is but that is due to the thick side panels and tough materials used to make the phone. Though I haven't dropped (again that highlights its great grip) I am quite sure that the phone will withstand occasional falls, unlike full touchscreen phones. The toughness however is one reason for it being quite heavy (relatively) but I am quite sure most wouldn't mind it.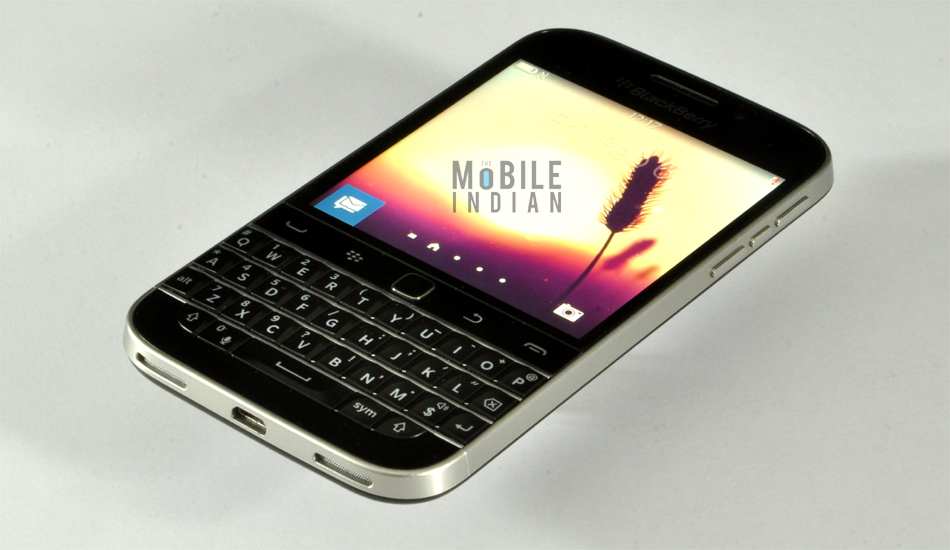 All in all, the BlackBerry Classic is a smartphone that design wise though quite traditional but will appeal to many with its rich look and tough build.
Keypad and interface
The BlackBerry Classic is endowed with not only a full QWERTY keypad but has five more buttons on top of it as said earlier. There is also the volume rocker and a dedicated button for BlackBerry Assistant while the power button is at the top.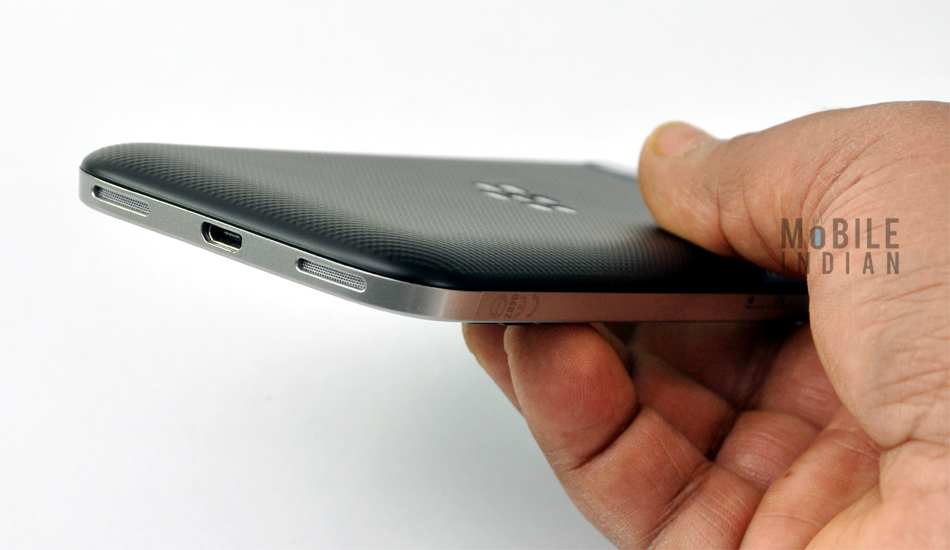 BlackBerry has shrewdly employed all these physical and touch buttons alongwith the smart "BlackBerry 10" operating system and the touch screen to make the phone user friendly.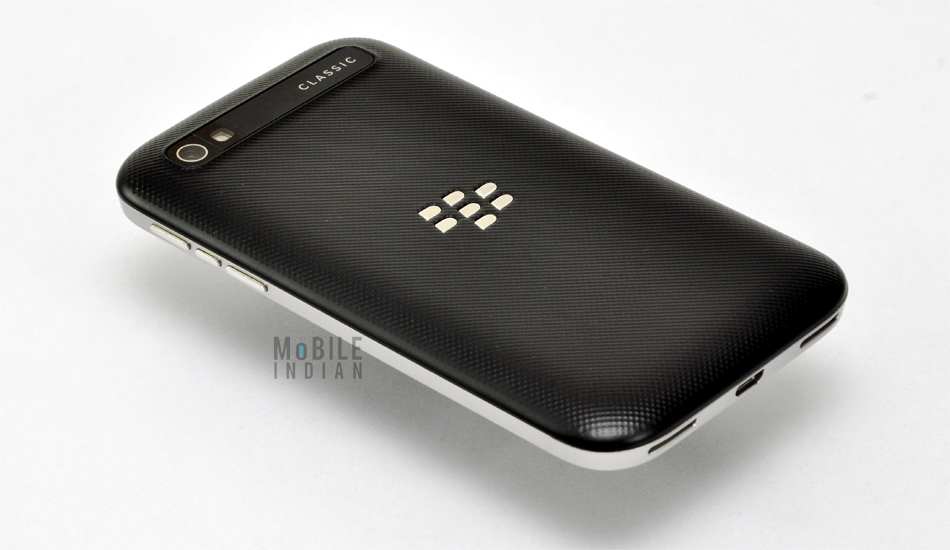 For instance, each letter of the QWERTY keypad can be tweaked as shortcut. For instance you can use the button "A" top launch contacts, B to open browser, etc. Note that it is up to you to dedicate the buttons for a definite task. Unlike in BlackBerry Passport, the QWERTY keypad though doesn't act as a optical trackpad and there is no need of it as well since there is a dedicated trackpad just above the keypad.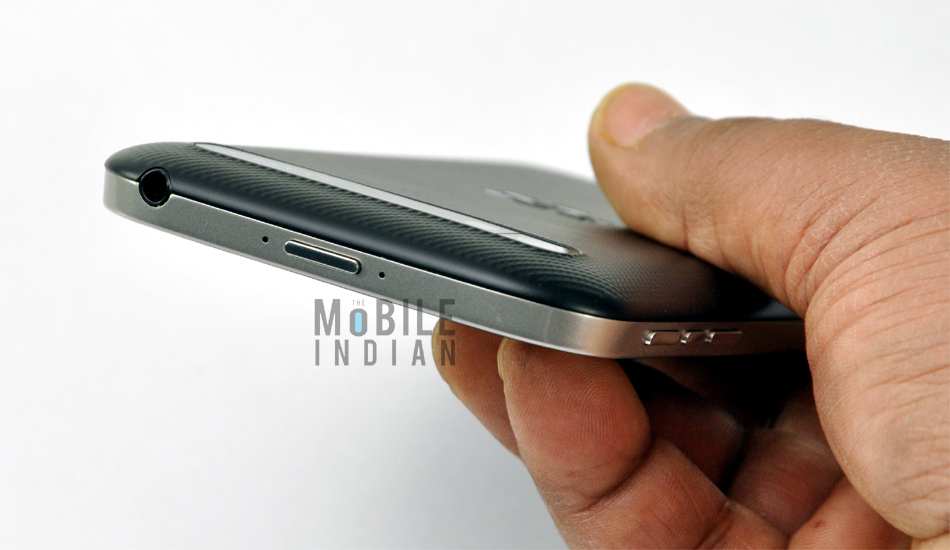 Meanwhile, the BlackBerry 10 operating system also complements the QWERTY keypad quite well with its many gesture inputs. There are four basic gesture inputs: you can swipe from the bottom of the touchscreen to exit (you can do that by just pressing the call end button as well), swiping from right edge will allow you to go to the app drawer, swiping from top brings up the shortcut page (WiFi, Data etc), and swiping from the left edge brings recently closed tabs and/or the BlackBerry Hub.
Perhaps you would now be going impatient with so many tweaks and rightly so. The BlackBerry Classic has so many things to discover; it offers so many ways of customisation that it makes one of the best devices for geeks but wouldn't be it a bit too much for the general users? It could be, thankfully there is a 'Tutorial' app that explains various functions of the phone in a lucid manner. And the more you use this smartphone, the more you will get habituated with it.
Camera
The BlackBerry Classic offers an 8 megapixel rear camera which has auto focus, touch focus, face detection, HDR, panorama, and Geo tagging features. There is an LED flash light in the back panel as well while in the front it boasts a 2 megapixel unit. But wait, isn't such camera specs are common to even affordable devices. As a high end device, the BlackBerry Classic doesn't offer other camera features like image and video stabilisation which is becoming synonymous with devices in the high end segment.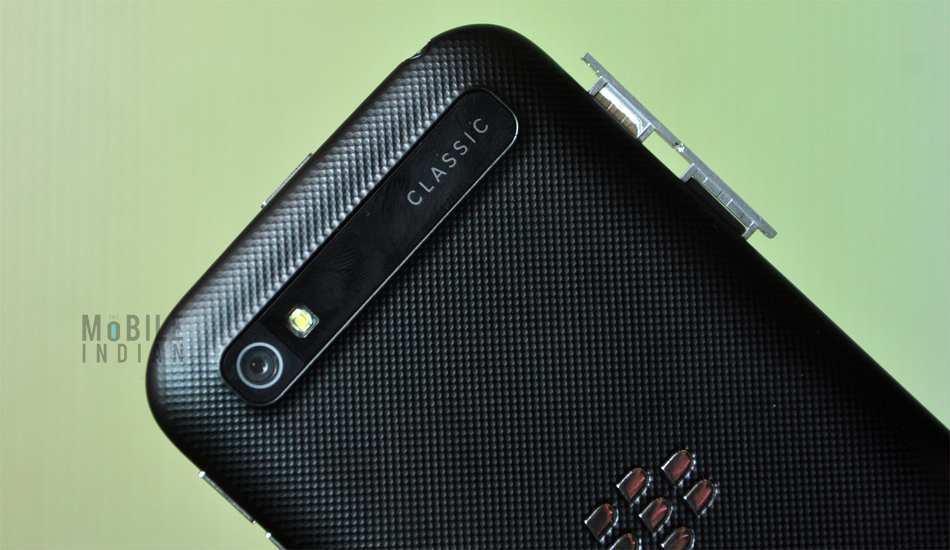 However, BlackBerry doesn't disappoints when it comes to picture quality. It does manages to capture colours nicely as well as offer plenty of details. However, the HDR mode tend to burn the images in day light but was fantastic in low light. Also note that by default it clicks images in 4:3 ratio and you must change it to 16:9 ratio from the settings.
Click here for camera samples.
Performance
The BlackBerry Classic has the Qualcomm MSM8960 Snapdragon chipset that has a 1.5 GHz dual core processor, Adreno 225 graphics processor, and 2 GB RAM. The combination isn't the best but certainly is quite powerful to handle multitasking and games. However, due to the 4:3 aspect ration of the display many games are not compatible. As a result, though BlackBerry Classic manages to operate a dozen of apps simultaneously without a breaking a sweat, it isn't able to run games like the Real Racing 3.
The phone has though superb storage facility -16 GB internal and an expandable storage slot for up to a 128 GB micro SD card.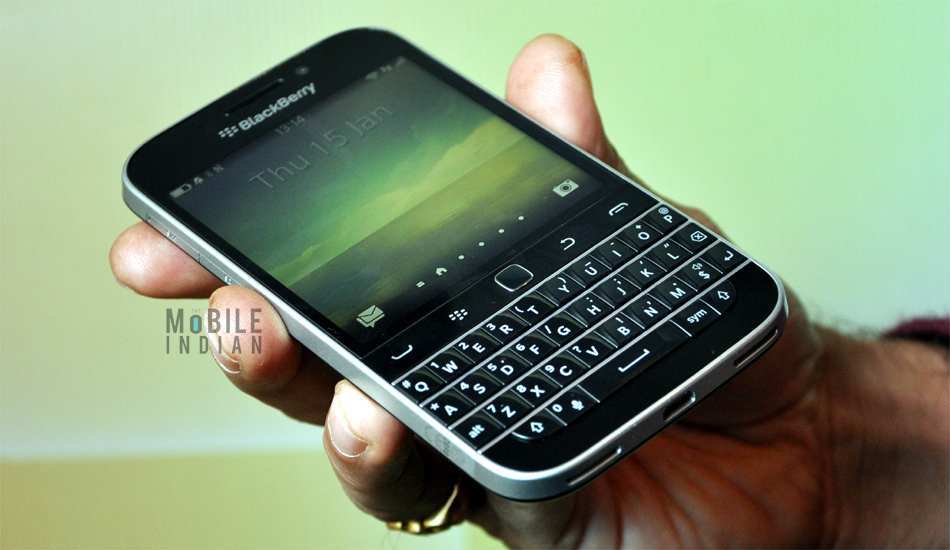 The BlackBerry Classic has also all the connectivity features that one could expect from a high end features. It comes with a nano SIM card slot and it offers 4G connectivity. Since in Delhi 4G services have not been rolled out we used 3G of certain operator and was satisfied with the speed. There is dual band WiFi, WiFi hotspot, Bluetooth 4.0 with A2DP, NFC, GPS with A-GPS, and a micro USB port in the Classic as well.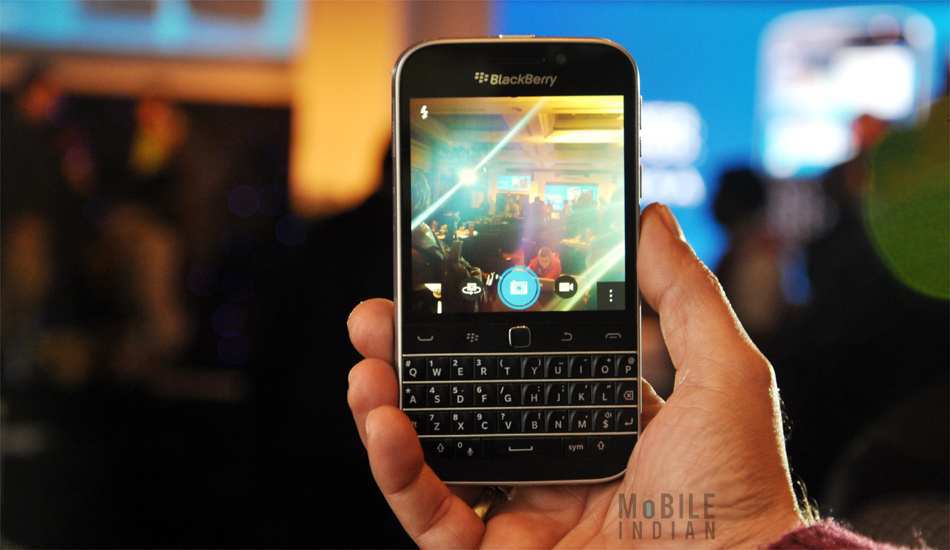 However, using the micro USB port to transfer files to-and-from a PC was the most irritating in BlackBerry Classic. There was perhaps a bug in the phone that prevented accessing the files though the "USB storage" option was available. I had even installed the BlackBerry software on my PC but could not access the files after several attempts.
Even the battery back up of BlackBerry Classic wasn't that impressive. True its 2515 mAh seemed more than needed for a phone with dual core processor and 3.5 inch display. But it never offered us more than a day's back upn during which though my usages are minimal but I had kept internet (either mobile data or WiFi) on througout.
The 3.5 inch display though is nice with appreciable 294 ppi pixel density. It has great brightness and thanks to Gorilla Glass 3, it is quite immune to scratches as well.
Images by Sushil kumar