With each passing day, multiple laptop manufacturers are trying to give the best in terms of performance and design at an aggressive price point and Asus is no different. The company recently introduced its new ZenBook 13 laptop that comes loaded with a host of interesting features, a powerful hardware and ridiculously thin and lightweight design.
The laptop comes with a starting price of Rs 66,900 and it is loaded with Intel Core i5 processor along with 8GB of RAM and dependable battery backup. But will it be enough to make it a successful device at this price range? Let's find out.
Design and Display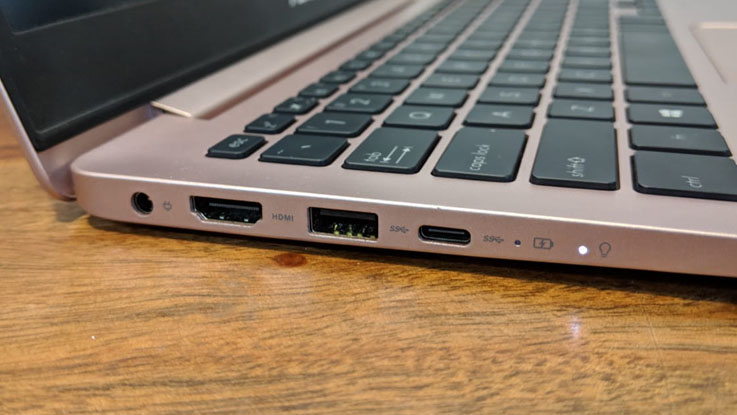 The first thing you will notice about this device is its sheer lightweight and slim profile. The laptop measures only 13.9mm at its chunkiest point, which probably makes one of the thinnest laptops in this price range. It weighs around 1.2kgs making it quite lightweight in nature and you will feel no burden while carrying in your backpack or even in your hand. The machine comes with a metallic finish at the base, although the company has chosen for a plastic lid, which is kind of odd. When you open the laptop, you will find a matte metal chassis and the island-style keyboard.
The right houses a USB port, 3.5mm audio jack and a microSD card slot, while on the left, you will find a power supply connector, a single HDMI port, a USB 3.0 port and a USB Type-C port. The laptop is also equipped with WiFi 802.11ac and Bluetooth. Asus has also added a fingerprint sensor on the palm rest, which is located at the right of the touchpad. The speakers are sadly located at the bottom of the laptop. That said, the company claims it is MIL-STD-810G military-grade certified, meaning that it should be durable in nature.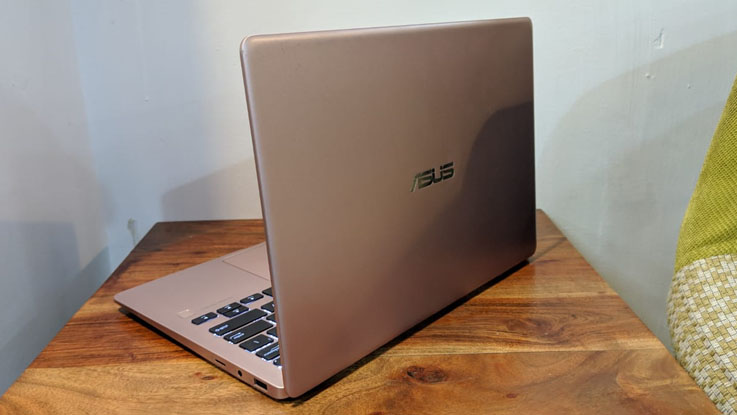 Coming to the display, the ZenBook 13 features a 13.3-inch Full HD NanoEdge display with a screen resolution of 1920 x 1080 pixels coupled with 100 per cent RBG colour gamut. The bezels are quite thin, which makes it an enjoyable viewing experience. The screen is quite bright and the anti-glare coating makes it easier to use in under bright lighting condition. The viewing angles are quite decent, meaning that you will no trouble while watching the movie on this laptop with your friends. The text appears to be crisp and the colour output is surely quite interesting.
Keyboard and Trackpad
Asus has done a really good job with the keyboard of the ZenBook 13. The keys are large and well-spaced, meaning that you will face no trouble while you start typing on this one. The palm rest is sufficient to comfortably rest your hand while typing on the keyboard. Travel distance between the keys takes a bit hit due to the slender build, but it will not spoil the overall experience. Interestingly, the backlit is fully backlit in nature, which makes it comfortable to type even when the lights are not that great.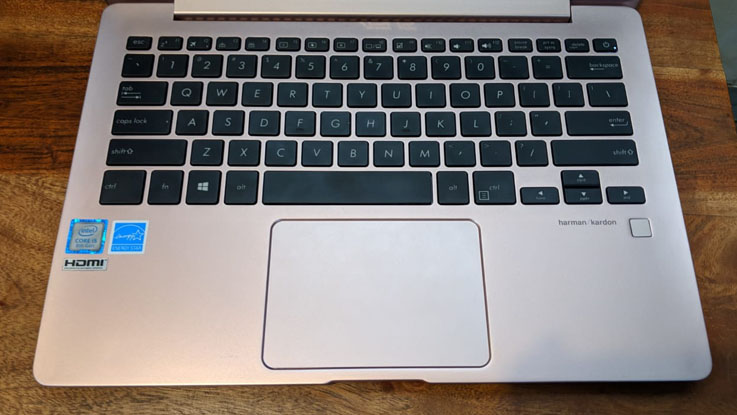 Coming to the trackpad, it works pretty much decent in our testing. However, we think that the trackpad could have been a bit smoother and there was an instance when the cursor moves to another corner of the screen when you accidentally clicked the inbuilt button. Further, we thought that the response time of the cursor could have been a bit better.
Performance
Our review unit came with Core i5-8259U processor along with 8GB of RAM and 256GB of SSD storage. In our testing, we found out that the laptop delivered the performance, which is expected with such kind of specifications. Whether be it switching between multiple tabs in Chrome or multi-tasking between different applications, we faced no problems. The machine was able to handle all the Microsoft Office software like a piece of cake. The device was able to handle basic editing on Adobe Photoshop as well, though high-end video editing is not an enjoyable experience with this one.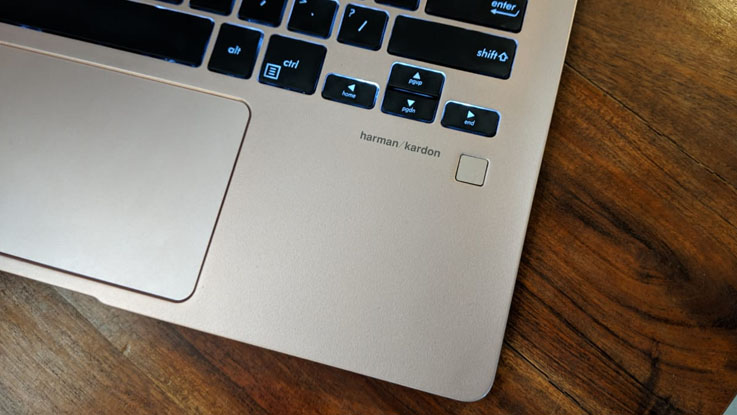 Despite being a powerful laptop, the ZenBook 13 is not meant for some high-end gaming. This is primarily because of the Intel UHD 620 graphics card, meaning that you can only enjoy less graphics-intensive games on this one.
Coming to the audio performance, this is one area where the laptop struggles a lot. It comes loaded with dual speakers, but unfortunately, it is placed on the underside of the device. This spoils the whole audio experience, even if you are in a quiet environment. Therefore, a headphone is seriously recommended with this one.
Battery
On the battery front, the Asus ZenBook 13 features a 50Wh lithium-polymer battery. In our testing period, we found out that the laptop comfortably lasts a full day of normal usage that includes random checking of emails, using MS Word for typing articles, occasionally streaming videos on YouTube and more. When you push it further, the laptop gives approx. 6 to 8 hours of battery backup before it was completely drained out.