Asus has recently announced the launch of next-generation of Zenbook series with Zenbook 15. Zenbook 14 and Zenbook 13. The laptops now come with some refreshed designed language coupled with top-of-the-line specifications.
Out of the three devices, the Zenbook 14 comes loaded with some interesting features. The laptop is touted to sleeker, lighter and more powerful as compared to its predecessor and it comes with a starting price of Rs 74,990. So, does it make any sense to buy this laptop? Let's dive in.
Design and Display
Starting with the design first, Zenbook 14 is one of the best-designed laptops from Asus. It is compact, sleek and lightweight, which makes it easier to carry it anywhere without much trouble. The company has cleverly designed this laptop with a mix of metal and plastic. The lid comes is made of metal and you have Asus logo with the company's famous concentric circle design, which is omnipresent in Asus laptop lineup.
Moving on, the deck is made of plastic, which makes it a lightweight laptop with only 1.19kg weight. Once you open the laptop, you will notice the company's ErgoLift design. This design helps in better cooling and comfortable position. The screen almost bezel-less design along with golden flux mesh and island-style keyboard present on the deck. The right side of the laptop is equipped with a microSD card slot, USB port, headphone jack and battery indicator, while the left houses, DC-IN port, an HDMI port, and USB port and a USB Type-C port. That said, the Asus Zenbook 14 is one of the uniquely-designed laptops from Asus that maintains its identity in this price band.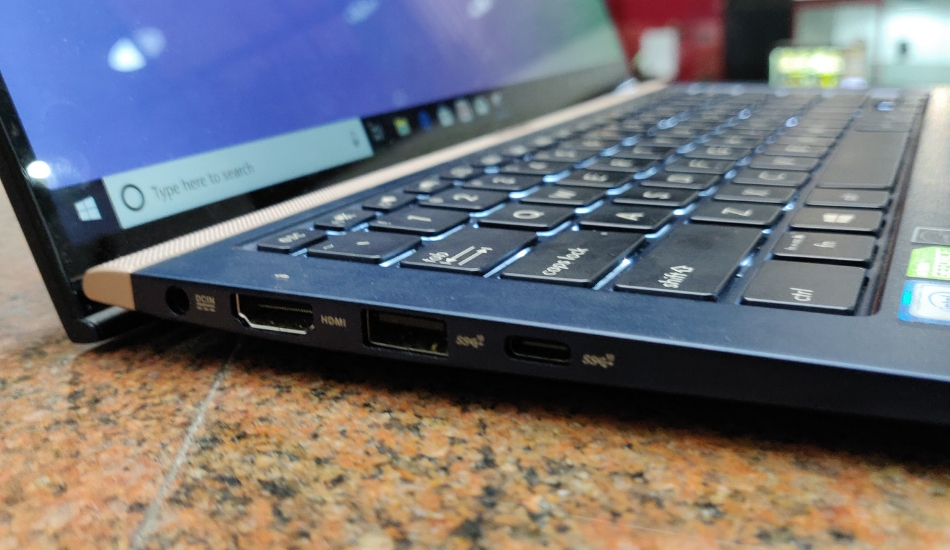 Coming to the display, the Asus Zenbook 14 is equipped with a 14-inch Full HD display with a screen resolution of 1920 x 1080 pixels. The bezels are quite slim and it features a 92-per cent screen-to-body ratio providing an immersive viewing experience. The laptop delivers some crisp colour and it some really good viewing angles. It does a good job when it comes to colour reproduction, brightness and more. However, we felt that is a bit reflective in nature, meaning that you will find a bit difficult when you are working in outdoor conditions.
Keyboard and Trackpad
Coming to the keyboard, it features a full-size backlit keyboard, with large keys making it a soothing experience for typing. Once you get used to the keyboard, you will certainly enjoy the whole typing experience on this one. With key travel of 1.4mm, you will face no trouble with those long sessions of typing. Moving on, the palm rest is sufficient to comfortably rest your hand while typing on the keyboard. Another advantage here is the backlit nature, which makes it easier to type in darker conditions.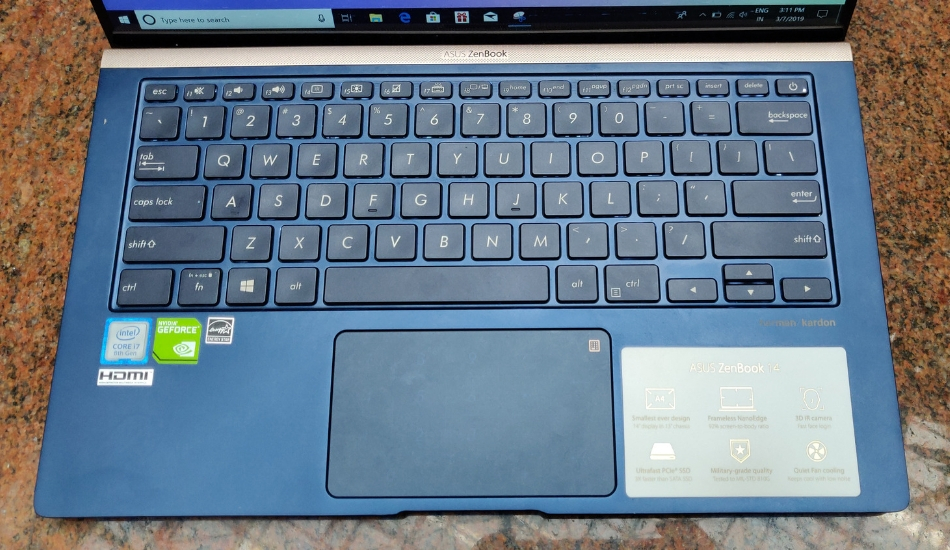 Another major highlight of this laptop is the trackpad, which doubles as a Numpad. The Numpad can be activated by long-pressing a small button on the top-right side of the trackpad. This technology is the company's proprietary and it is a useful function in our opinion. You can also use the trackpad when the Numpad is on, though you need to be a bit careful as a slight press can place a number when typing or so. Overall, the experience of the trackpad is quite smooth and you will no trouble when using it.
Performance
The Zenbook 14 model we are reviewing comes with an Intel Core i7 processor along with Intel UHD Graphics 620 GPU, which is priced at Rs 90,990. You get an 8GB of RAM along with up to 512GB PCIe 3.0 x 2 SSD storage. The performance is one area where the laptops do a really good job.
The laptop is able to handle most of the daily routine tasks like browsing the internet, streaming movies, downloading files, and using a host of Microsoft Office apps without breaking a sweat. The device is able to handle most of the heavy tasks like photo-editing and light video editing without much trouble. However, we noticed that the laptop is prone coil whine problem. This is a kind of scratching sound when you doing some heavy-duty work. In our unit, the sound was particularly low, but some users who recently bought this laptop are reporting that it gets unbearable at times. Hopefully, the company will look into this matter and roll out a fix for this issue.
Battery Life
The battery on the Zenbook 14 is simply amazing. The company has equipped a 50Wh 3-cell lithium-polymer battery, which comfortably lasted a full day under normal usage, which includes lots of typing, surfing the web and more. Under power intense-usage, we got close to 4 hours of battery backup, which is again decent in our opinion. The company has bundled a 65W power adapter with this laptop, which charges the device from 0 to 50 per cent in around 40 to 45 minutes.