Newspapers are part of our lives and some of us simply can't live without them. However, finding time in the morning to read them is becoming increasingly difficult. And there are many who realise that and are creating applications that can delivered on mobile phones, and tablets so that one can read while on the move.
World Newspapers is one such application which gives you access to more than 6,000 newspapers, magazines, and websites.
A good part of it is that it renders local Indian languages even on Android 2.2 which does not have native support for these languages. You also get a good selection of Indian language as well as English newspapers and websites including Aajtak, Times of India, Amar Ujala, BBC Hindi, Business line, ET, HT, Malyalam Manorma etc.
The user interface is very simple and allows easy sharing of the stories through social networking sites. You can set RSS feeds, add favourites and store some pages for offline reading. If you do not understand a language properly you can translate it into a language of your choice. What is good is that all this happens in few clicks and is very easy.
User Interface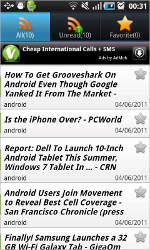 Since the application is free and there are no subscription charges for the newspapers, you have to tolerate a lot of ads, but that either comes at the bottom of the page or the top. You will also get a lot of video ads which east up a lot of time if you are on a slow speed.
It would have been better if there was a paid version of the World Newspapers app as so many people who have used the app have expressed the desire to get paid app without advertisements.
We did this review on Dell XCD 35 and the pages rendered flawlessly even on the slow 2G connection and the readability was maintained for all the languages.
The newspapers and magazines have also been segmented into different categories like automotive, sports, business etc, which will help you in selecting stories of your interest.
Verdict
A must have app for people who like to be updated, the application is fairly well laid out with a lot of to choose from. It has content from 105 countries and 6,000 publications. The language support is very good and so you won't find web pages with boxes, they all render the way they should. Only thing that you need is a data connection either through 2G, 3G mobile network or WiFi.