Everybody who travels by an auto rickshaw or a taxi at some point of time feels that the driver is trying to cheat them by either overcharging for the distance traveled or by taking a longer route. But for such commuters, Mind Helix Technologies has developed an application that definitely helps public transport users to calculate the actual amount of fare and the distance traveled thereby giving them a fair idea about whether they are being cheated or not.
Tuk Tuk 2 app is an upgrade to the Tuk Tuk application developed by the same developer, Mind Helix technologies. The new application brings along all the features of the native application with GPS based route mapping and distance calculation for accurate fare charging.
Along with that, the new application also gets custom fare input for travelers who travel within different states and have to manage different fare rates as well, and along with that users can now also access maps directly from within the application to check out whether the driver is taking the best possible route or an alternate route to overcharge the passenger for a destination.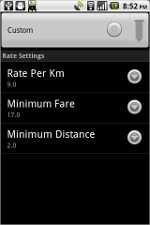 In terms of the usage, the application is simple and easy to use with a simple three page interface, having a page each for the fare meter, maps and settings page. It occasionally connects to the Tuk Tuk server to download latest fares for the area you are presently in by tagging your location using GPS or AGPS and updates the fares accordingly.
Once the fares are updated, users of the application can modify the fares if there is any conflict like in case of the night fare which rises by 25 per cent in the case of both auto rickshaw and taxi as well. The Tuk Tuk 2 app also works in a non GPRS mode as the original Tuk Tuk application.
The rules of public transportation, like the base fare and the minimum distance, has also been added to the application and once the application is started it delivers very accurate results as the distance is calculated from the pointy of boarding to the destination based on GPS.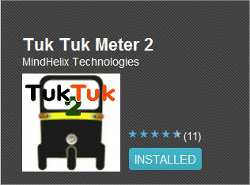 In Delhi, the base fare, as set by the government, is Rs 19 for a minimum of 2 KM and Rs 6.5/KM thereafter. So with this setting, we set out to test this application and for a distance of 4.7 KM the application calculated a fare of Rs 36.55 rounded off to Rs 37 which is almost Rs 10 lesser than what the driver asked as the fare.
So without any doubt, the Tuk Tuk 2 application is very accurate as far as distance and fare calculation is concerned and it is a must have application for anyone who uses public transportation too often.
The application comes as a free to use application and users interested can download this application by visiting the Android store from the Android smartphone or simply by clicking here as well.