Imagine a situation when you are at your home and it is a week-end. Your mind is entertaining multiple thoughts on how to make up the most of leisure time at your disposal. Suddenly your old friends turn up to give you a surprise. Amazing! Isn't it? But, know your mind will be thinking on a new trajectory- how to entertain them? Where to take them for lunch? What can be done in the evening and above all how to make your get-together memorable?
Times internet has launched an app – Timescity, just to make your life easy in such a scenario. You can use this app when you are travelling to a new place or simply discover what is happening around you.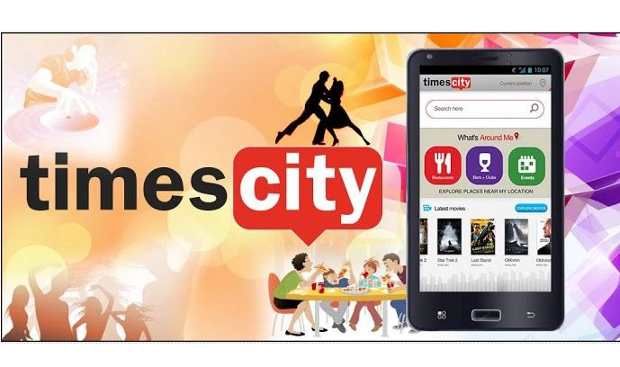 Timescity is cool location based app that helps you explore the places near you. It's got information related to restaurants, bars and clubs, events, and even movies screening near you. Here is our review about the app.
User interface:
We have used the Android version of the Timecity app which has pretty clean and uncluttered user interface. All the icons on the home page are big and clearly demarcated. The design team seems to have followed KISS (keep it short and simple) principle while designing the Timescity app.
First of all you have to choose your location. The app automatically determines the location of yours by the GPS facility of your device. If your device doesn't support GPS, you have to tell your location manually from a drop down menu on the top right corner of app which contains a list of 11 major cities.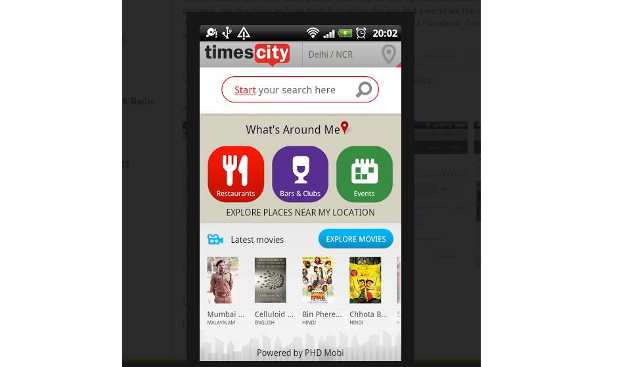 The second segment you will see on the home page is a search bar where you can just key-in what you are looking for and you will get results under four or less categories – Restaurants, Bars and Club, Movies and Events.
Working:
Restaurants, bars and clubs:
Restaurants, bar and club have a similar interface in the Timescity app. Once you click any one of the tabs in the home screen, you will see a list of all the restaurants/ bars/clubs along with critic rating, address, recommendation on price ( pricey, sumptuous, value for money and economic meal), kind of food they serve, and distance of the eatery from your current location.
If you click on a particular place, you will see much detailed information about that which are divided into four segments- info, review, menu and photos.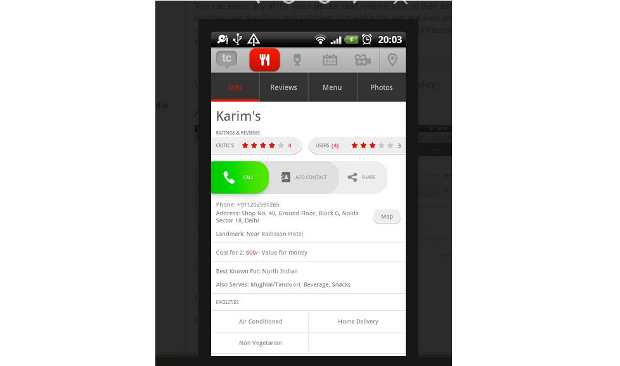 Each of these sections are very useful. For instance, the 'Info' section contains a 'call tab' for booking or enquiry, while an 'add the contact' tab allows users to add phone number to their phone book. You can also use a 'share' tab to let your friends and family on your social network to know about the place.
In the review tab you will see critic review based on three parameters – food, service and decor and read reviews of the place by other people. One can also post his review in this section.
In the menu tab you find a list of all the snacks, beverages and food served at the restaurant or the bar along with their respective price. If you want to look at the look and feel of the restaurant or the food served you can go to photo tab. Where you will good quality snaps.
Our take:
Information is well displayed and takes into account all the minute details right from contact number to location on map. The only thing we found missing was deals but since today is just the first day of the launch we hope in in coming days deals section would also be added because Indiatimes does have a deal page on their parent site.
Events:
In this tab, you will find a list of events like exhibition, food festival, musical nights and sports along with date venue and distance from you current location.
After selecting an event which you want to explore you will find information divided under two segments info and photos tab. In the info tab you again find date and time of the event along with an option to add it to your calendar.
Also, similar to restaurant category one will also see map, call tab for enquiry, add the contact tab to add phone number to your phone book and share tab to let your friends and family on your social network to know about the place.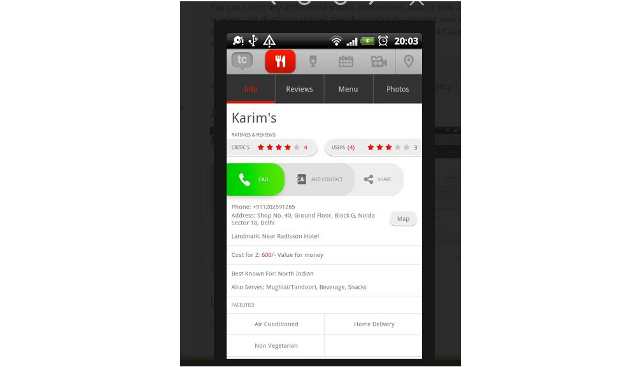 In the photo gallery you can look at photo of past event or the place where the event is going to be held.
Our take:
It is well curated page and would love to see events segmented under different categories in future updates. Also I was not impressed by number of photos and their quality. I hope this section will get muscles in the days to come.
Movies:
In this section, the app lists all the currently screening movies along with their critic rating, star cast, name of the multiplex that is showing the movie and the distance from your current location.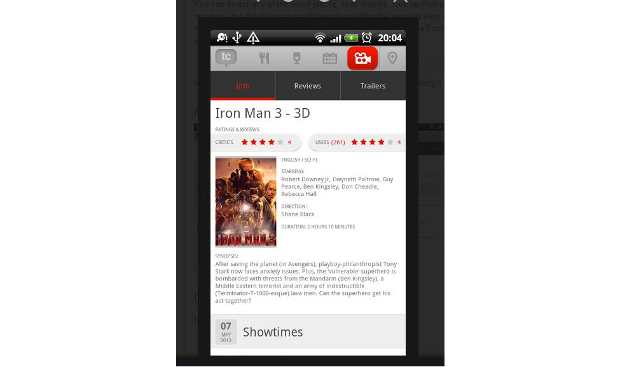 Once you click a particular movie you see information divided under three categories – info, review and trailers.
If you shortlist any particular multiplex, you will land up in a new screen where you can find call tab for booking or enquiry, add the contact tab to add phone number to your phone book, share tab to let your friends and family on your social network to know about the place, map and address of the multiplex.
Again if you come back to the home scree on Movies you can read critic as well as user's reviews about the movie under review tab. You can also add your review about the movie by clicking sign in to write a review tab which is placed at the bottom of the screen but for that you have to logging using your Facebook account.
Also, if you want see the movie clips click trailer tab. You can watch them both on youtube as well mobile browser.
Our take:
This section contains all the information one needs to have before planning a movie outing. The only thing that can be added to this section which would make the movie goer's experience complete is the 'booking' facility. I hope that is not asking for too much.
Conclusion:
All in all Timescity app is a must have on your Android
smartphone. It is a free app and has a simple user interface is definitely impressive. We will look forward to some addition in terms of photos, deals page, payment option and cities in the near future.