A revamped version of StumbleUpon, a discovery engine, has been launched and is now available for both iOS and Android platforms. The new StumbleUpon App comes with a Social Bar that brings various social features such as 'like a page' and 'share it to Twitter'.
Founded almost a decade back, StumbleUpon service enables users to discover new websites and content that is relevant and matches with the interest of the users.
The new StumbleUpon app follows the minimalist approach and thereby offers smaller icons. Regular users may take a couple of minutes to get familiar with the interface.
After registration, you'll be presented with a web Browser interface with a Social Bar on the top that has Stumble button at the top right corner. On the top left corner, there is a 'Like' button just next to the thumbs down button. If someone has already liked that content then a bar will have notification of the user who liked that link and one can also comment by tapping on the Comments & Info.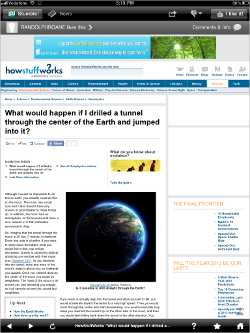 Tapping on the House icon will take the user to the app's home page and from there one can search for relevant content based on the news, photos, videos or whatever friends have shared. Just like any other social network, you can always add your StumbleUpon friends and stay updated with the stuff they shared.
There's a large list of interest categories offered by default that is accessible from the StumbleUpon home screen. Access all your Thumbs Up pages from the Star icon that stands for Favourites.
By swiping across sideways, one can discover loads of relevant content that matches with the interests specified. The best part is that since the app is account based, hence all the information related to the StumbleUpon account and the Stumbled data can be accessed on both iOS and Android platforms.
One can also add Facebook Login to share the Stumbled content to the news feed from the app directly. Avid web crawlers are highly recommended to use this app so that they can make the best of the Stumbled sites instead of cluelessly searching around in the search engines.
The StumbleUpon is available for iPhone, iPad and iPod touch running iOS 3.0 or higher. While the Android phones with version 1.6 and above can also install and use the app.