Here is an application that plays Bollywood music for free on you Android mobile phone. While the idea is brilliant does the application really delivers. Let's find out.
You can download the app simply by clicking here.
Downloading the app was very quick, over our office WiFi, which is decently fast; over a home WiFi network also, it would not take more than a minute to download.
Design
The app design is minimalistic: on the top you get all the advertisements that keep this app free. Although advertisements have a prominent place in this app, it is non intrusive and doesn't hinder user experience.
Below the ads, is the search box that allows for music search. Below that lies the toggle between play list and radio. The playlist is divided between Weekly top 15 and Surprise me (random selection of songs) new releases, my playlist and featured playlist.
Features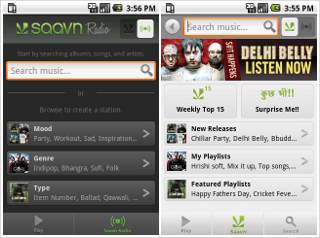 The app allows you to link it to your Facebook account and to create and save your own playlist so that you can access them whenever you want. You can also share songs through Facebook, SMS and mail.
Radio is another interesting aspect of the app; it picks up from the choice of the songs that you make and then subsequently plays the songs similar in genre or from same actors' movies or music director wise. It is interesting and fun, I liked the choices that the app made for me. And if you don't like any song, you can move to the next song in a click.
Featured playlist has songs of similar genre and gets updated regularly and is useful in making quick choices as these are also updated based on the occasions (like Rakhi, Valentine day, Independence day etc).
The app also gives details about the song like movie, year, singer, music director etc.
Performance and Verdict
Although some users of the app have complained that the application is buggy, we did not face any such issues. The application is meant for Bollywood music fans, so listeners who want wider choices like English, Classical etc, this is not the app for you.
But for most of us who do love Bollywood, this is a must have provided you have Android smartphone and WiFi or 3G access. In 2G, the app is slow, which downgrades the user experience.