Kotak Securities, a brokerage house in India, has a Mobile Stock Trader (MST) application which work across Android, BlackBerry and Java platforms and it is soon going to be available on iOS platform as well.
This free to download application will help the registered users to trade on the go, check their portfolio and account details, get live streaming data of market updates, indices updates, stock quotes and much more. Non customers too can get streaming data, make virtual portfolio and watchlists.
Non-Kotak Securities' customers can register and use the app to gather real-time information on markets. However, to make a trade or place an order, one has to open an account with Kotak Securities.
How to Download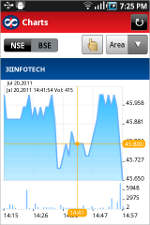 To download Kotak Securities MST app, a user need to open the browser on his phone and type m.kotaksecurities.com. When the page opens, select the operating system of your phone like Android, Java or BlackBerry and click 'Download'. After which the Mobile Stock Trader will be installed on your phone.
How to use
If the user is a Kotak Securities customer, they need to just enter his Kotak Securities User ID, password and the security key in the login screen and click 'login'. After which they can they explore different option like 'Trade' to buy or sell stocks/derivatives/currencies or view wish list or check the current stock prices.
But if the user don't have the Kotak securities account, he or she first need to click on the 'register' link in the login page and open guest registration page and enter User ID, password, name, mobile number, email ID, city and date of birth.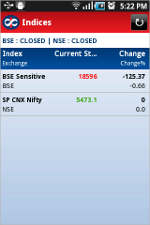 After entering the details, press submit button. After registeration, users can go back to the login page and choose 'Guest' and enter the user ID and password that they have created. They will get instant access to the market indices, watch-lists, and quotes but guests can't trade using the Mobile Stock Trader app, for that one need to open an account with Kotak Securities.
Usability
The app provides real time streaming quotes, hence users need not to press refresh button to view the latest prices. Trades placed through the mobile app can be viewed, modified or cancelled through other trading platforms offered by Kotak Securities (KEATPro X, Website, Xtralite, Call-and-Trade) and vice-versa.
Mobile Stock Trader has a very easy and smooth navigation and users will not get confused after using it. Apart from simple trading users can view quotes, track portfolio, track market movements, analyse market trends and view personalised watch lists which they might have created earlier instantly.
Overall, Mobile Stock Trader from Kotak is a nice app which one can explore if interested in stock market. It can be quite handy to keep track of one portfolio on the go.