Location-based services today offer quite a lot of information about important venues around us. From finding direction to nearest grocery shop, or the multiplex you are searching for or even the temple you lost your way to, location-based information services comes handy in many such situation.
MapmyIndia ShowNearby is one such application that provides ample amount of information about places close to user's identified location.
MapmyIndia ShowNearby is an application developed by MapmyIndia and presents the local information close to user's location in very consumable manner. Of course, one needs to activate the location services on the Android device and allow using wireless networks to fetch information first.
The MapmyIndia app loads with a list of categories that can be arranged in a custom order manually or alphabetical order automatically. Also you can add your own custom category like Soda Parlors so that you can look if you have one nearby your office or relative's place.
Tap on any of the categories and the app will present you with a list of places nearby your current location. This data is presented with name and distance in metres/kilometers. Then you can choose whichever place you wish to go and the app will provide distance, address and phone number (if available) of the place.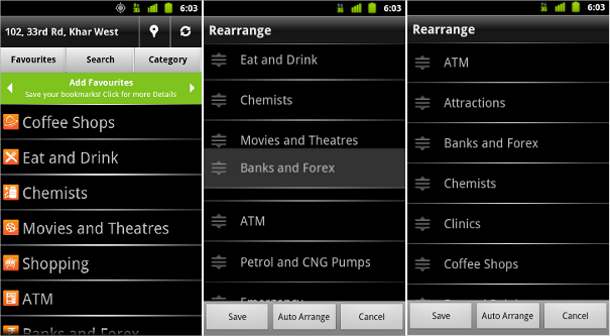 Interestingly, the app also offers directly call button so that you can make a call to reserve a table from the app itself. Of course, it directs you to the Dialer app of the phone. Besides that, the interface also offers map view in which users can see a map with locations pinned on them. Highlight of this location-based information providing app is the Directions. Yes, it does give almost accurate directions in maps as well as descriptive manner.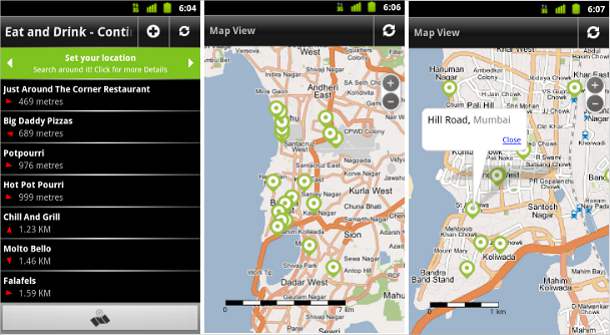 The buttons to be used for zooming in and out on the map view are too small and bit cumbersome to use. A slider would have been perfect instead of tapping a virtual button couple of times. Multi-touch doesn't work due to unknown limitations of the Android but works perfectly with the app's iOS counterpart.
MapmyIndia ShowNearBy comes with more accuracy in the location-based information compared to the other applications like FourSquare and Google Places that pick only popular places.
This is one of the must have applications on the Android smartphone.