The central idea behind LightBox is not just to take photos and share them with friends through social networks, but also to use the photos from other sources and news sites for social discovery. It also works as a medium to browse photographs, and once the users open the app they get photographs from three categories – Popular, My LightBox and News.
The Popular categories show the popular photographs from Flickr, whereas My LightBox shows photos posted by the friends of the users on the social networks with a timeline. The News section displays photographs in the news stories across the world and once users tap on the photographs, they can read the captions accompanying the news stories.
Users also have the option of sharing and liking the photos, if they are viewing the pictures from social networks, especially Facebook. The developers of the app said that more news sources would be added to the app later. Most of the images in the news section currently come from US and UK newspapers, so addition of more news sources is warranted.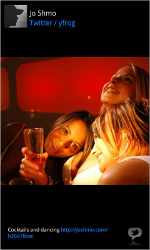 The My LightBox section is largely driven by the friends of the users. The app, however, has not added Google+ to the list of supported social networks yet. Users also have the option of setting the app to send or receive photos only when the phone is on WiFi networks, which is the most likely option for the users who are concerned about data usage.
The process of taking photos is just like other photo apps but the controls are very smooth. Once the image has been taken, the next screen allows users to give photos a caption, location and share the photos on the social networks. Users can simply choose to upload the photos on the LightBox page only. Some of the filters included in the app include Instafix, Sepia, Cyan, Black and White and more.
The Fish eye lens feature in the app is fun to use but the real fun of the lens is to take panoramic pictures. However, here in LightBox, the feature just distorts the picture.
Users can also view and interact with the photos when offline, and next time the users are back in the network, be it WiFi or 3G, all the activities done on the app is synced with the LightBox servers.