India Against Corruption is a movement against corruption for a Jan Lokpal institution which will be an independent body that would investigate corruption cases, complete the investigation within a year and envisages trial in the next one year.
The movement since its inception has used mobile telephony as a medium to spread the word across the country. Now there is even an Android application, which allows people to keep a track of the movement show support and express opinion through polls.
There are eight tabs in the application which are RSS Feeds (for latest news about the movement), videos, polling, stay connected, events, Q&A, write to us and donate (to donate money to support the movement).
While the RSS feeds are nothing but collection of news about the movement, videos' section has prominent personalities speaking in favour of the movement.
The polling tab allows you to vote for various aspects of the Jan Lokpal. You have the choice to either endorse the government version of the bill (completely or in parts) or the civil society version of the bill. There are 10 questions and each one allows you to vote for either civil society version or the government one or to remain neutral. The polling section itself is good enough to deserve the download as you are getting a chance to participate in a referendum of sorts.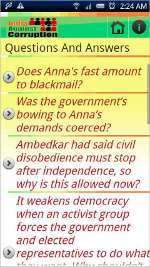 The 'Stay connected' section allows you to either give a missed call to +912261550789, which will not just be registered as a support but also keep you informed about the movement. You can also record a Gtalk voice response in support (or against) the movement.
The 'events' section informs the users about the protest venues in different cities and also about other related events. The Q&A section of the app has all the answers to the criticism of the movement and is a good one for people who have doubts about the movement.
The remaining two tabs will allow you to send your feedback or to donate money for the movement. However, the donate button only gives you the address where you need to send you cheques to. For people wanting to transfer money through electronic means, there is a mobile number of Aswathi Muralidharan (09717460029) who will guide you through the payment process. The application also allows sharing through Facebook and Twitter.
Over all, the app is a must download if you want to know about the movement or want to support the cause as it provides you the means to participate in the debate that is going around the movement, and if you are convinced to show your support.