It would not be wrong if it is said that eBay is probably one of the most popular online Buying and selling platform available across various countries in this world. And very recently they had added their dedicated application for their Indian audience on world's favorite Smartphone platform, Android. With the addition of this application the eBay community aims at simplifying buying and selling and giving the power literally in the hands of the users. But how well they have managed to do that, let's see.
To begin with, the layout of the application is very simple yet the developers have managed to incorporate all the functions a user would normally get in his profile without making it too cluttered. This makes the app easily legible and comfortable for the eyes too. Even users who have small screen devices won't feel a strain. In terms of functionality the application has full control of the account and can be used for buying or selling products and for bidding.
The eBay app has a category-wise search as well as keyword search. Users can simply put in the word or the name of the product they want to buy and results related to the name or category will appear. Along with that the eBay application also includes search by barcode functionality but it is not very useful in India as we do not have the relevant backend interface to fuel that king of information.
Items can also be searched according to whether they fall under the 'buy now' or 'bid' categories.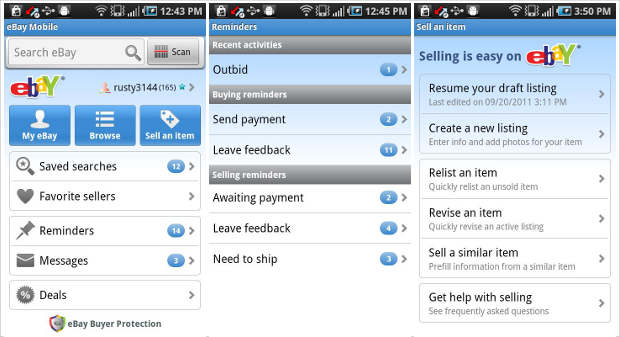 Especially for sellers this application is a boon as they can add listings while on the go. And another thing that makes it more useable than the PC version is the option to resume and save drafts of the listing while you work.
The product trading interface is neatly designed and prices along with the estimated time left are listed. Here the text size drops down a couple of notches so people with a low resolution display might have a slight problem reading the text.
What makes this application unique is that it's the exact replica of the online eBay account on a smaller but smarter platform. This way it really makes eBay more application gets a great amount of usability and becomes a perfect choice for the user.
Link: market.android.com/