As is clear from the name itself, it is the official app of the famous website, Dictionary.com. The website is already very well known on the web for its dictionary application, and the mobile app also does the same thing &#151 it helps the users know the correct spellings of words and their meanings.
The mobile app, which is available in Android, also comes loaded with host of additional features which is just the right kind of reference app for the word hungry users.
This free app is known for its short and accurate description for words and voice recognition look up. It also comes with Word of the Day widget, customisable backgrounds and thesaurus.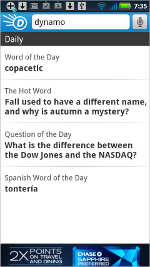 Dictionary.com for Android is a comprehensive full featured word app which performs numerous word related tasks for the users. So many times users know how a word sounds but don't know its spelling. The Dictionary.com app for Android is just the tailor made product for the occasion since users can simply speak the word into the phone microphone, and the app searches the right word for the users.
Users can also search for a word they don't know how to pronounce. The word definitions are very precise and to the point, contrary to other dictionary websites which give detailed word definitions. "The Hot Word" feature in the app provides well researched explanation about words and its origins every day.
Overall, this is a good app for everyone because most of us need some help with the language every now and then. The Dictionary.com app is extremely easy to use, and the controls are intuitive and the voice recognition feature is handy for those who don't want to type while looking up the meaning of a word in the app. Last but not the least, the in app advertising is not distracting at all and users won't feel any hindrance while working with the app.