The Android app 'App 2 SD' frees up internal storage on your Android phone by moving apps to the SD card.
Since all the apps cannot be moved to the SD card, App 2 SD will tell you which apps can be moved and which cannot.
When the app is first loaded, it shows three app categories – those that are for the phone, those for the SD card, and those apps that are only for the phone and can't be moved to the SD card.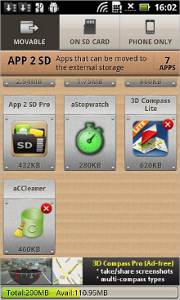 Users have to select Move to SD, and if the app is already in the SD it can be moved back by pressing the Move to Phone button. How much of the phone's internal storage is being used can be checked at the bottom of the app's screen.
Users just have to make sure their Android device runs Android 2.2 or better. Android has a native function that allows this function through the settings, but that is cumbersome whereas this app allows users to do the same through an easier interface.
The app also runs in the background, and whenever users install an app which can be sent to the SD card, they are informed in the notification bar.
The main options of the app include a list of movable apps, the option to move one or all apps to the SD card, clear app cached files with one tap, show the size of used apps, show total/available storage, list non-movable apps and more.
This app is available for free from Android Market, while the Pro version is available for $1. In the Pro version there are no ads.