It is available for Rs 3,899, making it one of the cheapest Android smartphones, and it offers decent features.
Advertisement
Pros
Free flip cover
Decent Features
Cons
Low RAM
Low volume during calling
Battery Output
A couple of years back, mobile phones with 2.4 inch screens (salesmen used to call it big), paltry 50 MB internal memories and around 100 MB of RAM used to sell for Rs 4,000-Rs 6,000. Back then most people would not have thought of buying smartphones for Rs 4,000. But now Android smartphones are selling for as low Rs 3,000.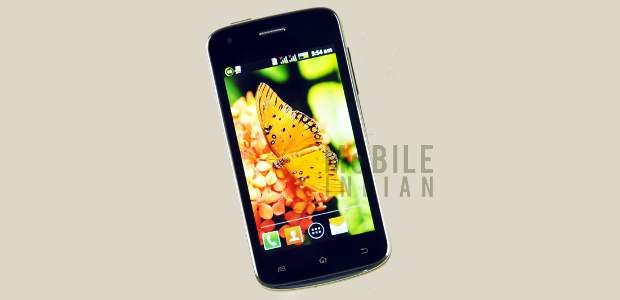 Joining the race, Hitech - a new entrant in the Indian phone market - launched several Android smartphones in the country. The Amaze S400 is one of them, which has been launched for Rs 3,899. But it is not the only Android smartphone in the range. So the question is: has Amaze S400 enough features for Rs 3,899?

Design and display

Despite being priced so low, the phone comes with a big 4 inch display with decent WVGA (800 x 480 pixel) resolution. The touchscreen is appreciably smooth. The smartphone comes with very good looking wallpapers, which would make you feel like it has HD resolution.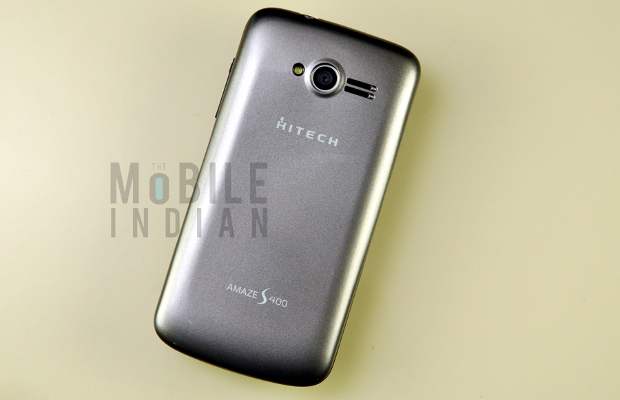 The build quality of the phone too is commendable with a metallic coloured back panel and thin metal strip around its sides. It is just 10.8 mm thick and feels quite light. Moreover, Hitech is giving a free flip cover with the phone.

All in all, it looks a decent device.

Calling and user interface

In the Hitech Amaze S400, the volume rocker is on the right side while the on/off key is at the top and the micro USB cum charger port is on the left. There are three capacitive buttons just below the display, namely Menu, Home and Return.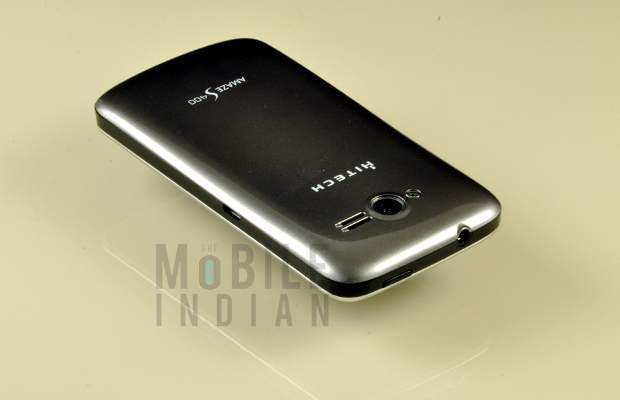 It comes with Android 4.0.3 ICS operating system. It has five home screens and same as other Android ICS devices, a notification bar lies on the top, using which you can quickly change WiFi, Bluetooth, the data connection, airplane mode, and other such settings. Using the menu key (while at the home screen), you can quickly access settings, edit content on five screens, change wallpapers and add widgets to the home screen. The same Menu key can be used to hide, sort or uninstall apps when you are on the menu page.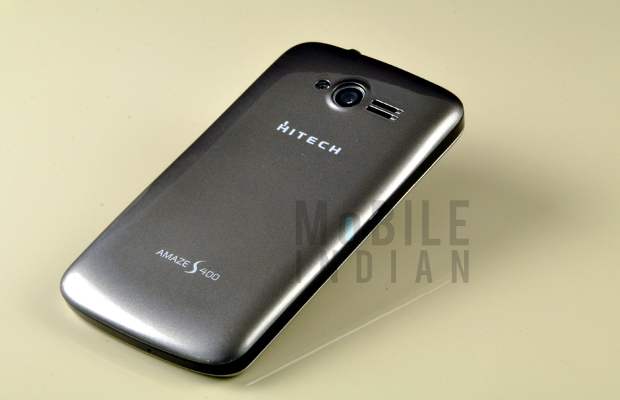 Hitech must also be commended for pre installing some necessary apps like WhatsApp, Facebook, Twitter, YouTube and flashlight in the phone. It also has ES File Explorer and a Du battery widget pre-installed. But you may rue the fact that you cannot uninstall anything else apart from WhatsApp, Facebook, Twitter, and You Tube. This will pain you further as there is only 134 MB free app space left, which would give you a headache in the long run.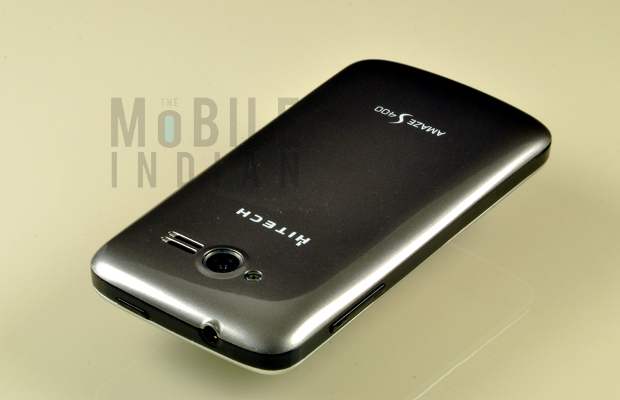 Another thing that might give you headache is the calling facility. Perhaps the unit we had for review has some problems in its mic that makes it impossible to hear anything.

Camera

The Hi Tech Amaze S400 has a 3 megapixel rear camera and a 0.3 megapixel front camera. When even the 5 megapixel cameras of low cost phones do not perform as expected, you should not expect much from this one either. But it does the job in good bright light conditions to an extent; while the front camera is obviously for video chatting. You can capture self-portraits using the front camera, though that is strictly for dire situations.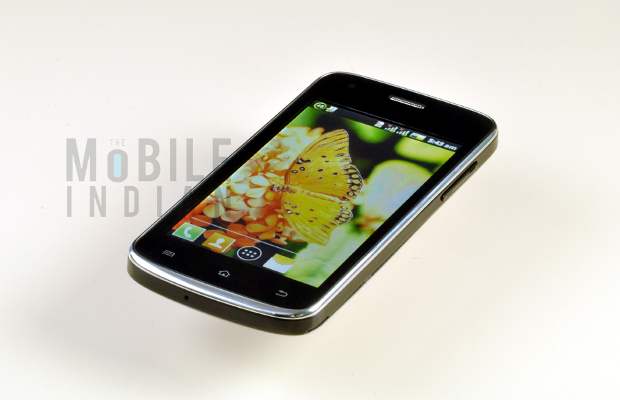 In fact, most of its competitors also come with the same sort of camera (in terms of megapixels).

Storage

Most of its competitors in the market come with around the same internal memory as the Amaze S400, i.e. around 200 MB. This Hitech phone though has just 143 MB. Around 500 MB of internal memory would have leapfrogged it above all of its competitors, but that is unfortunately not the case.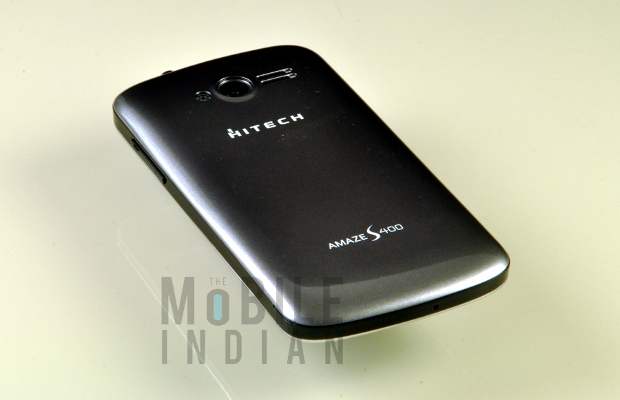 However, it has a 32 GB micro SD card slot as do most of its competitors.

Performance

At Rs 3,899, with Android ICS operating system and a 1 GHz processor and 256 MB RAM this device is appreciable. However, you will get only around 90 MB of free RAM to run applications. Despite that the phone manages to run smoothly in day to day usage like calling, messaging etc. In fact, it plays games like Speed Moto also, but you obviously shouldn't try games like Temple Run 2.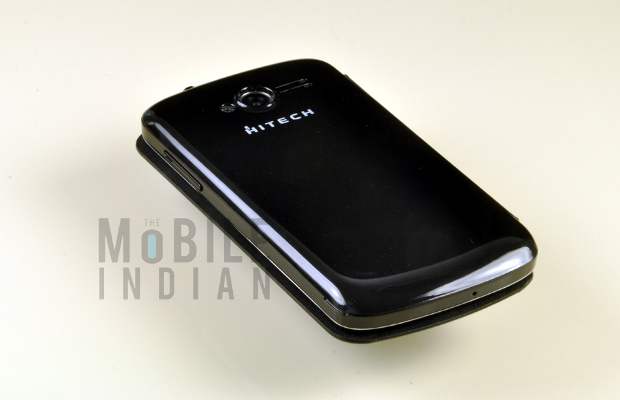 Battery

Hitech Amaze S400 comes with a 1350 mAh battery while most of its competitors come with at least 1500 mAh batteries. As per Hitech, it gives around 5-6 hours of talktime, which is actually better than its competitors even though some might have bigger batteries.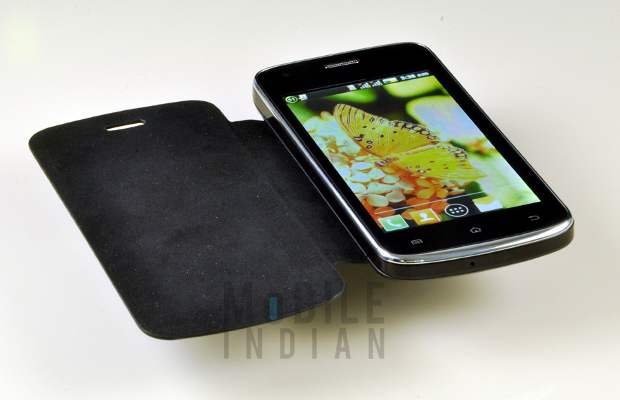 However, real back up time is too less. For instance, with WiFi and medium brightness, it will hardly stay for up to one hour. There is a battery back up application called Du battery, which will constantly remind you of the depleting battery juice.

Conclusion

The Hitech Amaze S400 is a decent phone at Rs 3,899, but it has many competitors which offer the same features. Had it better features like at least 500 MB of internal memory, 512 RAM and a better battery, it would have been an awesome phone.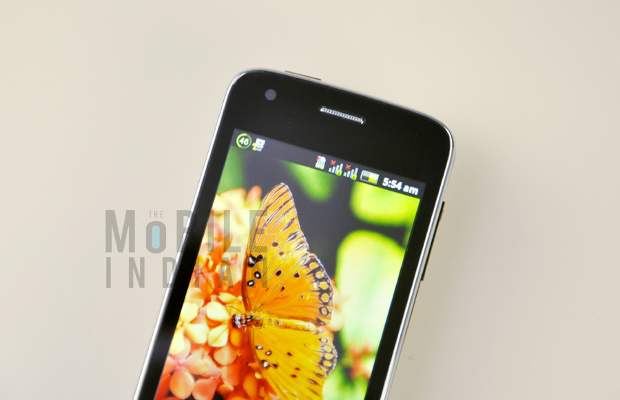 Advertisement