There are dozens of racing games as well as zombie killing games in the Google Play Store, but Mutant Roadkill is one game that combines the fun of both genres, i.e. racing with zombie killing. The storyline is simple – you have to run down zombies while driving.
Though the story as well as gameplay is simple Mutant Roadkill has lots of surprises in store that would keep you glued to your smartphone/tablet for hours. Like most typical Glu Mobile games, Mutant Roadkill has good graphics and gameplay. It has been downloaded by thousands, who have appreciated it as well. It is a free to play game but requires in app purchases as you progress in the game. However, unlike many games where in app purchases become mandatory after a certain stage, in Mutant Roadkill you can proceed without much problem. To become a top player, though, you have to spend money.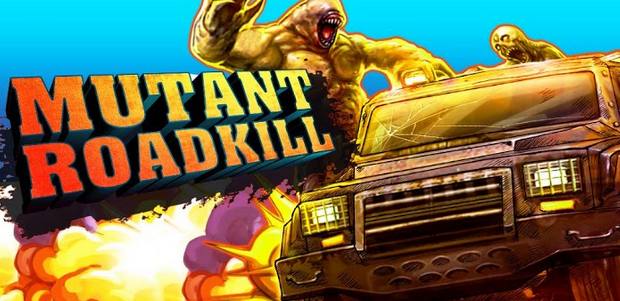 In Mutant Roadkill you have to drive a car (there is a truck as well,) killing as many zombies as possible. Initially, you will get a car with moderate power and shield but as you progress in the game, you have to buy more powerful cars to withstand powerful zombies. Without in app purchases, you can buy a maximum of two cars as most other vehicles are priced very high. You can also arm you vehicle with several power ups like nitro boost, turret, electro shock, repair kit, and a driver weapon – which becomes essential to move the ladders in the game. Like in Temple Run, Mutant Roadkill has a 'revival after death' option for which you have to spend 15 Glu gold coins. There is are super bomb (that kills every zombie in the vicinity,) super headstart (3 km run), and headstart (1.5 km) options as well.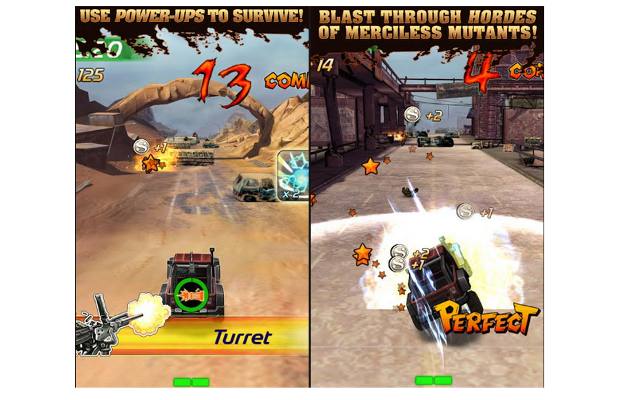 As the game begins, the pace of the car remains on the slow side and you will find ordinary zombies that you can run over easily, but as you progress, you will find more aggressive zombies and mutants with powerful claws who will rip your car apart if you don't get rid of them quickly. There are also mutants who act like bombs, so if you hit them your car will blast apart and the game will be over.
But it isn't simply the zombies that threaten you; there are a number of stationary vehicles parked on the road that you have to avoid or else you will damage your car. If you can purchase a better car with a better shield, you can withstand a few accidents, and that's why in app purchases are so important in the game. Initially, you will find fewer roadblocks and you can go straight, but as you progress in the game, driving will become more difficult with very little space and the increased pace of the vehicle.
In Mutant Roadkill, you come across different sceneries like a city road, dirt roads etc, which prevent monotony. After completing each mission, you will be awarded as well. However, there is no way you can share your results on forums like Facebook. Also, if you die, you will have to start all over again from the start. There are no options for the user to choose sceneries. To be honest, we have managed to cover only 10-11 miles with upgrades but with higher graded vehicles, one can manage to cross more. Mutant Roadkill has a download size of 30 MB and is available for devices with Android 2.1 and above. The game is undoubtedly one of the best at the Google Play Store.