Xolo, a part of Lava International, recently launched a new Intel processor based smartphone, which it called the fastest smartphone (at the time of the launch); even better than some handsets which cost almost double. The phone in discussion is the Xolo X1000, priced at Rs 19,999.
For about the same price, you can get the Samsung Galaxy Grand. We had recently reviewed this Samsung handset as well and were very impressed by its performance. To read the review, click here. Since both are identically priced, there could be great confusion among buyers as on one side there is a handset from the No 1 smartphone maker, while on the other hand lies the fastest handset. Though we have not done an in-depth review of the Xolo X1000, we did get our hands on) the smartphone during its launch.
Body
As I said in the hands on, Xolo X1000 is without any doubt an attractive handset. Xolo has put a lot of effort in designing it. The Xolo X1000 has a unibody, which means that the back panel extends to the front part, capsuling the display inside it. Its rubberized back panel, which is also found in other Xolo handsets, has a good feeling. There are two metal plates – one at the top and the other at the bottom. The bottom panel is the only part which is removable from the device and it harbours the SIM and micro SD card slots. The micro USB jack is also on the bottom. On the upper part there is a power on/off button alongside a 3.5 mm jack. The volume rocker lies on the right hand side.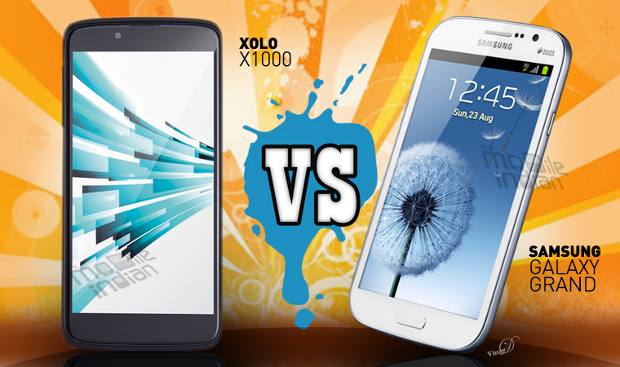 On the other hand, the Samsung Galaxy Grand has a shiny body, which is a bit slippery though it looks good. There is a solid metal strip, which surrounds the phone on all sides and can easily withstand a few falls. The back panel is a bit plasticky, and that made me nervous sometimes while opening it to insert my SIM cards. It is so thin that it feels like it might break. To be specific, the Xolo X1000 measures 133.9 x 67.6 x 9.1 mm and weighs 140 grams. On the other hand, the Galaxy Grand is 9.6 mm thin and weighs 161 grams. In Xolo X1000, the display sits on a raised platform and is completely glass covered, which gives a premium feeling. In the Galaxy Grand, the display is surrounded by a metal strip that runs throughout its sides, giving good protection. In short, the Xolo X1000 looks better and more like a premium handset than the Samsung Galaxy Grand.
Display
Xolo X1000 has a 4.7 inch touchscreen with 720 x 1280 pixel resolution, which means that it has 312 ppi pixel density. During our hands on, as well, we found the TFT LCD display of the X1000 quite impressive. It was not too reflective and responded smoothly to touch. However, how good the display is can only be said once we review the X1000 thoroughly.
Samsung Galaxy Grand's display is not bad either. Though it comes with 480 x 800 pixel (WVGA) resolution, pictures and videos were quite amazing to look at on its screen. During high definition gaming, though, the lack of a high definition display comes to notice in the Galaxy Grand.
Operating system
The Xolo X1000 comes with Android ICS operating system, which is quite surprising as advanced versions of the OS are already available in the market. When quizzed, Xolo officials said that Android Jelly Bean update may be released for the handset in the coming months. On the other hand, the Samsung Galaxy Grand comes with Android 4.1 Jelly Bean.
Processor and performance
This is perhaps the most contentious issue in this comparison. Xolo claims that its X1000 is the fastest Android phone as of now, eclipsing performances of even HTC One X, which has a quad core processor. Xolo even showed Linpack benchmark results that the performance of X1000 was far better than the Samsung Galaxy Grand. This claimed speed of Xolo X1000 comes from the Intel Atom processor, which has Hyper Threading technology and a clockspeed of 2 GHz.
There is also a healthy 1 GB RAM in the X1000. The Galaxy Grand comes with a dual core 1.2 GHz processor, which is supported by 1 GB RAM. The combination is decent and the performance is thus decent as well. But at times, while playing graphics heavy games, the phone showed just a hint of slackness, which we had also pointed out in our review. Though we cannot say much about the Xolo X1000's performance at this time, but prime facia it looks like the Xolo handset has an upper hand vis-Ã -vis performance as compared to the Galaxy Grand.
User interface
Though we have not properly examined the Xolo X1000 till now, we can say for sure that the Samsung Galaxy Grand has an upper hand when it comes to user interface as it has a lot of customisations and special features like Stay Awake, Video pop up, multi window and features like that. You can refer to our Galaxy Grand review to know more about the Samsung handset's user interface.
Battery
Samsung Galaxy Grand has a normal 2100 mAh battery, which, officially, provides 610 minutes (10 hours) of talktime over 2G/3G networks; while the standby time is 440 hours. It gets charged fully from scratch within one hour, but can hold on to that charge for a very long time. Unlike any other smartphone, we had kept the WiFi hotspot on for around 4 hours and played games for another 45 minutes. Yet, the phone lasted for another 12 hours. This is incredible for a smartphone.
With normal usage, involving 2-3 hours of music, an hour of WiFi/mobile data usage and another hour of gaming, the Galaxy Grand can last comfortably for a day or more. The Xolo X1000 comes with a smaller 1900 mAh battery which claims to provide 5 hours of browsing or 9.5 hours of talktime on 3G. On 2G network, the Xolo X1000 claims to provide 9.5 hours of talktime. According to Xolo, on X1000, you can play music through earphones for about 38 hours continuously after recharging it fully. The phone is also said to provide 6 hours of high definition videos (1080p) through earphones and it has a standby time of 14 days against the 17.6 hours of Galaxy Grand.
Camera
There is an 8 megapixel rear camera and a 1.3 megapixel unit in the front of the Xolo X1000. On the other hand, Samsung Galaxy Grand comes with 8 megapixel and 2 megapixel rear and front cameras, respectively. It is very difficult to tell which one is better unless both are compared side by side in the same condition. But Galaxy Grand has the advantage of Samsung's legacy in this segment.
Storage
There is 8 GB internal storage in the Galaxy Grand, which also has a slot for up to a 64 GB micro SD card. Out of 8 GB around 4 GB is available for storage. The Xolo X1000 also has a decent 8 GB internal memory, of which just above 5 GB is available for users to store their data. However, it has a micro SD card slot for only 32 GB.
Connectivity
Samsung Galaxy Grand not only comes with dual SIM facility, but it also has micro USB 2.0, WiFi with hotspot capability, WiFi Direct, and Bluetooth 4.0. It has A-GPS and Glonass support too. Besides, the phone has an accelerometer, and geo-magnetic, gyro and proximity sensors. The single SIM based Xolo X1000 has WiFi (b/g/n) and micro USB 2.0 too, but it has a slower Bluetooth, version 2.1.
Conclusion
Xolo X1000 is a tough opponent for the Samsung Galaxy Grand as it seems to give better overall performance due to its 2 GHz Intel Atom processor. The Xolo handset has a better body and display. Moreover, it is priced at Rs 19,999 while Samsung Galaxy Grand costs Rs 21,500. Since both were launched almost at the same time, if prices are to drop, then too Xolo X1000 would cost a couple of thousand bucks less than the Galaxy Grand.
In fact, Xolo had earlier dropped its handset prices by a considerably big amount. Samsung Galaxy Grand, though, has the advantage of special features, optimized user interface, almost 32 GB of extra storage facility, better battery life, and not to forget its upper hand in connectivity.