Xolo it seems is planning to launch a phone almost every week and AndroidNova.Org seems to know the entire plans of Xolo. In the latest leak that AndroidNova has come out with is about Xolo A500+ which Xolo is allegedly planning to launch next month.
The Xolo A500+ will be the first phone, if the leak is true, to sport Android 4.2 Jelly Bean at such a low price, which really means a lot since Android 4.2 offers speedy performance and a sleek user interface.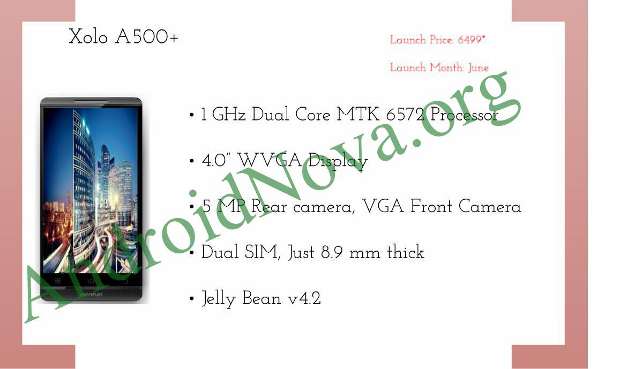 It will get a 4 inch display, 1 GHz dual core MediaTek processor, a 5 megapixel camera at the back, a VGA camera in the front, and a 2000 mAh battery.
Though we do not know if the picture AndroidNova (above) has published is of the A500+ only. If so, the phone looks very good and has a slim bezel. The phone is reportedly only 8.9 mm thick.
The price quoted by the site is Rs 6,500, which is very attractive and will certainly attract a lot of attention. The leaks from the site have mostly come true and therefore we would like to believe the news as true this time around as well.
Image credit: AndroidNova.org