In today's world where more of our data is being streamed online as compared to storing them locally, you no longer need 128 of GB internal storage to keep yourself entertained. While you can still add a microSD card to some phones, in most phones you have to decide your storage option at the time of purchase. Today we will be seeing if you can work with a phone having just 32 GB of onboard storage.
1. Essential Apps

While most apps come preinstalled on your phone along with the operating system some apps still have to be downloaded. Social media apps such as Whatsapp(200+MB), Twitter(100MB), Instagram(85MB), Snapchat(275MB), and Facebook(200MB). Banking apps can take up to 50 MB. Apps such as Swiggy can take 35MB while Bookmyshow can take 75MB. Online shopping apps such as Flipkart and Amazon can take approximately 50 MB each. Another essential app is Uber which can take more than 125MB. Games are a different story. Small games that are less than 100 MB in size could be enough for some people, but if you are a heavy gamer, games such as Asphalt 8 and FIFA are well over a 1GB. All the app sizes are for Android applications.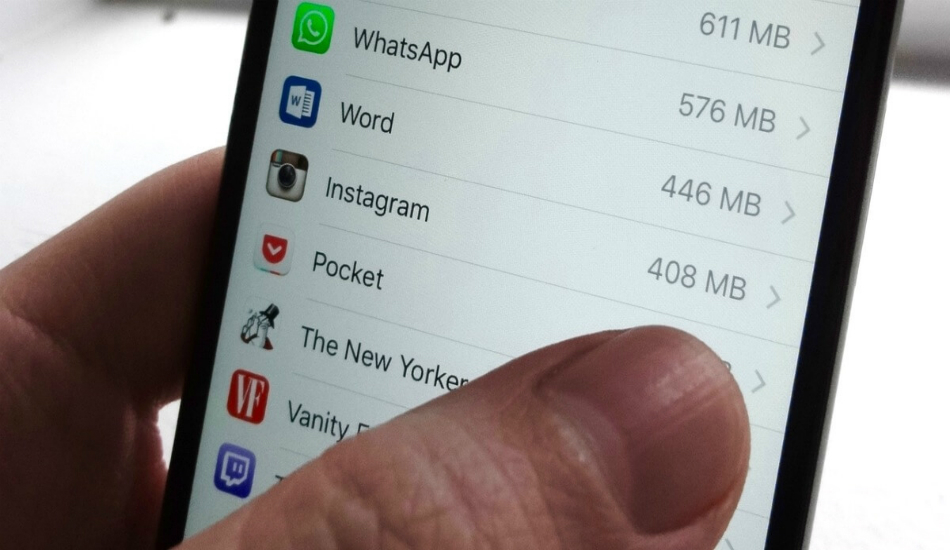 2. Songs

While you could skip this if you stream all your songs from the ever-expanding list of music streaming apps such as Saavn, Wynk, Gaana etc. Some people like to have their music library offline. A traditional 4-min song takes up about 5 MB. If you only had songs on your phone, you could hold anywhere from 5000-6000 tracks on your device at a time. Standard songs run at 192kbps while suitable for most users, not idle for using with high ampere headphones.You could also save songs from the previously mentioned apps offline.
These are high-quality songs running at 320kbps. A 320kbps 4 min song can take up more than 10MB.Here is the table of few songs and their respective sizes.
| | | |
| --- | --- | --- |
| Song Name | Quality | Size in MB |
| Aa To Sahi | 128 KBPS | 3.92MB |
| Khalibali | 128 KBPS | 4.52MB |
| Dil Chori | 128 KBPS | 4.01MB |
| Despacito | 320 KBPS | 8.85MB |
| rockstar | 320 KBPS | 10.06MB |
3. Movies
Like songs, you can stream video content from sites such as YouTube, Netflix, Amazon Prime and won't require storing anything locally. If you do decide to save your content locally, you could store over 25 movies at a time. A typical good quality movie is just around the 1GB mark.By good quality, we mean videos up to 720p.However, Full High Definition movies are significantly larger and could take up 2-3 GB at once.
These movies are in 1080p resolution will offer the user more clarity but will also take up more space.In that case, you will be able to store close to 10 movies. We've compiled a table below showing five films which are of different quality and their respective sizes.
| | | |
| --- | --- | --- |
| Movie Name | Quality | Size |
| Interstellar | 1080p | 2.26GB |
| Zindagi Na Milegi Dobara | 720p | 754MB |
| Frozen | 720p | 805MB |
| Dil Chahta Hai | 720p | 1.01GB |
| Avengers:Age of Ultron | 1080p | 2.05GB |
4. Photos:
New phones have high-resolution camera sensors that take excellent pictures and are high in quality. With new bokeh effects and Live Photos, the size keeps on increasing.When you take a bokeh picture, the background is blurred out and the object or the person is in focus. A bokeh image will be 25% larger as it has more details live photo takes a 3-second video before and after the image along with the original image. This can take up more than 15MB. On a 32GB phone, you could hold about 8,192 usual photos.
To make it simpler. If you take ten pictures a day, you will full up your 32 GB phone in little over two years. It also depends upon the megapixel of your phone's camera. Higher megapixel images will result in larger image sizes as they pack in more detail.We've compiled below some familiar megapixel's and their sizes
| | |
| --- | --- |
| Megapixel | File Size |
| 5 megapixel | 2.5MB |
| 8 megapixel | 3.8MB |
| 12 megapixel | 5MB |
| 22 megapixel | 7MB |
5. Dedicated Space for OS
First of all, you don't get the entire 32GB if you buy a 32GB phone. Apart from that a significant part of that space is used for installing the operating system. This could be anywhere from 2-3GB. You cannot do anything for this part of your space as it cannot be modified as it comes pre-installed. It has all the necessary apps such as the Phone Dialer and your Messaging client.
Some manufacturers also bundle apps also known as bloatware onto their phones. These apps could be anything that adds extra utility to the phone such as its unique features in case of Motorola phones or even Online shopping apps such as Flipkart & Amazon in case of Xiaomi and Lenovo phones. This would increase the amount of space used by the operating system and thus reduce the free space provided to the user.It also houses the ROM, any skin running over Android and the necessary kernel powering the device.
Below we have made a table showing how much space each version of Android takes.
| | |
| --- | --- |
| Android Version | Space used |
| 5 | 4.8GB |
| 6 | 5GB |
| 7 | 5.39GB |
| 8 | 6GB |