Samsung has already confirmed that it will be soon selling refurbished models of the Galaxy Note 7. Though Samsung did not reveal the specifications and pricing of the Galaxy Note 7R, where R stands for refurbished, but the device is already up for selling in China.
According to a
leak
coming out of China, Samsung Galaxy Note 7R was found listed on a merchant website in China. The website claims to be selling the device for around Yuan 3599 (approx. Rs 33,551) to Yuan 3999 (approx. Rs 37,280). Interestingly, some images were also leaked, which clearly shows 'R' symbol on the rear panel to give a proper distinction from the original model.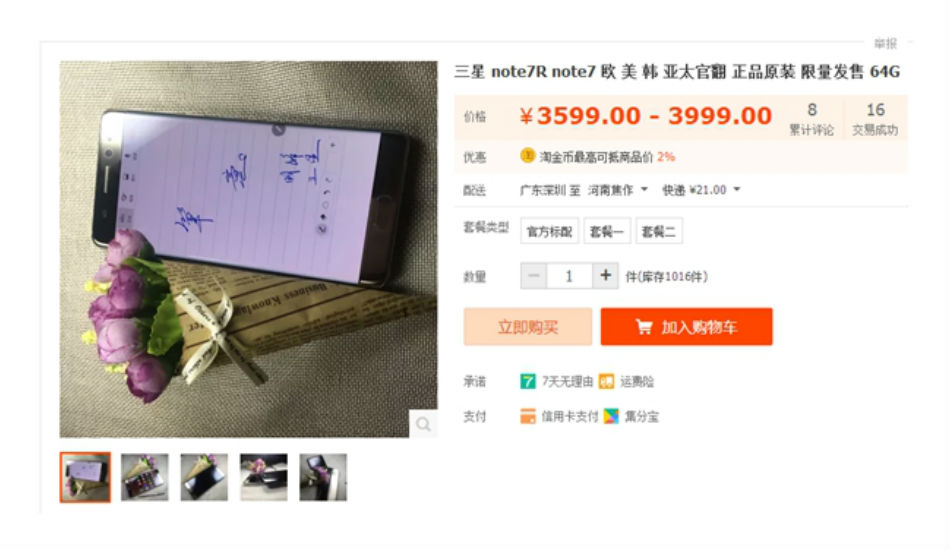 Further, the company is also reported to offer two variants of the Galaxy Note 7R. One variant will have a 3200mAh battery, a 300mAh lower battery capacity found on the original model, meant for US, European and Asia Pacific markets. The other variant would feature a similar 3500mAh battery, which contains the modified small-volume battery to prevent any explosions.
Meanwhile, a
report
by the Investor says that the refurbished model is widely rumoured to be priced about 50 percent cheaper than the original model. The report further denotes that the smartphone is expected to sport a 3200mAh battery and will run on the latest Android 7.0 Nougat, while other specifications will remain the same.
"We have not yet decided on the phone's launch schedule," the report quoted a Samsung official as saying. "We plan to launch the phone before the Galaxy Note 8 that comes out later this year."
Once considered as a Samsung's best bet, the Galaxy Note 7 had become company's worst nightmare with the recent turn of events. With the persistent overheating issue and reports of the device catching fire coming in, the company had no option but to issue a global recall and stop its production. The whole Note 7 fiasco has burned a deep hole in company's pocket, with estimates suggesting that whole chapter would cost Samsung up to $2.8 billion.