In the Indian smartphone stakes, one of the biggest differentiators that emerged between players has been the division between offline and online players. So even as Oppo and Vivo for instance, went all out for a strong offline play, others like Motorola, Xiaomi, in particular, went for online-only options. In retrospect, it does seem like the offline focused players got it wrong, playing the market by rules that were getting dated. Thus, by going offline in a big way, they ended up missing the surge in online, and with their heavy offline investments, being held hostage by the 'trade' whenever they did consider online. A Huawei here or a Lenovo there did manage to find a balance and benefited from it. But not Oppo and Vivo, the two heavy spenders who have suffered an agonising drop in market share in the past few quarters.
While Vivo made its move some time back with a ramped up online presence, Oppo has decided to take the big plunge now. Oppo Mobiles is all set to launch a new sub-brand in India tomorrow in partnership with Amazon. It will be an online exclusive brand and will primarily focus on launching smartphones in the price range of Rs 8,000 to Rs 15,000.
While some in the market credit this online-exclusive move to counter the growth of Xiaomi, ironically, Xiaomi, after its tremendous success with online channels, has made a big move to have a presence offline too with its Mi stores too. At a much lower effective cost per unit, thanks to the wider product portfolio it can offer at the stores, including TV's.
For Oppo, the need for creating the new brand arises because if new smartphones are launched exclusively for Online marketplace under Oppo branding, existing distributors and retailer will probablyprotest, something the company would not be able to afford at this time after spending lavishly with the channels earlier.
The new sub-brand strategy will not disturb the existing cart and yet will be able to reduce the cost of the device by around 20 percent ( dealer margins, incentives, transportation and warehouse cost) and thus would try to compete with Xiaomi in theprice department. Right now Oppo is selling device between Rs 10,000 to Rs 30,000 in India.
Indian Smartphone shipment market share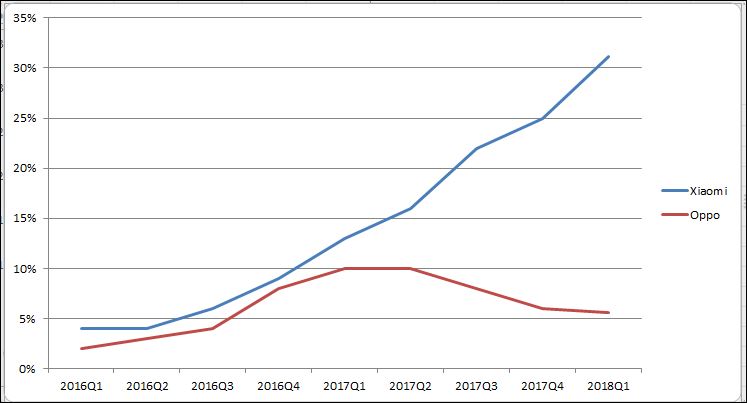 Source: CounterPoint
If we look at the Indian Smartphone shipment market share data from Counterpoint, of the last nine quarters Oppo has been seeing a downward trend since quarter 2 of 2017 and the aim of creating the new sub-brandsseems to be to arrest the decline. Will they succeed only time and consumers will tell.In the last one year, we have seen that consumers are not warry on buying a product online if the product is good and pricing is competitive.