During its annual I/O 2018 developer conference, Google introduced the next generation Android P interface with new smart features focusing on simplicity and intelligence. The Mountain view giant promised for the first time that a beta version of the same will soon be rolled out to devices other than its own Pixel lineup and Android P Beta will hit latest smartphones like the Sony Xperia XZ2, Xiaomi Mi Mix 2s, Oppo R15 Pro, Vivo X21, Essential PH-1, Nokia 7 Plus and OnePlus 6.
A day after the Nokia 7 Plus received its first beta firmware of the upcoming Google OS, the OnePlus 6 which is getting a taste of the Android P for the third time since its release. According to a forum post by OnePlus, this is the Developer Preview 3 which is being rolled out to the latest OnePlus device, the same firmware which was released by Google during the earlier part of this month. It's to be noted that the beta previews to the OnePlus 6 will indeed lag behind releases that are dedicated for Pixel devices since there will also be changes put through in the OxygenOS.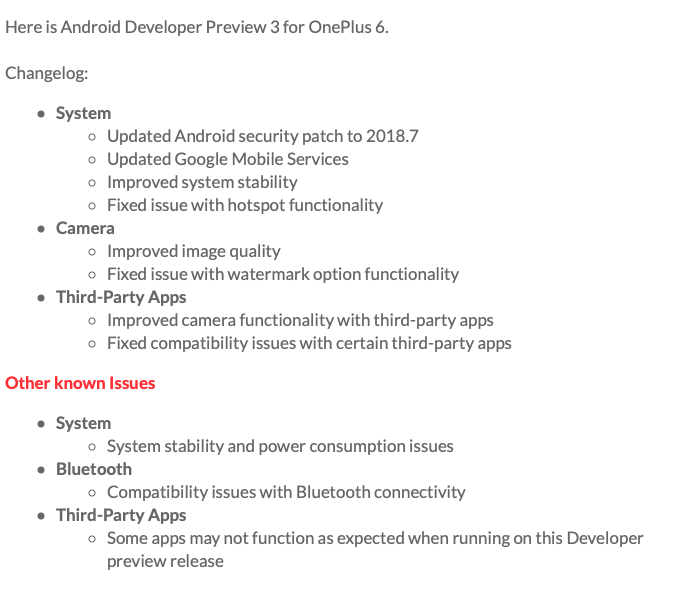 The latest Android P Beta build updates the Android security patch to July 2018 with improved system stability and updated Google Mobile services. The issue regarding the hotspot has been solved and so is the watermark option inside the camera app. The image quality in overall has been enhanced with better compatibility of the camera alongside third-party apps.
It's worth noting that since this is still a beta build a few issues might arise in the long run and for users who'll be concerned with stability and power consumption issues, this beta build isn't for them. Nonetheless, users wishing to experiment with the latest developer preview of Android P Beta can download and follow the instructions by checking out the dedicated OnePlus forum thread. While porting from a previous developer preview wouldn't erase user data, shifting to the latest beta from a stable build would need you to wipe data for a clean installation.