Details of Nvidia's next generation quad-core mobile processor have been leaked online. According to Chip Hell, which said to have managed to get an important slide containing details about the Tegra 4 mobile processor, revealed that the Tegra 3 successor System on Chip, codenamed as Wayne, has the same four cores but comes with an additional microarchitecture. This new Wayne mobile processor will be branded as Tegra 4 and will pack six times the graphics power of Tegra 3 mobile processor.
Nvidia Tegra 4 will be manufactured with 28nm fabrication technology and will have a compact design compared to the Tegra 3. The Tegra 4 will feature four processing cores and fifth battery saver core. It will pack 72 graphic cores to deliver six times better graphics power compared to the Tegra 3 mobile processors and twenty times the processing power of the Tegra 2.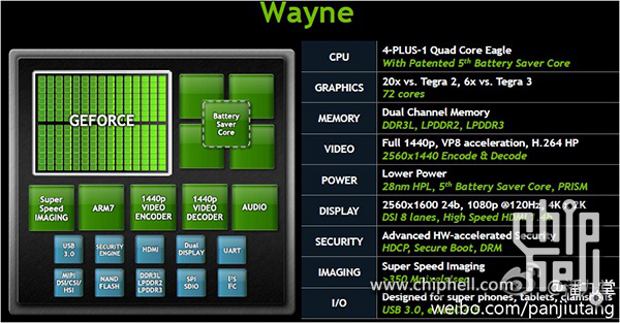 The Tegra 4 is based on the ARM Cortex-A15 processor design and will compete with Samsung Exynos 5 as well as Qualcomm's Krait-core based Snapdragon processors. Nvidia Tegra 4 can support large displays with up to 2560×1600 pixel resolution and can also playback full 1080p HD at 120Hz. That means if it is packed inside a tablet, then the tablet would be as good as the modern day TV to play full HD video without much jarring effect.
For faster imaging, the Tegra 4 chip will support over 350 megapixels per second as part of its Super Speed Imaging technology. With that, the next generation of smartphones with the Tegra 4 chip inside will be able to capture more images in the burst mode.
More processing and graphics muscle is always welcome but consumers do hope for better battery life with the Tegra 4 mobile processor. Smartphones and tablets based on Tegra 4 devices can be expected to release in second half of the next year.
image credit: Chiphell.com