Leading tablet and mobile chip maker, Nvidia has developed a new platform called Kai that will enable manufacturers bring tablets for as low as $200 (Rs 10,000 approximately).
"Our strategy on Android is simply to enable quad-core tablets running Android Ice Cream Sandwich to be developed and brought out to market at the $199 price point, and the way we do that is a platform we've developed called Kai," Nvidia vice president, Rob Csonger said yesterday during the annual meeting of stockholders of the company while displaying the platform.
These tablets will feature Nvidia's Tegra 3 mobile processor and will be offered through two different mobile operating system platforms – Android 4.0 Ice Cream Sandwich and Windows RT (Windows on ARM). These tablets will use low power consuming display and other internal components, Csonger revealed.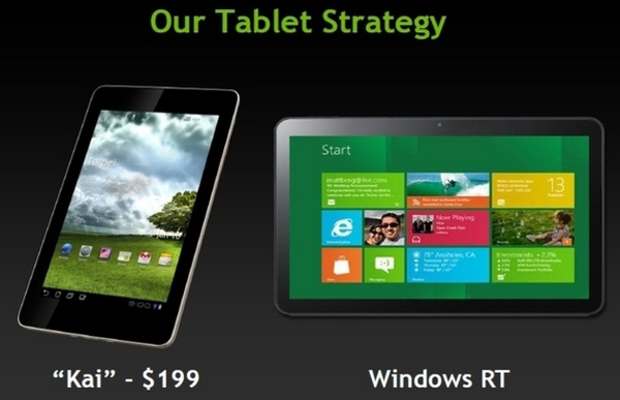 Notably, Nvidia's chief executive officer, Jen-Hsun Huang had also said that the company would be pushing to bring Nvidia Tegra 3 based tablets this summer.
In a way, Nvidia Kai tablets will compete with the Kindle Fire, Nook Reader and may be upcoming Google Nexus tablet.
While most tablet makers continue to push out costly tablets with 10.1-inch display and house powerful components, there is a need for affordable tablets costing $200 (Rs 11,200 approximately). However, as of now no tablet maker has come out in the open to bring the Rs 10,000 tablet on the Kai platform.