After launching a range of handsets dedicated to BJP's prime ministerial candidate Narendra Modi, SmartNamo has now announced a new phone with dual boot option. The phone, named as Saffron X, will be launched in India this November. However, its makers have not revealed its price yet.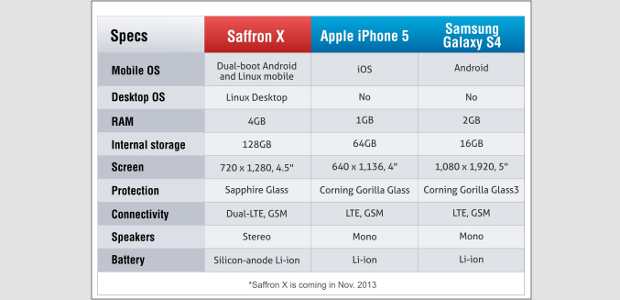 As per the specification sheet, which was shared with The Mobile Indian by SmartNamo, the Saffron X comes with a 4.5 inch screen with high definition resolution (1280×720 pixels). It has 4 GB RAM – the first smartphone in the industry to have such huge Random Access Memory. Also, it would have 128 GB of internal storage – another first for a smartphone.
Most importantly, it will come with dual boot options with Android and Linux Mobile operating systems. Besides, its display is made of Sapphire Glass which is considered as really tough. Also, the Saffron X will come with 4G connectivity feature. According to SmartNamo, the Saffron X has a Silicon-anode Li-ion battery but its exact capacity is now known right now.