As we are heading towards the launch of LG G6, it seems that the company is rolling out one after another official teaser of the upcoming device on a daily basis. The company previous teased about the 'more intelligent' virtual assistant and now it has come up with a new teaser image, spilling some beans about water and dust resistance feature of the flagship device. Also, if a recent leak is to be believed then the smartphone will be sport a larger battery than its predecessor.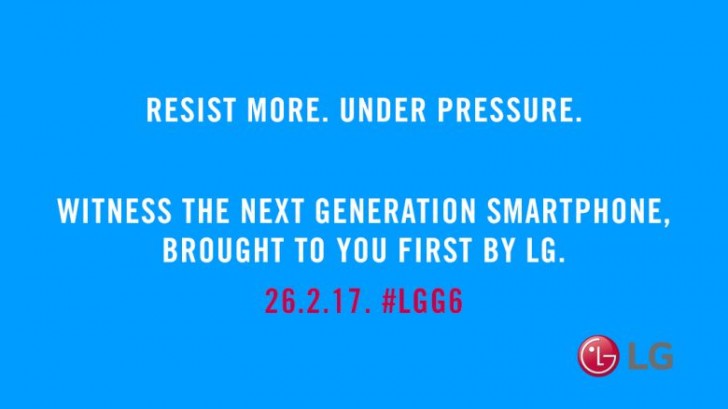 To start with, the latest teaser image reads "Resist More. Under Pressure. Witness the next generation smartphone, brought to you first by LG," which simply implies that the phone will come with dust and water resistance. The device is touted to come with IP68 certification for water and dust resistance, which is now confirmed by the brand.
In separate news, "a senior official" has confirmed that LG G6 will come with a battery capacity none less than 3200mAh. As per a report by ET News, the smartphone is network-tested with a 3200mAh battery capacity, which is 400mAh more than its predecessor. The source also stated that the device was able to deliver a 12-hour battery life on "standard internet".
It is already reported that the smartphone will come with Qualcomm Snapdragon 821 processor as Samsung has reportedly hoarded the initial production of the Snapdragon 835 chipset for this year's flagships, the Samsung Galaxy S8 and Galaxy S8 Plus. Rounding up come key features, LG G6 is also touted to come equipped with Google Assistant, which is exclusively available for Google Pixel and Pixel XL. Other rumours suggest that the company is making the next flagship a lot safer by introducing heat pipes in the G6 to disperse heat away from the processor.