HTC recently announced the new devices in its One series lineup – One X and One V. Of course, we did have a good time checking out the first quad core mobile phone in India. Meanwhile, the One V was also impressive at the launch. Sporting a 3.7 inch LCD touchscreen display, the phone has a brushed aluminum and rubberized plastic unibody. Weighing a mere 115 grams, the phone stands 120.3 mm tall – small and pocket friendly.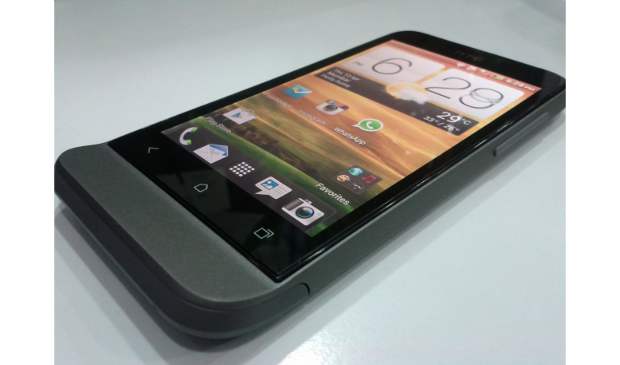 HTC seems to be in love with the chin on its Android OS smartphones. It all started with HTC Hero with a track ball, after which came HTC Legend with a metallic D-Pad. The company keeps coming out with better build quality. A large portion of HTC One V is brushed aluminum body and a small rubberized panel at its sides to cover the microSD and SIM card slots.
###PAGE###
HTC One V smartphone features a 3.7 inch touchscreen display with WVGA 480 x 800 pixel resolution that makes text and images appear crisper. HTC hasn't clarified the LCD panel used, but it certainly looks better and offers vivid colour reproduction than its predecessors.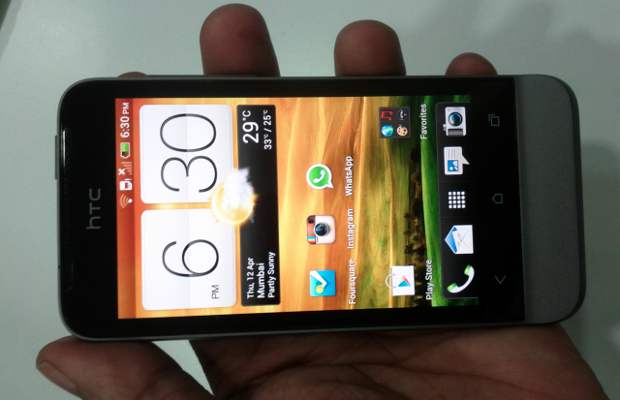 Under the 9.24 mm slim chassis, this smartphone houses a 1 GHz Qualcomm Snapdragon MSM8255 mobile processor with Adreno 205 graphics and 512 MB memory. By default the One V offers 4 GB onboard storage which is seriously nice. You also get an 8 GB microSD card free as part of a promotional offer.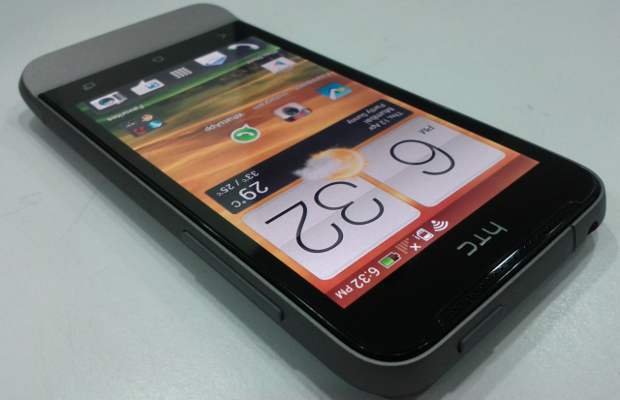 This smartphone comes with Android 4.0.3 Ice Cream Sandwich build running the HTC Sense 4.0 user interface. Our first interaction with HTC Sense 4.0 brought two words to mind – slick and fast. Along with the new HTC Sense UI richness, the home screen also has a number of the usual widgets. By default the One V has pre-loaded apps such as – 7Digital, TuneIn Radio, Bollywood Hungama and eBuddy XMS. As promised, HTC also added the Dropbox app that gives 25 GB worth of free cloud storage once a user logs in using a Dropbox account or after creating a new one.
###PAGE###
The homescreen has the folder system for app shortcuts just like in the Google Experience version of Android 4.0 Ice Cream Sandwich. HTC has offered seven different homescreens, but unfortunately there is no way to manage them. Task Manager has been stripped down to work smoothly with the limited 512 MB RAM.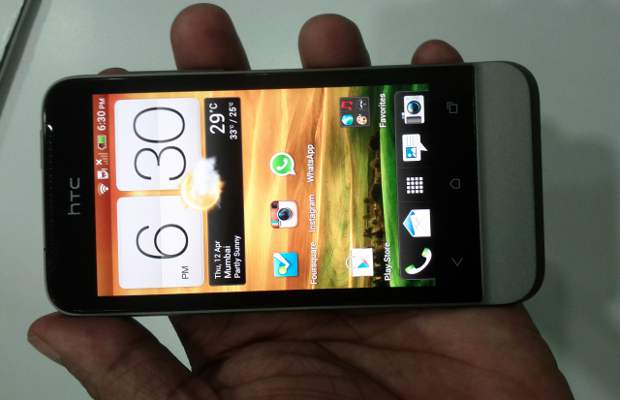 At the back lies a 5 megapixel camera with autofocus, LED flash and a BSI sensor, promising great images even in low-light conditions. The camera app has been tweaked and can now quickly click several photos in a short span of time with the least possible lag. By default the camera app comes with a number filters as well as effects built-in for the user to enjoy capturing memorable photos.
The HTC One V features Beats Audio integration that loads whenever the bundled headphones are plugged in. However, we were not happy with the music player's equalizer preset when different headphones were plugged in.
###PAGE###
Like the HTC One X even this device comes with a non-removable 1500 mAh battery, which might not be much of an issue provided one uses relevant applications at a time. However, given HTC's love for running background apps, several services were found running even though they weren't being used as such.


A crisp screen, great build quality and smooth HTC Sense experience were the highlights of HTC One V. In India, the HTC One V has been launched at Rs 18,299 but one can easily get it for less along with a free 8 GB micro SD card. Unfortunately, there are no accessories for this device in the market yet. Stay tuned for the detailed review of the One V.