HTC Evo 3D and LG Optimus 3D launched at the same time in August last year continue to be only mainstream smartphones with stereoscopic 3D screen and 3D camera. Both the phones have similar specification.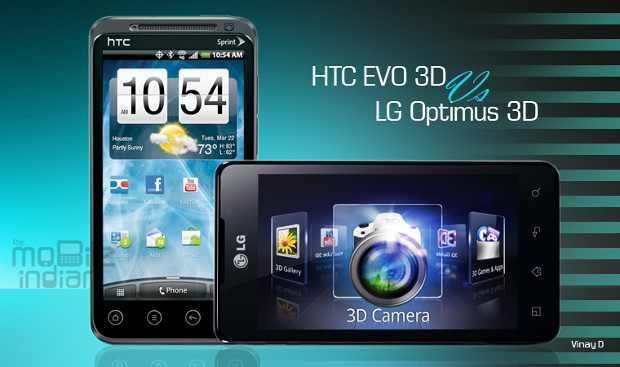 Here is a comparison of the two phones.
Design
While both the phones look good, HTC Evo 3D looks more of a retro design with textured line back cover that aids grip and dual camera that can capture 3D images and cameras. The camera was placed in the middle of the phone with a raised glass finish while two LED flash are there in between the two cameras.
The front of HTC EVO 3D looks like any other smartphone but has four capacitive buttons with a ring around them.
LG Optimus 3D on the other hand looks more modern in matte finish and aluminum inserts in its back cover. The dual cameras are situated on the top left of the back panel with an LED in between.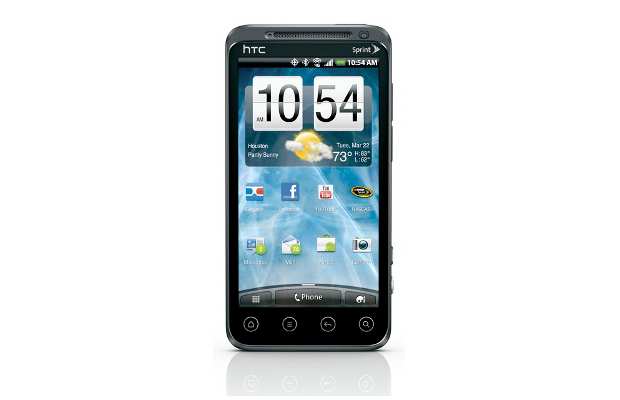 HTC EVO scores better on two counts here – it has 2 LED flash compared to the lone LED flash of Optimus. Also, EVO has a physical camera button along with a toggle that aides switching between 2D and 3D modes while Optimus has only one camera button.
Both the phones have similar dimensions – EVO is 11.3 mm in width while Optimus is 11.9 mm thick. Thus EVO is slightly narrower than the Optimus which aids a good grip but the difference is almost negligible. While EVO measures 65.4 x 126.1 x 11.3 mm, Optimus measures 68 x 128.8 x 11.9 mm. On the weight front too both are almost the same weight with EVO weighing 170 grams Vs 168grams of Optimus.
Display
Both the phones have 4.3 inch screen, however EVO 3D (540 x 960 Pixels) has better resolution than the Optimus 3D (800 x 480 Pixels). While it is hard to differentiate the two with naked eye, the EVO's screen appears slightly better.
Both the screens render 3D images using Parallax barrier technology that provides glasses free 3D viewing facility. The two smartphones also offer similar performance vis-a-vis 3D image capturing, but for best 3D effect you will have to find the correct viewing angle on both the phones.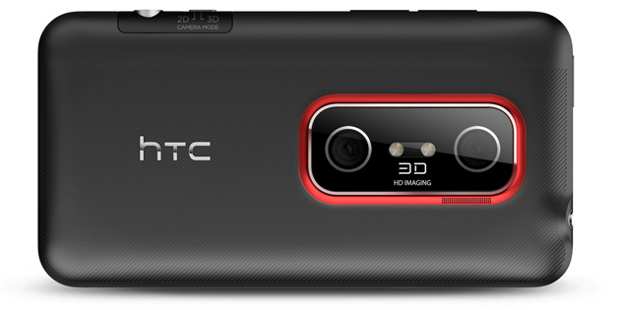 LG has slight edge in terms of more content that is available in the handset. The South Korean company has joined hands with YouTube for 3D content. The phone is also capable of converting 2G images and videos into 3D – a quality which is though debatable but is not present in HTC EVO.
When it comes to 2D image/video capturing, both the phones offer decent image quality with good colour and brightness levels. In terms of screen itself HTC EVO 3D is better but in terms built in content, Optimus scores higher.
Performance
HTC Evo 3D has a 1.2 GHz Qualcomm Scorpion dual core processor with 1 GB of RAM. Optimus 3D though has slight lower specification with 1 GHz ARM Cortex-A9 Dual Core processor and 512 MB RAM. While both the phones show no sign of freezing or slowing down, HTC EVO 3D definitely looks better and feels a tad faster than the Optimus.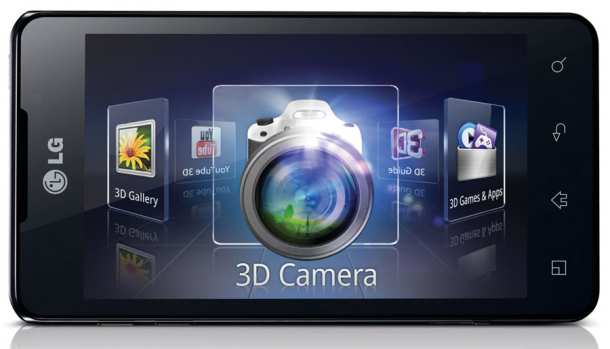 EVO 3D also has a bigger 1730 mAH battery compared to 1500 mAH battery of the Optimus 3D. This also reflects in battery back-up with Optimus offering slightly lesser battery life than the EVO 3D.
Camera
Both the phones offer two 5 megapixel cameras at the back which capture 3D images and videos and also 2D images if you choose to do so. For videos, both can shoot at 1080p in 2D mode and 780p in 3D mode.
However, when it comes to the actual photograph, Optimus 3D emerges as the winner with sharper and more natural looking 2D photos and videos. The 3D effect is also good in Optimus 3D. However, EVO 3D with dual LED flash has better low light capability.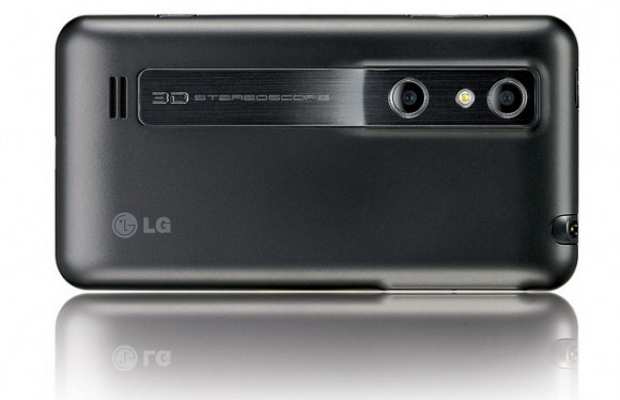 EVO has better front facing camera with 1.3 megapixel resolution compared to a VGA unit on Optimus. However, with our weak 3G networks video calls work better with lower resolution images. So in this round Optimus clearly wins.
Operating system
Both the phones come with Android 2.3 and are soon going to be updated to Android 4.0.
HTC EVO has a stock combination of Android 2.3 and HTC Sense user interface, while Optimus 3D comes with a unique user interface which is good but is not as good as that of HTC's.
Verdict
While Optimus 3D is a capable device with quite good performance and 3D capability, EVO 3D out scores it in specifications and performance in most categories. Yet Optimus 3D seems to be a better choice if 3D is the prime reason for looking at these two phones as it has better 3D camera, and has more content to use its 3D capability.
EVO 3D, on the other hand, has faster performance with better battery life and screen resolution. At Rs 30,000, EVO 3D is costlier by Rs 1,500 compared to Optimus 3D, but deserves that since it has more features than the LG smartphone.