Helpchat, a personal assistant app, has launched a new feature to track the air quality in the atmosphere. It will help people in avoiding pollution related diseases. This feature monitors the air in the surrounding environment and delivers a personalised air-quality update.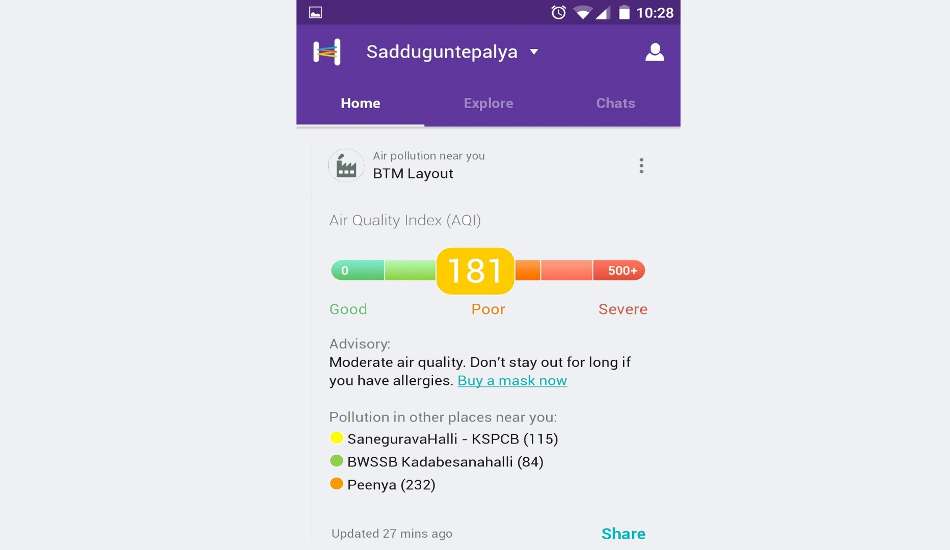 As of now the app is taking the location based on your network, GPS location or the home location that has been setup, and if you try to manually feed the location it is giving an error message, "unable to fetch records."
The app will show the Air Quality Index (AQI) reading from 0 to 500+ (0 being the cleanest and 500 being the worst air quality) and suggest a precautionary measure depending on the air quality. The app will send an alert to your smartphone if the app sense air quality getting below a certain point.
As per the press release, Helpchat app tracks the weather conditions and updates the users in realtime since pollution and its impact are directly linked with the weather conditions. In addition, the app will also suggest areas that one should avoid visiting in their city so that users can plan their travel accordingly.
Helpchat's new feature is especially important for cities like Delhi, where government is already putting in preventive measures like odd/even rules to curb Delhi's ever growing traffic and air pollution.