Micromax today introduced its first tablet in the market. This made in India, 7 inch tablet is slim and has attractive specifications like capacitive screen, Android 4.0 OS, and 1.2 GHz processor with dual core Mali graphics processor. The most interesting part is the price which at Rs 6,499 undercuts most tablets in the market by a good margin.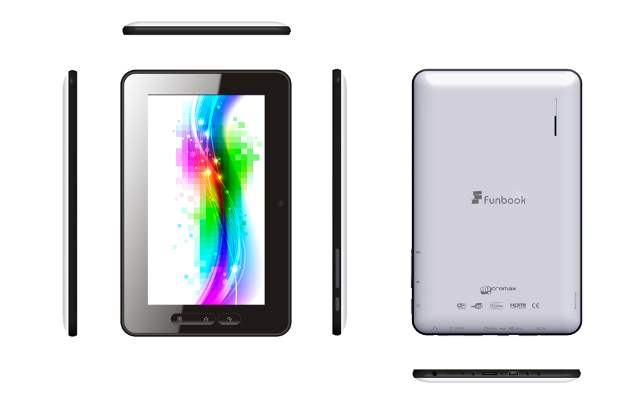 We spent some time with the device and here is our first opinion.
###PAGE###
Design
The Micromax Funbook is very slim at 10 mm thickness and while the bezel around the screen is quite broad, the device is easy to hold thanks to its low weight (350 Grams).
Being an Android 4.0 device, the tablet has only three physical keys which are all hard keys (not the capacitive touch buttons). Though they are easy to press, it is certainly not as easy as capacitive touch.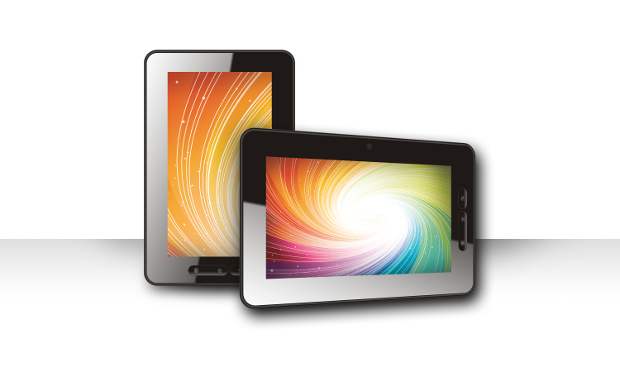 All the slots and ports – which include a USB port (micro), HDMI, SDcard slot and 3.5 mm jack and charging port – are situated at the bottom of the device which is not a problem. The company also supplies a micro USB-to-full-USB conversion adapter to connect the 3G dongle (which comes free with this Tablet).
The tablet is available in White and Black colour and looks good in both these colours. Overall, the tablet is good looking and is easy to hold and use and certainly looks better than what the price suggests even in terms of quality of material used.
###PAGE###
Display
The Micromax Funbook has a 17.78 CM (7 inch) capacitive screen with multi touch capability. The screen sports a resolution of 800×480 pixels and supports HD video playback.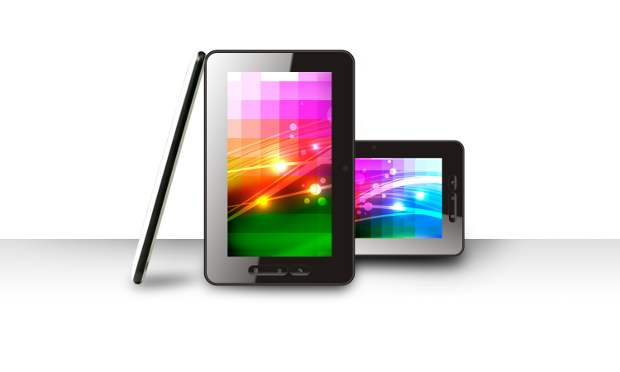 During our short interaction, the touch response of the screen was fairly smooth and acted without any lag, registering every touch without a hitch. The colour reproduction was also bright and vibrant.
###PAGE###
Hardware
Funbook comes with 1.2 GHz ARM Cortex A8 processor coupled with Mali 400 processor and 512 MB DDR3 RAM which on paper is a good specification for a tablet of this size and very good for its price.
The transitions and response of every command was very smooth. However, generally demo pieces which are not loaded with content have this kind of snappy performance which deteriorates as user loads the device. The specifications of the tablet looks like it will have decent performance. Mali 400 is known to be an efficient graphics processor and DDR3 RAM known to be fast, so the combination should offer good performance.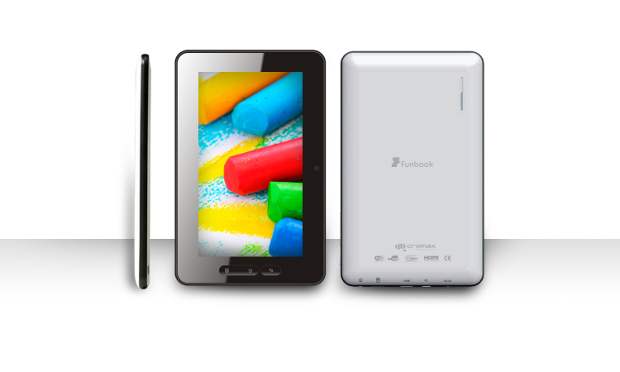 The Micromax tablet comes with a front facing video camera with VGA (0.3 megapixel) resolution. The camera takes acceptable picture and should do the job of video chat well given the fact that it will be used on slower connection most of the times. But the camera has nothing else to offer.
The tablet gets 4 GB of internal memory and ability to use 32 GB SDcard which is good enough. However, one needs to invest in memory at the time of purchase as the 4 GB internal memory is all used up by the essential softwares of the device itself.
The tablet has a 2800 mAH battery which is not the largest but should be good for close to eight hours of regular use.
###PAGE###
Content
The education content makes this device different. According to Micromax, it has spent more than a year in trying to get the right content for the tablet. In terms of entertainment and games, the tablet has though few built in apps like BigFlix and Zenga which are available for other tablets also and is therefore not the main attraction.
The real attraction of this tablet lies in its educational content. Micromax has made available the 'Vriti platform' (a marketplace for educational content) on the tablet through an exclusive partnership. The platform offers educational content from books for schools students and even preparatory materials for competitive exams (like medical and engineering exams) in several languages. Vriti platform has contents from more than 30 partners right now.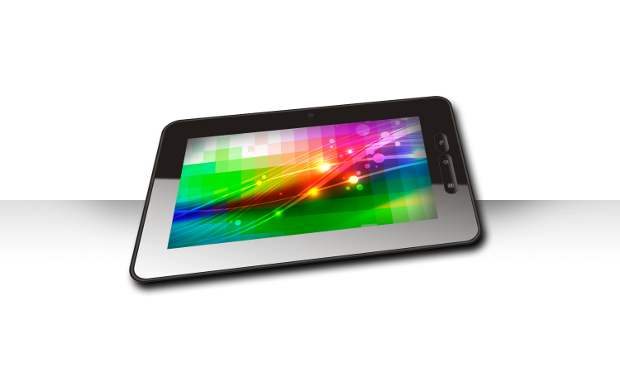 While users will have to pay for the content but they will have the opportunity to buy only what they need rather than having to pay for all the content at one go, like some of the other educational tablets offer right now. As Vriti is a platform, it will keep on having more and more materials just like apps on Android market (Google Play). One year course material for a CBSE board school will cost a student close to Rs 800 and will include all the books and test papers to help the students prepare for the exam (rates will change from time to time).
One of the good aspects of the tablet for parents is the ability to lock sections of the tablet, for example entertainment and games section can be locked so that a child can only access education section of the tablet.
###PAGE###
Verdict
This is in no way a final verdict as it will require longer use. However, at the first look it looks like a good buy, especially since it offers choice in the content that you want, and has the hardware that offers good user experience. Parents, who wish to provide an education tool to their children without worrying about misuse, can do so with this tablet thanks to parental control options.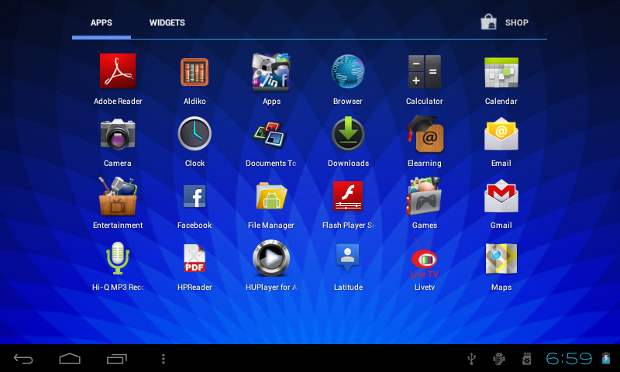 In terms of price and feature, it is certainly one of the best tablets in the market right now. However, how good is the quality of the material used and content offered (it should be good as all the leading publishers are on board the Vriti platform) can be tested once we get to use it for a longer period of time.