Google is set to bring a new input interface into Android devices that will let users control and access their devices with the use of front facing camera.
Basically, the new input interface would allow users to interact with their smartphones using the front facing camera. The objective is to interact with the smartphone without actually touching it.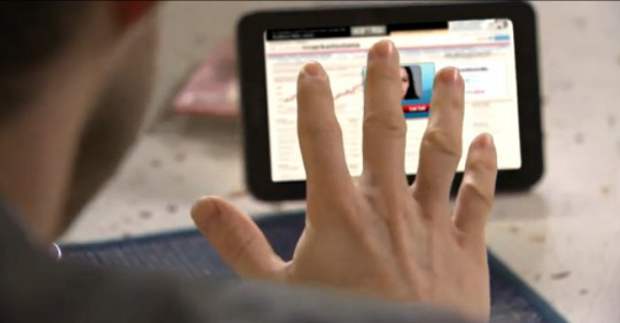 PatentBolt reported this citing a patent, named 'camera motion and timing gesture controls', of Google.
"The new input interface is designed to detect motions consisting of single and double taps, hovering and swiping the camera that's built right into each and every Android device. The input interface also allows for a combination of gestures so that tasks could get done a little quicker. The new system appears to allow a user to map out a combination of gestures to perform tasks associated with web browsing, music and more," the website said explaining the new input interface.
Google has been involved knee deep in the patent war dirt in last couple of years but the company continues to apply for new ones fearlessly. The new patent can be seen in this regard.
If implemented, the front facing camera of the Android smartphones would be used for the finger detection and the motion gesture will be recognised by the phone to perform the respective action. These motion gestures have to be indeed very specific for the camera to capture and motion recogniser engine to detect it accurately.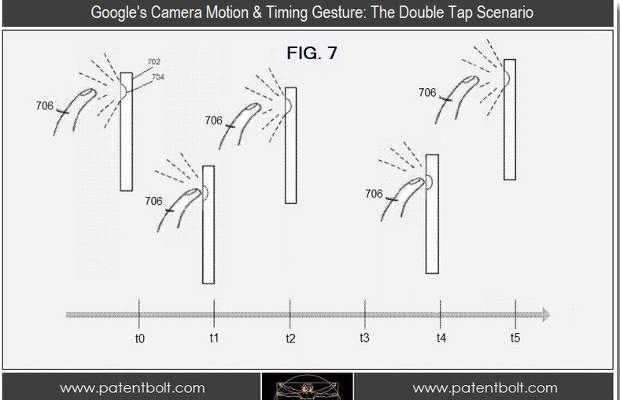 With the new motion recognition and timing for the gestures, Google will enable the front facing camera of the Android smartphone to take images and recognise the respective gestures. For instance, double tapping, hovering fingers, or swiping across scree are some of the gestures that can be registered with the gesture recognition library of the smartphone. The purpose is to assign a command to each gesture and then interact with the smartphone without touching it.
For recognising the motion gestures and timing of those gestures, the front facing camera is required to be of specific quality and nature. As of now, none of the modern day devices are accurately able to even perform the Face-Unlock feature introduced in the Android 4.0 Ice Cream Sandwich with the Galaxy Nexus smartphone.
The interesting aspect of the patent filing is that the motion-based gestures control and timing recognition will be carried out using specific processors loaded mobile phones. Surprisingly, the patent mentions the like of Intel and/or AMD leaving the other mobile platform players – Qualcomm, NVIDIA, Texas Instruments and Samsung, out of picture.
It indeed would be wonderful to use smartphone resting on a desk without actually touching it. It will be most useful when the device is being charged. Apparently, Apple too had filed for similar patent back in late 2008. Apple or Google have not actually implemented the technologies mentioned in patent to the modern day smartphones. Once that is done, expect wonders on the devices and patent war between both companies.